Elevation Gain: 566m
Distance: 7.68km
Total Time: 3 hours 13 minutes
Date: May 29th, 2021
I was originally planning to take on Sugarloaf Mountain on the Saturday, but unfortunately plans fell through with the original group and we had to cancel. Jacob was still interested in doing something, but we were feeling a bit lazy now. I was thinking of some nearby objectives and Mount Seymour came to mind right away. It's the perfect lazy day objective as you can park at around 1000m in elevation and then it's a simple 4-500m ascent up to the summit. I'd already done Tim Jones and Pump Peak earlier in the year, but skipped out on Mount Seymour as I lacked an ice axe. Meanwhile, Jacob hadn't done of the peaks around Seymour, so it was easy to get him onboard.
On our lazy Saturday, we left Vancouver around 8:45am and were up at the trail head maybe 30-40 minutes later. The parking lot was decently full, but there were a lot less people than I had seen in February. Thanks to the spring conditions we left the snow shoes at home and even cramp-ons/spikes weren't necessary on the firm snow. Since the ski hill was now closed we decided to ascend up one the ski runs directly as I'd done the dedicated backcountry trail a few too many times to want to repeat again.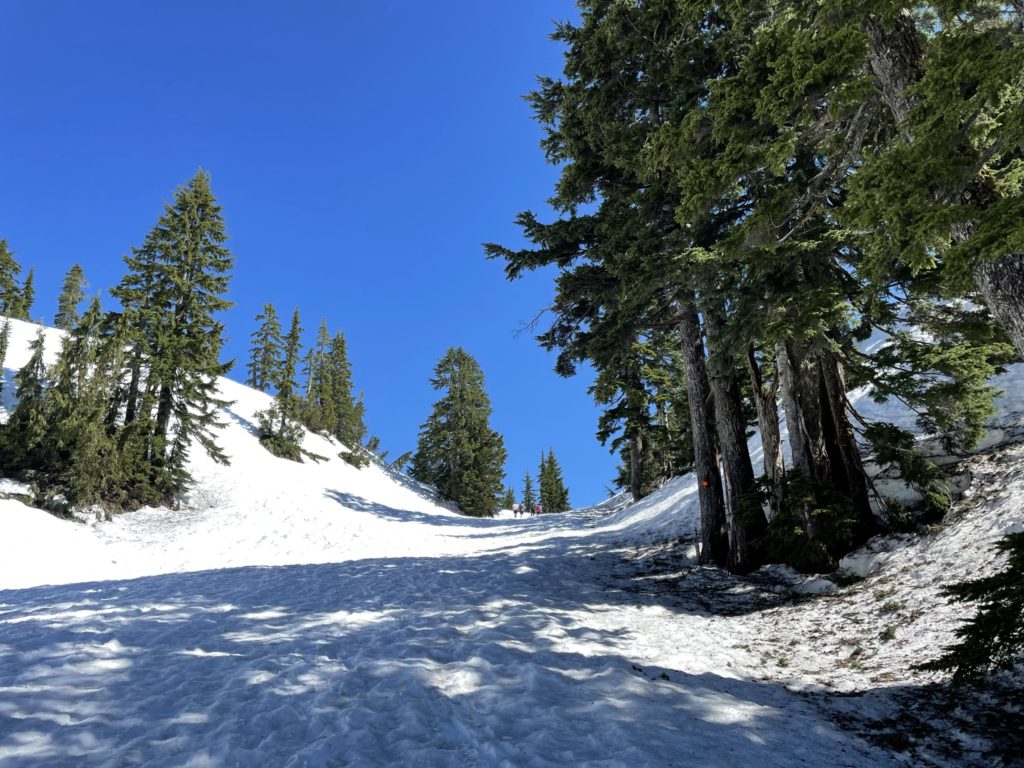 We made it up to Brockton point in about 20 minutes and then its on to to first peak/Pump Peak to gain the first summit of the day. The South face was still mostly snow covered with a few gaps opening up, but looked to be in good shape. I wanted avoid the more boring loop around to Pump peak on the official trail, so Jacob just boot packed straight up the slope. From there it's a short walk over to the summit. Surprisingly, we had the all place to ourselves, but didn't bother staying for more than a minute.
It's a short walk down to the col between Pump Peak and Tim Jones Peak and then another less steep ridge to gain the summit. At the top of the slope, just below the summit you can continue straight to get to Mount Seymour or go climber's right to reach the top of Tim Jones Peak. As the summit is super easy to get to, I convinced Jacob to head to Mount Seymour first while the snow is in shape and then bag Tim Jones Peak on the way back.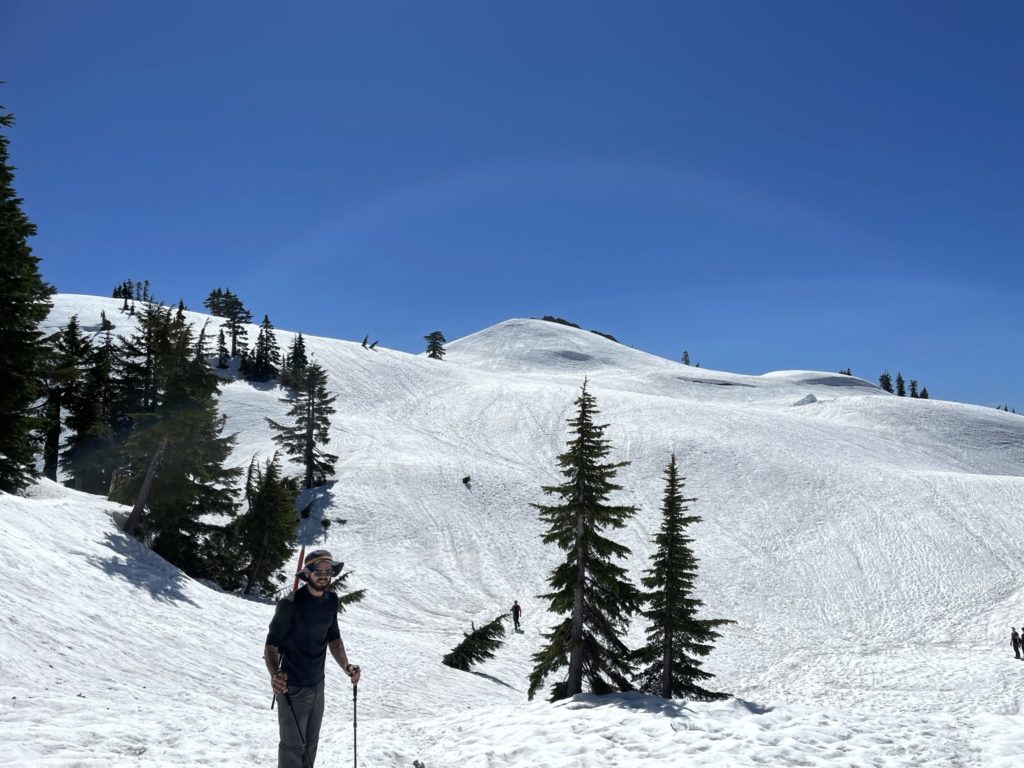 At this point we donned our cramp-ons and pulled out our ice axes. Then it was a short walk down the slope until we connected with the traversing line to gain the ridge to Mount Seymour. This time, the snow was soft and there were already nice steps kicked in. No awkward traverse was necessary, we could just walk straight across being mindful of our foot placement. When I tried this section last time, the snow was rock hard and liberal kick steps barely gained traction. Now with spring there was no issue and I'd say the ice axe and cramp ons are more of a safety precaution than a strict necessity.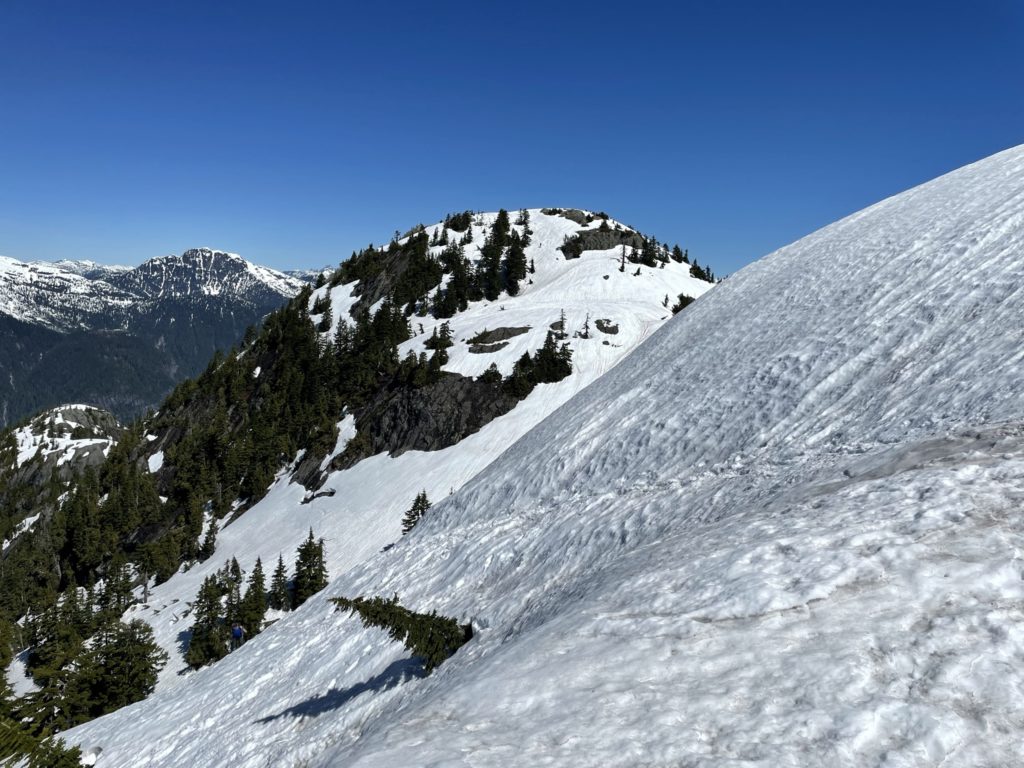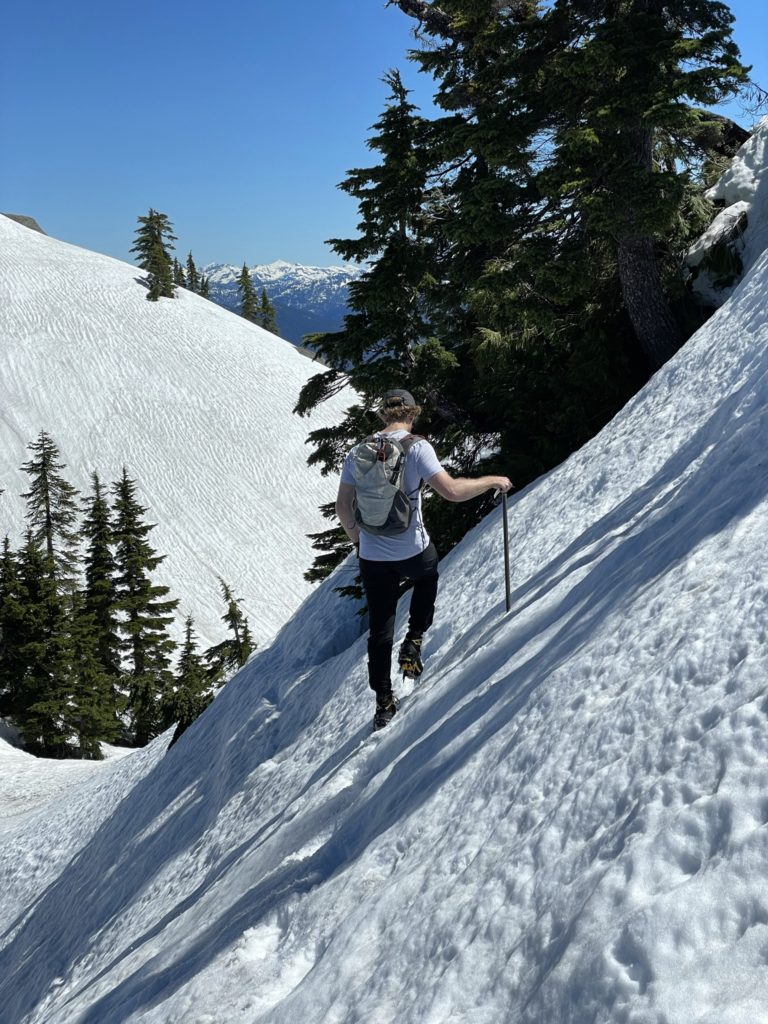 After making the traverse we headed up the mellow slopes to the summit of Mount Seymour. We ran into another climber heading back from the top and hung out for 20 minutes or so discussing climbs around the Rockies. Finally, we parted ways and Jacob and hurried up the summit. Here the top is a broad summit surface with lots of space and places to take photos. You get a good view of all the North Shore mountains and of course some "celebrities" like Mount Baker, Judge Howay and Robie Reid made an appearance.
Once we finished with the views we started our way down to the traverse again. On the way back, another steep snow ascent presented itself on the North side of Tim Jones Peak. Rather than taking the traverse again, we decided to boot pack straight up this pitch to reach the top of Tim Jones Peak. The snow was soft and perfect for kicking steps in and adding to that the climber we met on the way up had taken the same route so most of the hard work was done for us. Finally at the top of Tim Jones Peak we hung out and had some lunch.
Then, it's a short 3 or so km trek back to the car. Just past Pump Peak, I decided to take a detour to bag Mystery Peak as well.