Includes Thurston Mountain Distance + Time
Elevation: 1370m
Distance: 17.13km
Total Time: 6 hours 6 minutes
Date: February 27th, 2021
Mount Thurston stands at ~1630 m and sits in the middle of a ridge line between Mount Mercer and Elk Mountain. My friend Jacob and I had just finished tagging and Elk Mountain and decided to shoot for Mount Thurston as well.
The trail is just a continuation of the Elk Mountain trail and follows along the open ridge line for most of the way, with a few sections through the forest. Neither Jacob or I had brought snow shoes, so we were tracking along a group of snowshoers tracks so km ahead of us. While this greatly reduced the effort and helped pack the snow down, we were still breaking through the snow with regular cadence. It made for a hard workout, but thankfully the route was mostly flat and forgiving.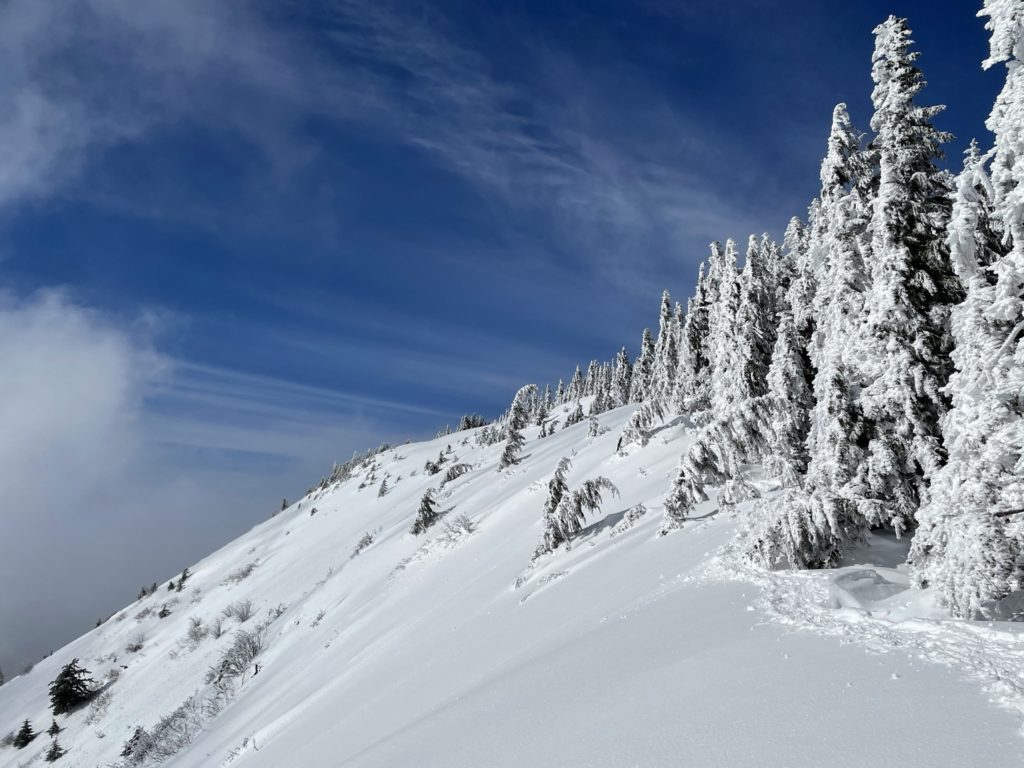 At about the 7km mark (~6km from the Elk Mountain trail head), we reached one of two false summits before Mount Thurston. This first false summit involved some elevation gain up a deep snow slope which made for hard workout. Towards the top, the trees opened up and to our surprise all the clouds had also cleared. From this vantage we had our first clear views of Slesse Mountain and Canadian/American Border Peaks. We had hard time putting or phones down for photos, because at every opening the views continued to blow us away.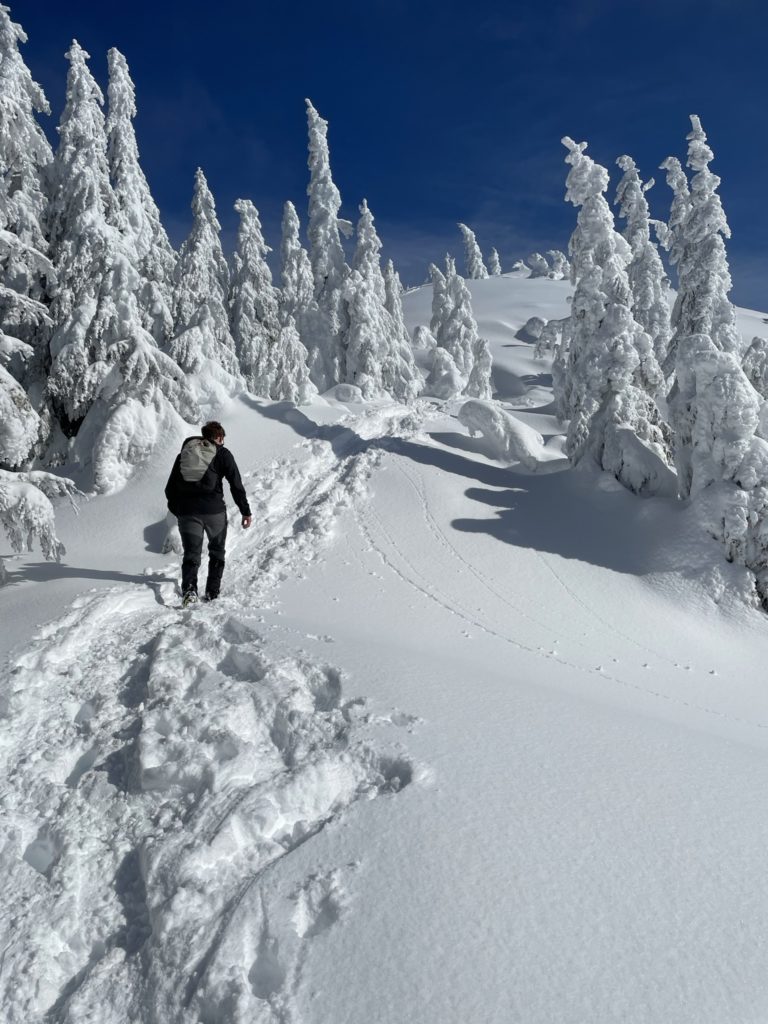 Ahead of us was the second false summit and we could also see Mount Thurston with the snow shoe group near the top. With the sun out and the summit close, we pushed on with the post-holing nightmare. The route meanders through the trees more frequently here, but somewhere between the first and second false summit we broke out again and caught an amazing view of Cheam Peak, Lady Peak and Knight Peak. The snow covered landscape and sunshine made for a picture perfect day.
We ascended the final false summit and met up with the snowshoe group, now on their way back. They had not reached the summit, opting to stop at the opening as there aren't any views at the summit. I realized we'd have to trail break in deep snow to reach it, but it looked like they had made it most of the way, so I wasn't too concerned. We pushed on, but had definitely slowed at this point. Both our quads and calves were burning at this point as we'd been post-holing on and off for about 3km now. If we had brought snow shoes, this whole trip would have been a walk in the park, but oh well.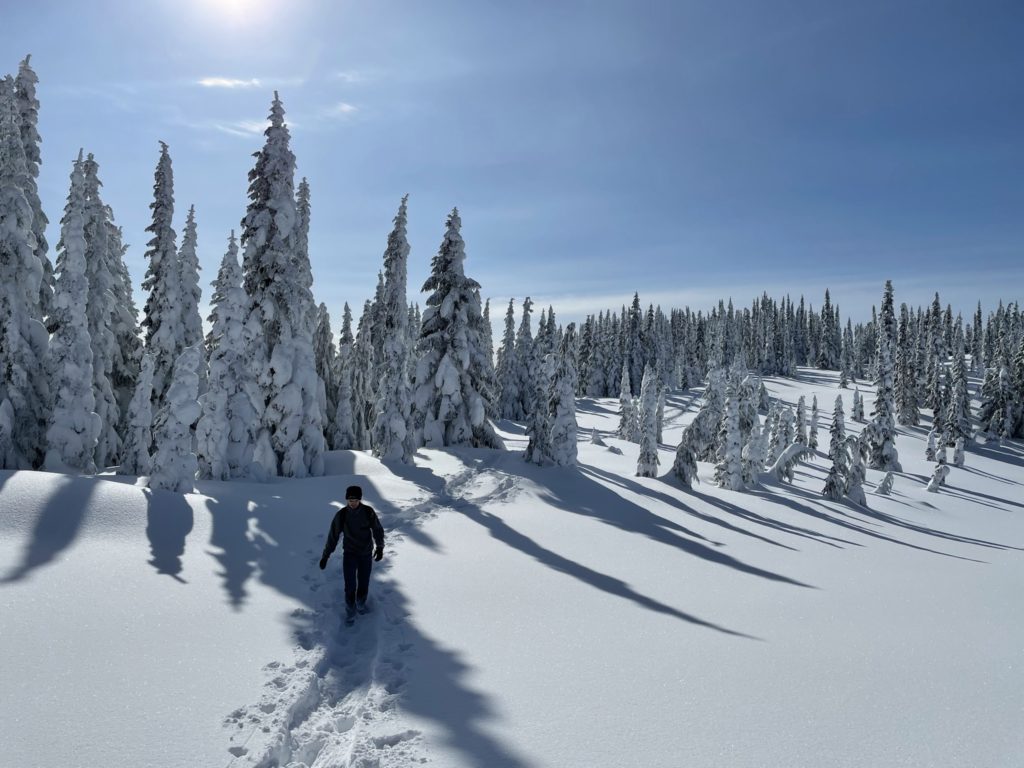 At around 2:20 we reached the last of the pre-broken trail and pushed into the woods. The snow was deep, but was surprisingly easy to break through. Maybe 90 feet in, we reached the top. In the end there were actually a few views towards Cheam Peak, so we took a few photos and then made our way back.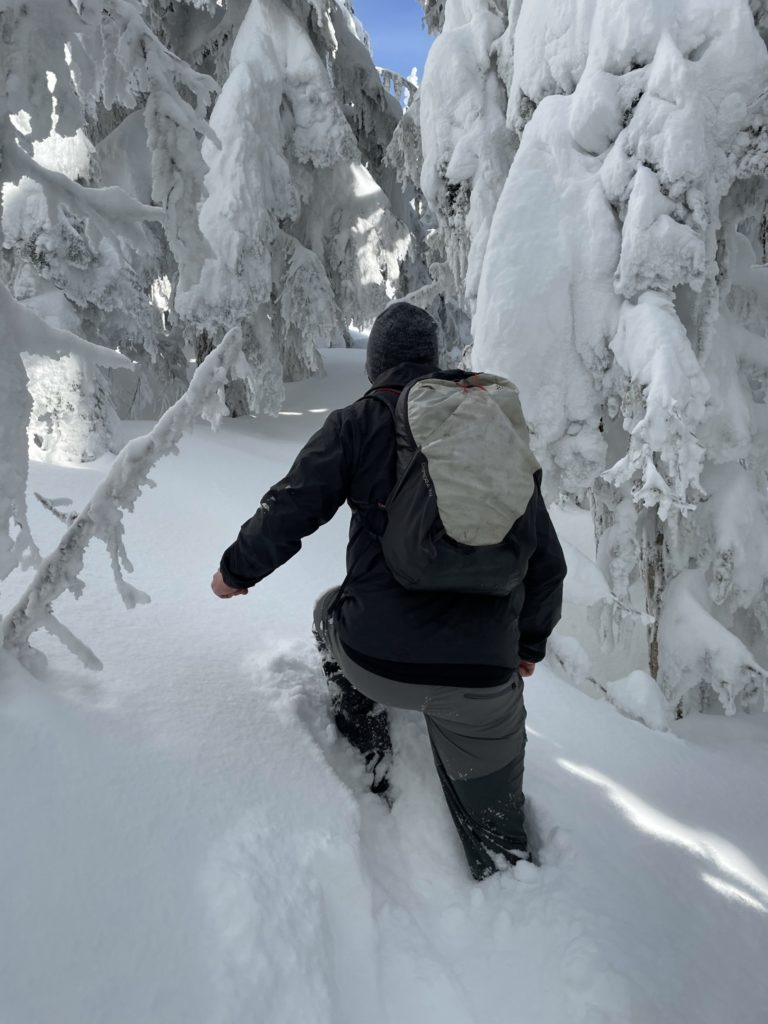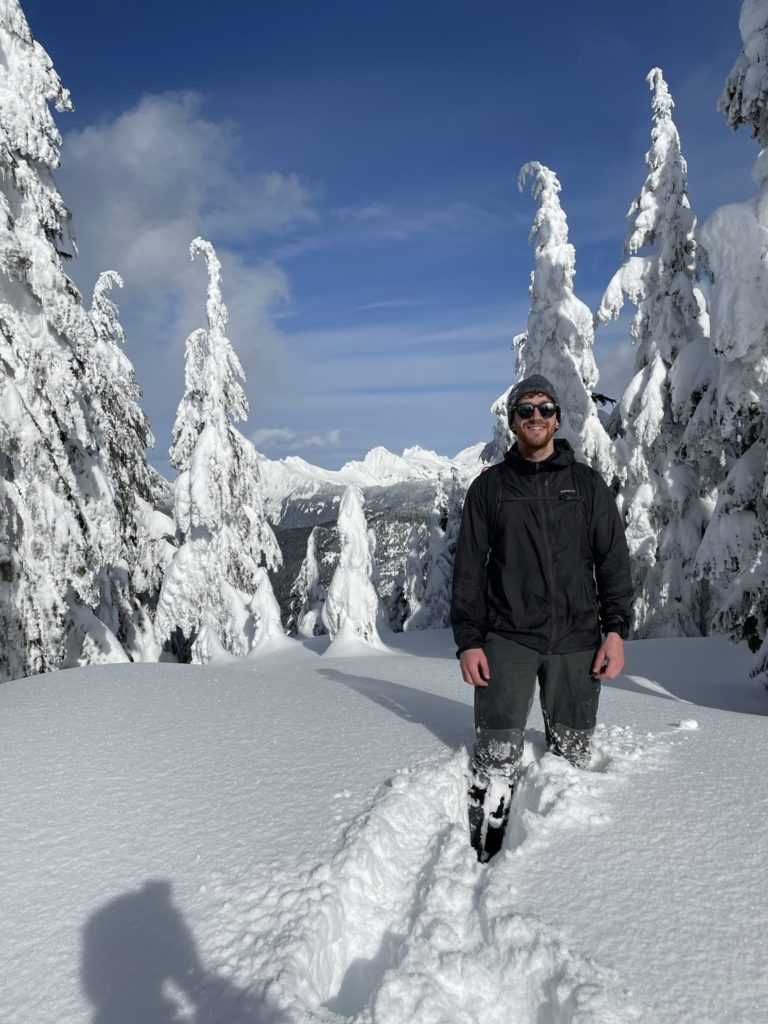 From there we made the long post-holing nightmare plod back towards the "solid ground" of Elk Mountain. It took us another hour and a half to get back to Elk Mountain with great relief when we finally did. By this point, the crowds had mostly dispersed and there were perhaps 10 people near the summit. I had also run out of water and food, but it's a short hike down to the car from Elk Mountain, so it wasn't a major concern.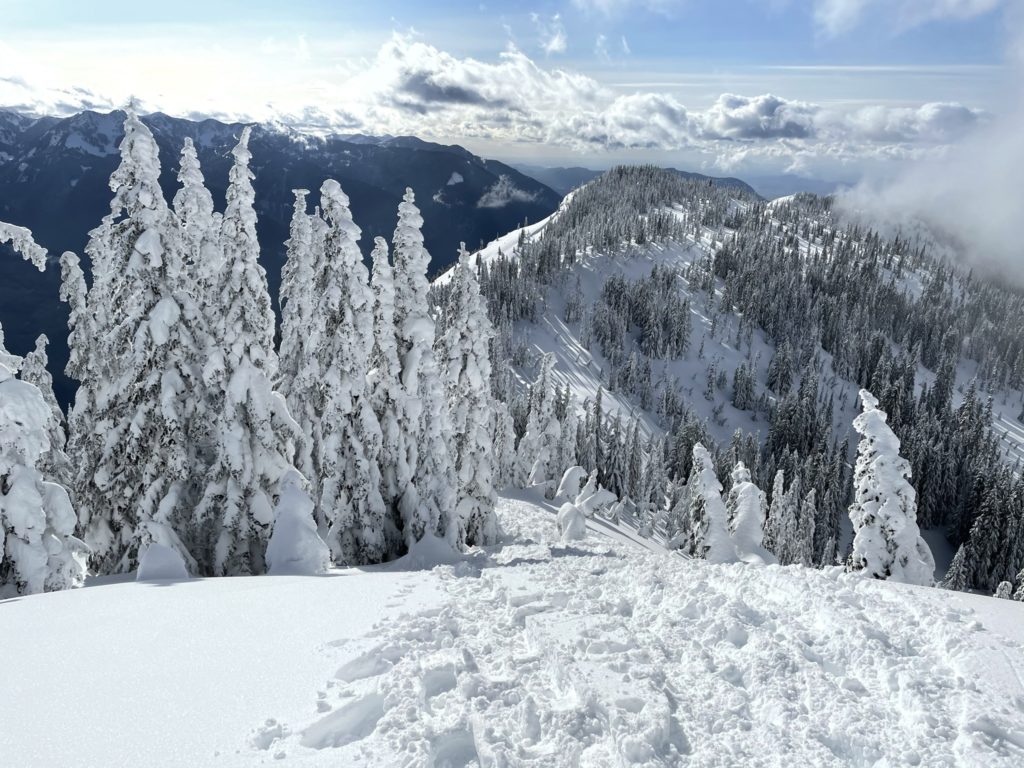 A lot of people had been glissading down the trail and basically turned it into a smooth hard-packed snow slide. Rather than slip my way down, I finally put on some crampons and it made all the difference. I half ran/walked all the way down with confidence. Jacob and I made it back to the car for 5:15 and not a moment too soon. The hunger had totally caught up with me and was on the verge of a hanger strike. We wasted no time loading into the car and broke for the first fast food restaurant we could find. One burger and coconut water later, we were back on the road to Vancouver with a successful double summit day in our bag.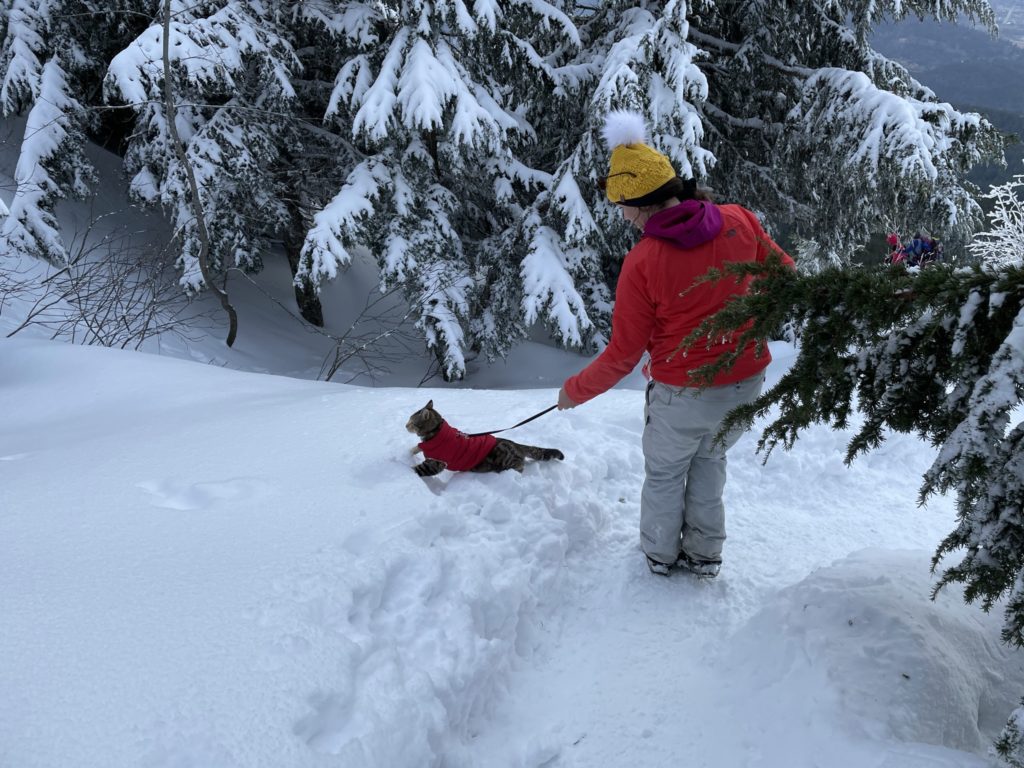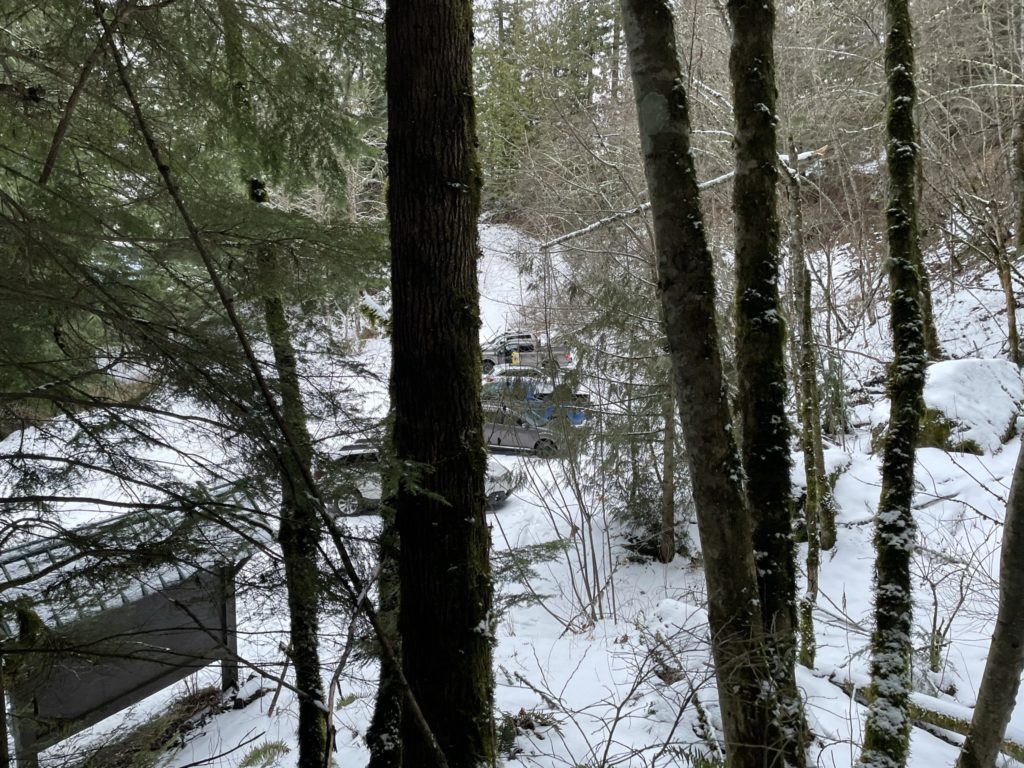 I highly recommend both Elk Mountain and Mount Thurston for anyone looking for an easy hike with bomber views. Given the large crowds in the middle of winter, I suspect the summer time is a bit of a circus, but I can see why. While there's no technical challenge, except lots of snow, it was still a 10/10 day for me.