Includes Thurston Mountain Distance + Time
Elevation: 1370m
Distance: 17.13km
Total Time: 6 hours 6 minutes
Date: February 27th, 2021

I learned about Elk Mountain a few months ago when looking at popular trails online. It's an easily accessible hike with about ~740 meters of elevation gain and sky high views of Chilliwack and the surrounding region. I was saving this hike for a sunny day with a new hiking partner, as there's no challenges to the summit so it'd be an easy way to get someone interested in further trips.
This Saturday both conditions aligned as there was a sunny day in the forecast and I had a friend, Jacob, who would be joining along for his first hike in BC. We left Vancouver together on the Saturday morning and arrived at our destination for 11am. Already there were at least 20 cars along the road. I expected a few cars, but not so many during the winter. As it turned out, Elk Mountain's accessibility and views make it extremely popular at all times of the year.
Due to snow on the road, we had to park ~800 m from the trail head, but it was a short "hop and a skip" to the trail head. From the trail head the route starts with minor inclination and weaves through the forest on a well maintained trail. There had been a lot of foot traffic, so the route was actually quite slippery with just boots on. As we gained more elevation however, the larger snow accumulation made for better traction and I stopped sliding around.
The trail itself was pretty uneventful as we hiked up through the trees until about 1050m in elevation. At this point the trail narrows and steepens further with more switch backs up the slope. Overall, nothing too challenging as far as steepness goes though. We continued up the steeper route until about 1250m when we broke out of the trees for the first time. From there we, briefly, had views of Mt Baker and Mount McGuire, before they became shrouded in fast moving clouds.
A lot of people were stopped at this point, so we pushed on towards the summit. The rest of the way to the summit is also pretty uneventful, but has wide-open views of all manner of mountains to the South. We reached the summit around 12:40 and paused for a quick snack, but still not much views yet.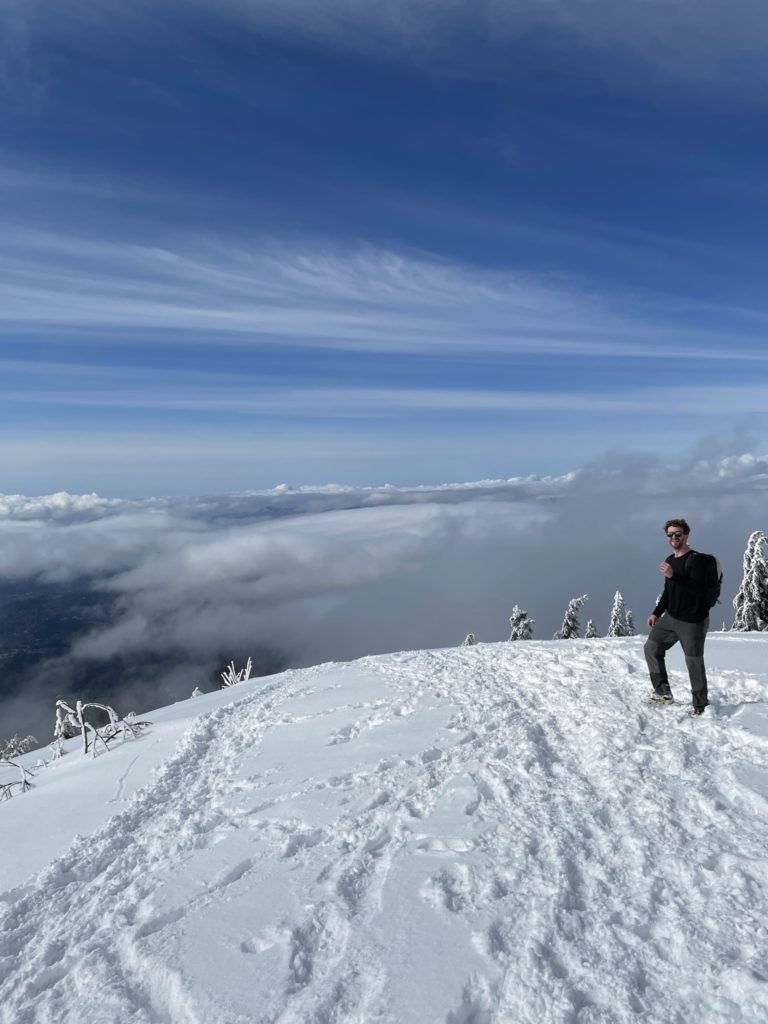 Beyond Elk Mountain the trail continues to Mount Thurston and eventually Mount Mercer. I had looked at the option of tacking on Mount Thurston when planning out our trip as it's a "free summit" with only an extra ~6km round trip along a flat ridge line. I had a feeling it would involve trail-breaking in deep snow, if the route wasn't packed down already so I wanted to make the go/no-go decision once we could assess conditions at the top of Elk Mountain. We didn't have snow shoes, but a large group had already packed down the trail with theirs and so we decided, why not.