Distance: 12.06 km
Elevation: 1,654 m
Total Time: 4 hours 32 minutes
Date: August 16th, 2020
For me, Crown Mountain was almost always over-shadowed by the lions when looking up at the North Shore ridge. It wasn't until this summer, when browsing through local trails, that I first discovered it. The standard route starts just after the Grouse Grind, which I often hike throughout the summer for training. Bonus points for being close to home and according to the trail description has a bit of scrambling as well.
I initially planned to do this hike on August 15th, but had to back out only a few 100 meters up as one of my two party members was unable to hike any further. It was a clear sunny day on the following morning and so I decided to head up solo and try again. While the normal route starts at the top of the gondola, I thought it'd be a fun challenge to start from bottom and hike the Grouse Grind as well.
I set out on the trail around 12:30pm and started my way up the grind. The trail was busy as usual and this time I was carrying extra layers and water that I wouldn't normally need when just doing the Grouse Grind. I won't provide too much detail here as this is a very well-known trail and there's not much too add besides lots of steps and steep climbing.
Despite the extra weight, I made decent time and finished the Grouse Grind portion in ~54 minutes. I pushed on through the village and met up with the start of Crown Mountain trail. It mostly follows some established service roads and then after a km or so turns into a well-maintained trail. The terrain rolls up and down a few meters in elevation, but was other wise fairly flat for the first 2km.
Things got interesting once I passed Goat Mountain on the right side. At this point, I was at about 1,300m of elevation and before me was a very long and steep descent down to Crown Pass at ~1085m. I looked closely at the map and realized I would be losing ~215m of elevation and then have to regain ~415m back up to the summit of Crown Peak. This was a bit of a disappointing find as I didn't realize there was so much elevation loss and gain on this trail. Nonetheless, I was committed and the sun was still high, so I pushed down towards Crown Pass.
The trail was still busy at this point, although less traffic than other parts of Grouse Mountain. Quite a few people were complaining about bugs, but I found they only bothered you if you were standing still for too long. The perk of going solo is you can set your own pace and no need to wait for bugs! Most of the route down to Crown Pass is very steep and in some sections they provided chains for those who need an extra point of stability.
I paused briefly at Crown Pass to have some water and then started my way up Crown Mountain. This part of the trail is equally as steep as the down climb and I had a feeling it was going to be a pain to come down on the way back. At around ~1350 meters up (total elevation) I found the scramble component of the hike: a fun looking rock wall with no real exposure. There were a couple of flagged routes to follow, but I mostly went my own way as it's not too technical and the rock is solid.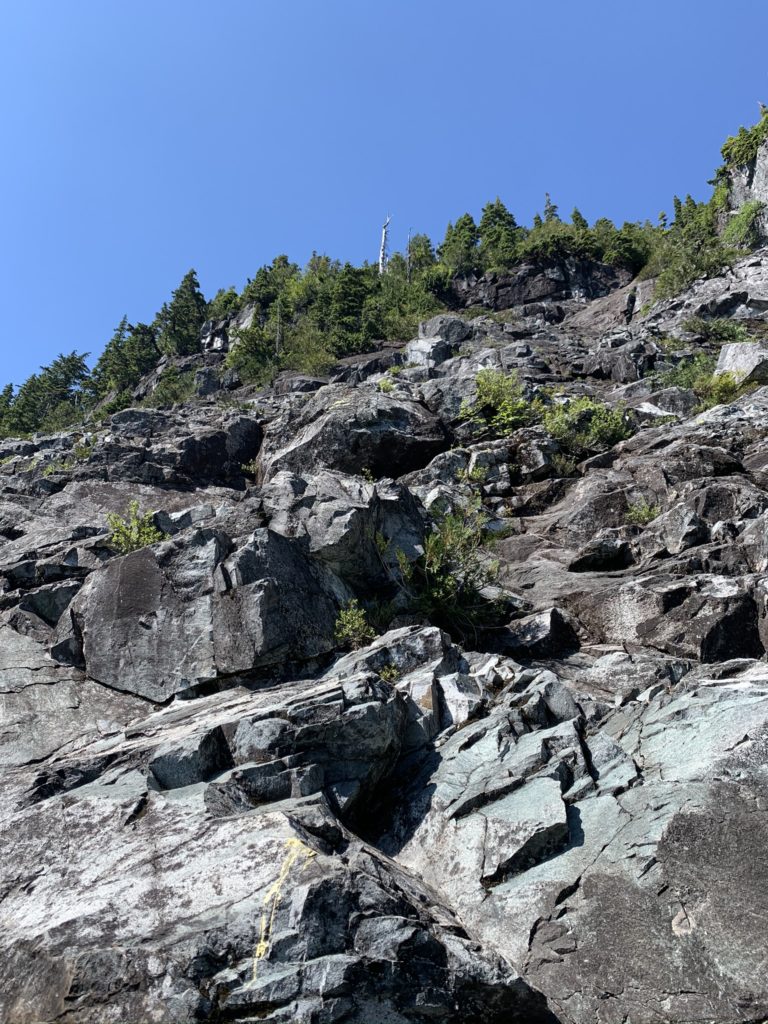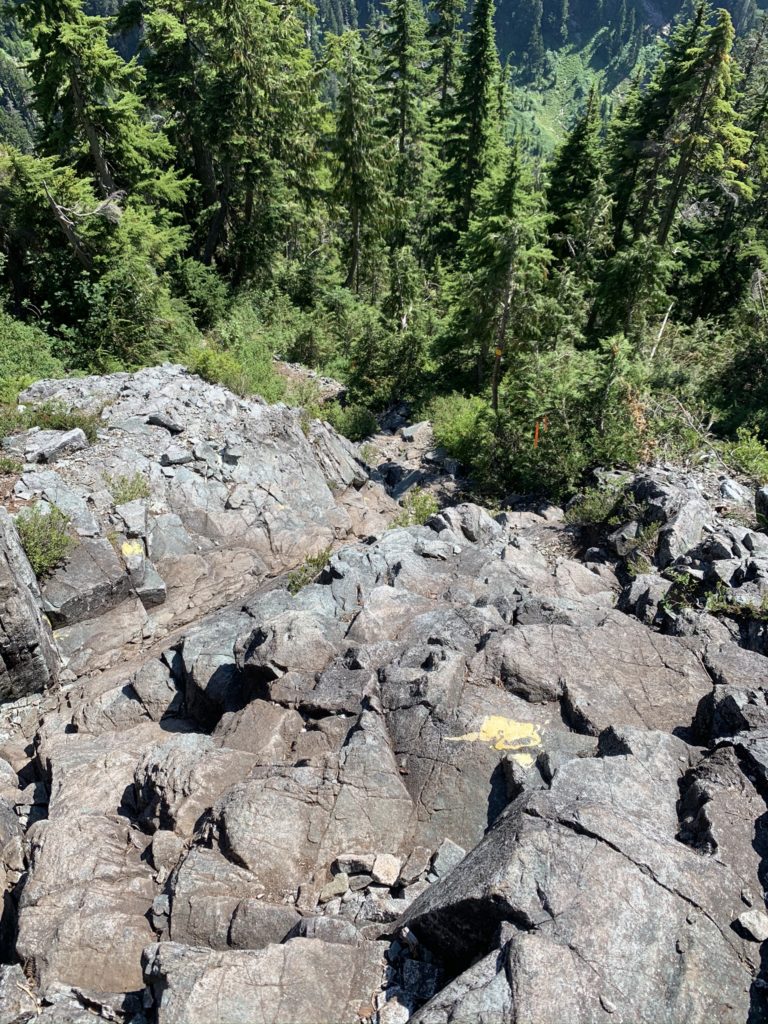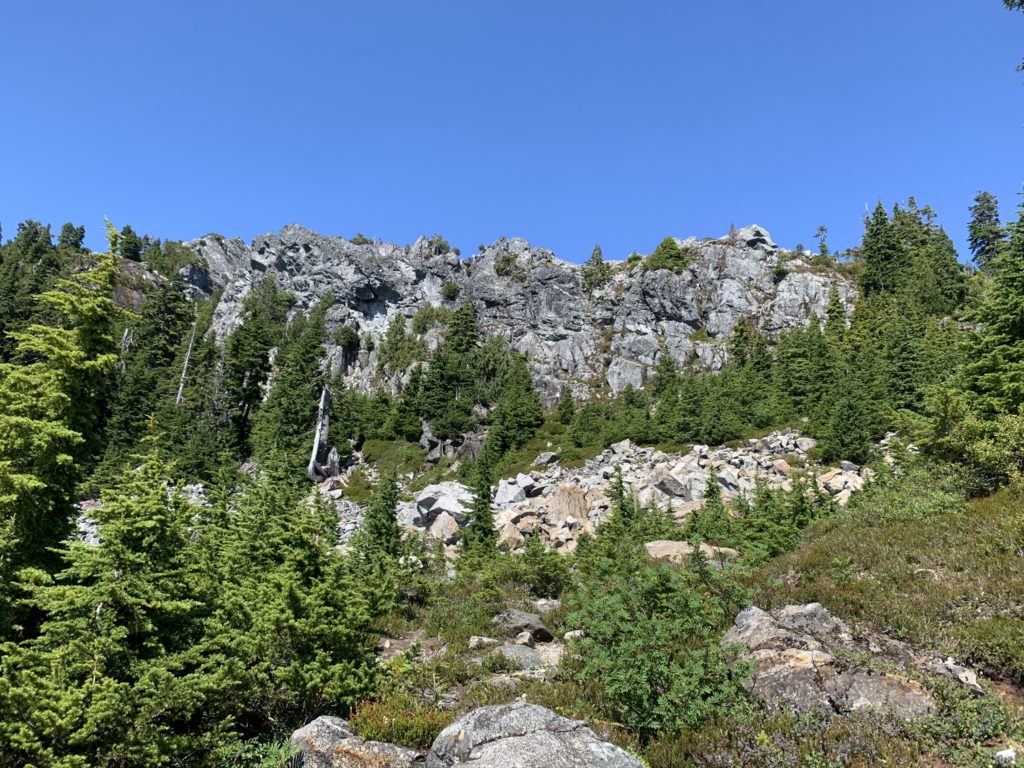 Shortly after that section I came out to the first flat piece since Crown Pass. There was what appeared to be a small wooden helipad and the first glimpses of Vancouver-wide views. I hurried up the final 30-40m and reached the summit of Crown Mountain. From my vantage, there were unprecedented views of all of Vancouver and the surrounding mountain ranges. It was one of the best view points I'd been too in all my hikes on the North Shore.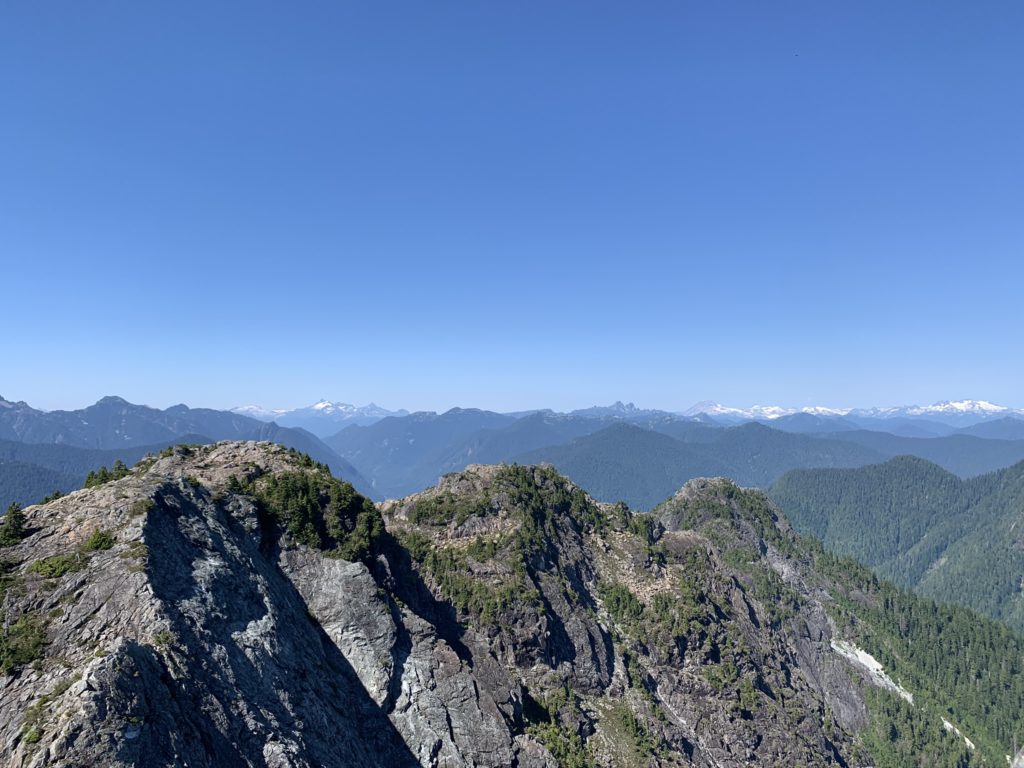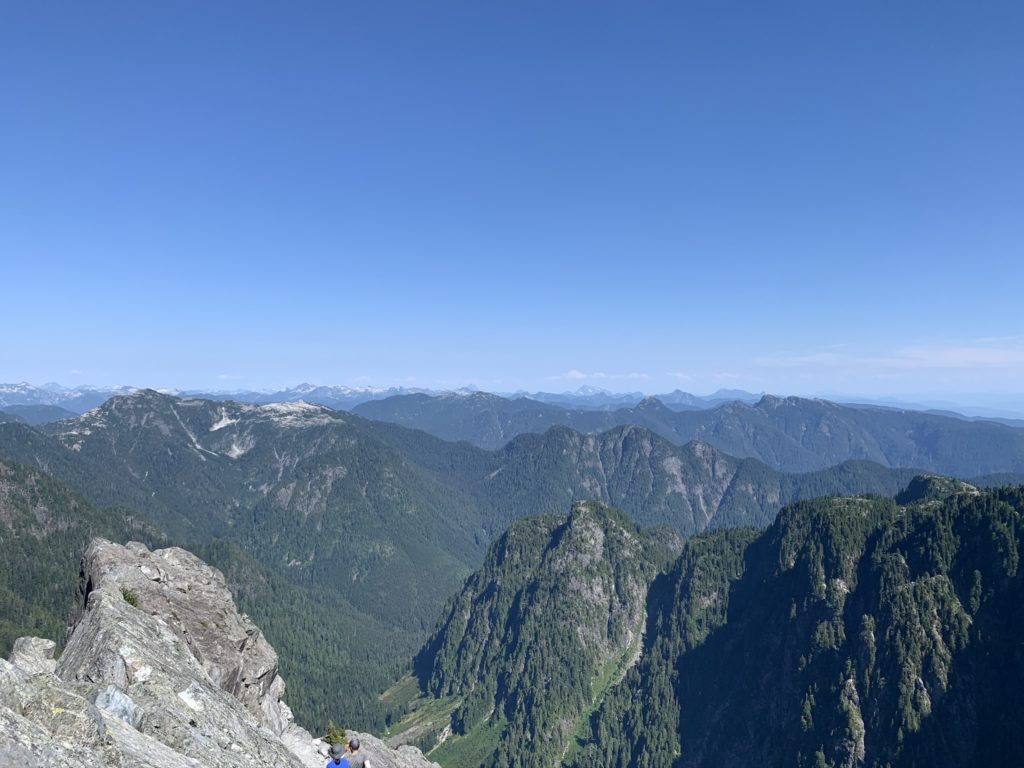 I stuck around for ~30 minutes enjoying my lunch and then headed back down. As expected the route down was steep and required tedious movements. It's a well-established trail however, so it was simply a matter of following along back down to Crown Pass and then regaining all that lost elevation again.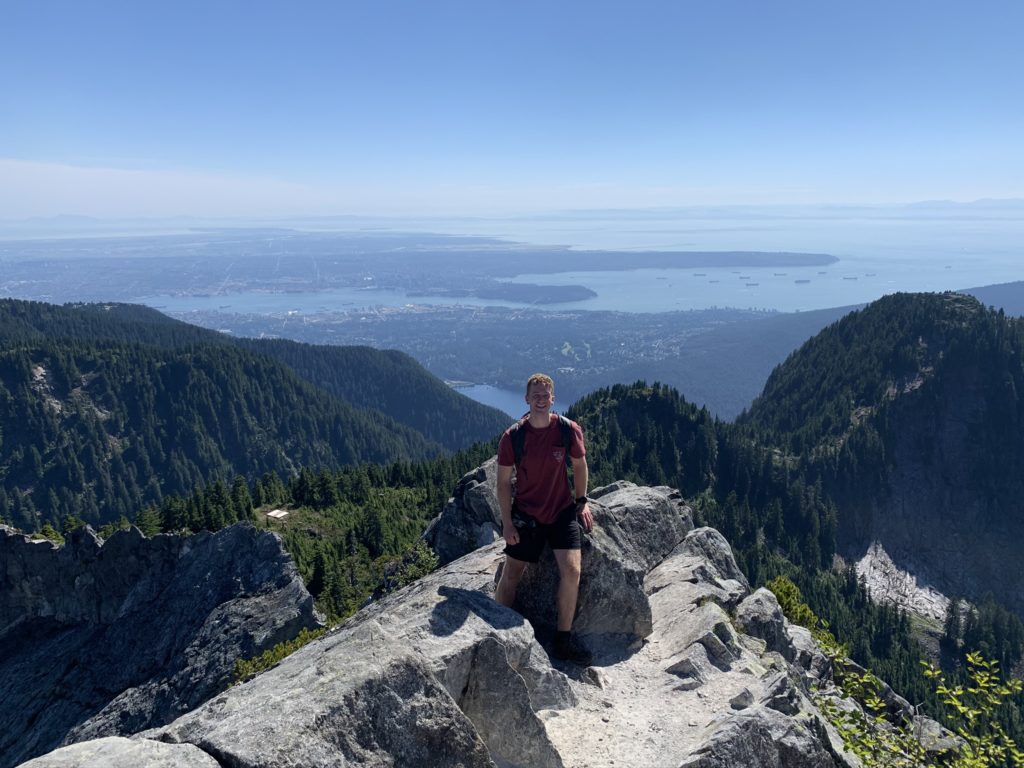 By the time I reached the fork for Goat Mountain, I was out of water and feeling pretty dehydrated from the unending sun. I originally wanted to try and get Goat, Little Goat and Dam Mountain but without water, I wasn't feeling particularly motivated. When I made it back to the village, I opted to take the Gondola down as the down climb in Grouse Grind or the BCMC trail are rather boring and hard on the knees. Overall a very fun trail with amazing views, but the unexpected elevation gain and loss added a layer of difficulty.