Elevation Gain: 2,129m
Distance: 22.5km
Total Time: 27 hours (including overnight camping)
Date: July 8th and 9th, 2023
Mount Cayley is one of those summits that catches your eye from most of the peaks around the Sea2Sky area. From afar it likes like giant sand castle with sharp pointed pinnacles guarding the upper flanks. It's surrounded by the equally, if not more unique summits of Pyroclastic Peak and the still unclimbed Vulcan's Thumb. Cayley and the mountains in its vicinity are part of a volcanic complex that is apparently still partially active. The geology of the area is exceptionally chossy and prone to landslides. Nonetheless, a striking summit like that is bound to attract climbers and while there is not much beta online, it does appear to get at least one ascent every few years. Many who attempt it will settle for the summit ridge, but there is in fact a tall fin of rock that marks the true summit tower. For those wanting to claim the true summit, they must climb this pinnacle on questionable rock.
After a 3 day trip up Mount Colonel Foster with Steven and Elise mid-week we started checking weather on the way back and noticed a great forecast in the Sea2Sky area. We were all pretty exhausted, but we each had the time off to spend and so there's no choice but to take advantage. There were quite a few options floated around, but after Steven suggested Mount Cayley, I was immediately enticed. I had seen this summit from all over and even a recent attempt from a climbing friend and it looked like a very cool challenge. There's at least one pitch of 5th class climbing, but at what grade was not known. Furthermore, most ascents/attempts are done with a thick spring snowpack and we'd be trying with virtually no snow at all. Adding to the allure as always, was the limited beta available online, although I knew the climbing could not be too challenging as at least one mentioned ascent was done with just ski-boots and crampons.
Steven invited Chris and Seb to join along and now we had a solid team of 5. The weather didn't look great mid-afternoon, but only Steven and I could leave early in the morning. As a result, we decided Steven and I would hike in early on Saturday, wait out the precipitation and meet the others on Sunday morning. Elise, Chris and Seb would do a mid night start and so wouldn't need to carry all the heavy gear in. The plan was to leave from Brandywine Meadows as there's no slog involved and a quick hike to the alpine. The ridge line down to Mount Cayley looked pretty trivial, although we would have to regain 400m on the way back.
I met with Steven at 5:30am on Saturday morning and drove us out to the Squamish A&W. After a quick breakfast we drove up the rough Brandywine FSR and parked at the upper lot. No more than 15 minutes from the trail head and we were in the lush alpine meadows on our way up to the summit of Brandywine. I had already done this peak back in 2021, but Steven needed to do it still. Either way, we'd have to pass by it on the way to Cayley so might as well make the pit stop.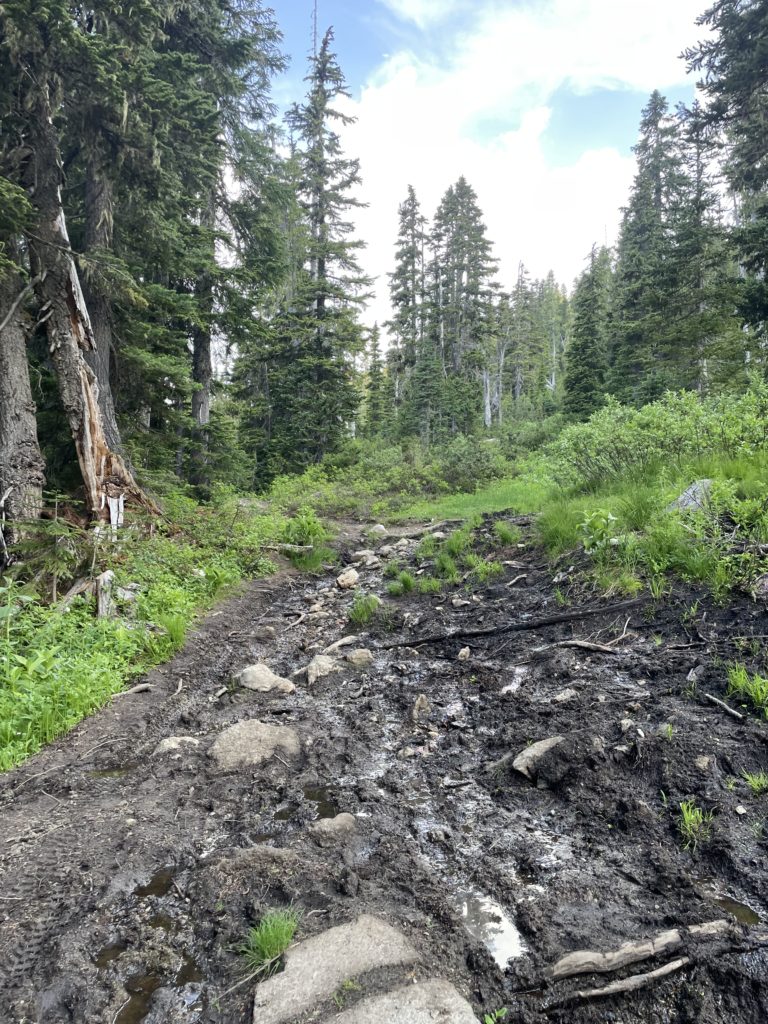 We made a nice leisurely pace through the meadows and climbed the scree fields above to the ridge line. At around noon, we stopped near the base of the summit and I took a nap while Steven made quick work to the top. Once we regrouped, we started are our way down the long ridge line towards Mount Cayley. There's not too much to say about this section as it's rather pleasant ridge travel with a mix of sun-cupped snow and boulders interspersed. By 2 o'clock we had reached a large knoll of sorts that marked the beginning of a steep descent down to the glacier below Cayley. We had originally planned to camp at the base of this knoll, but looking down the camp site didn't seem ideal. Furthermore, we had been much better on time than expected and now had 7.5 hours to kill with no rain in sight.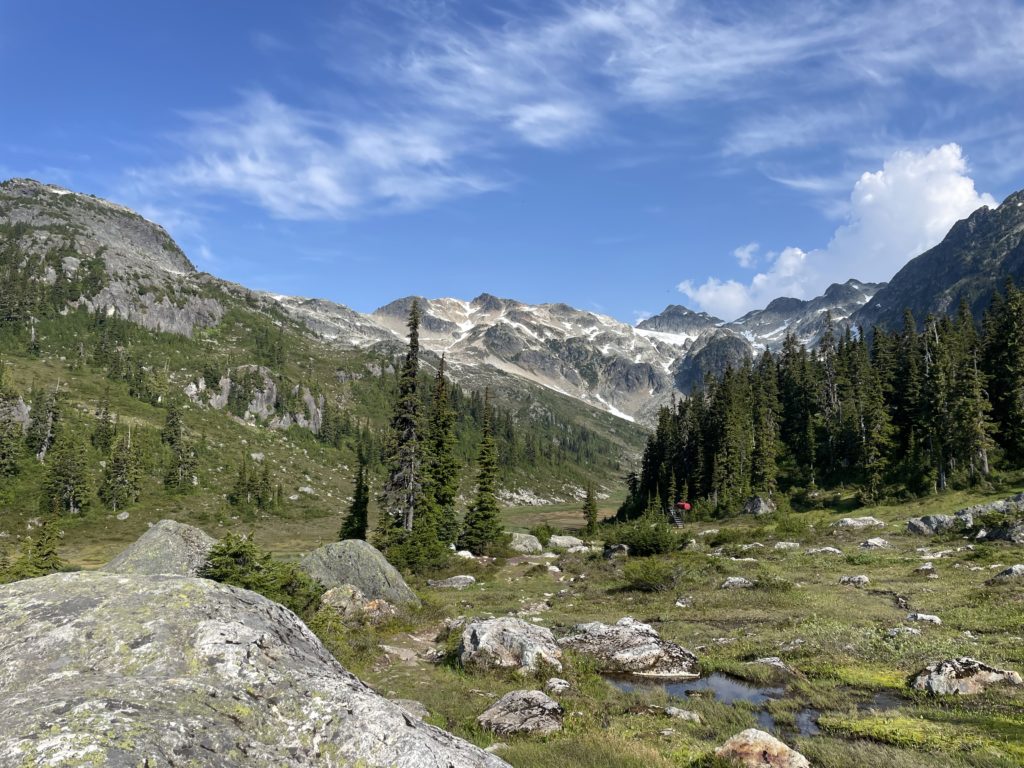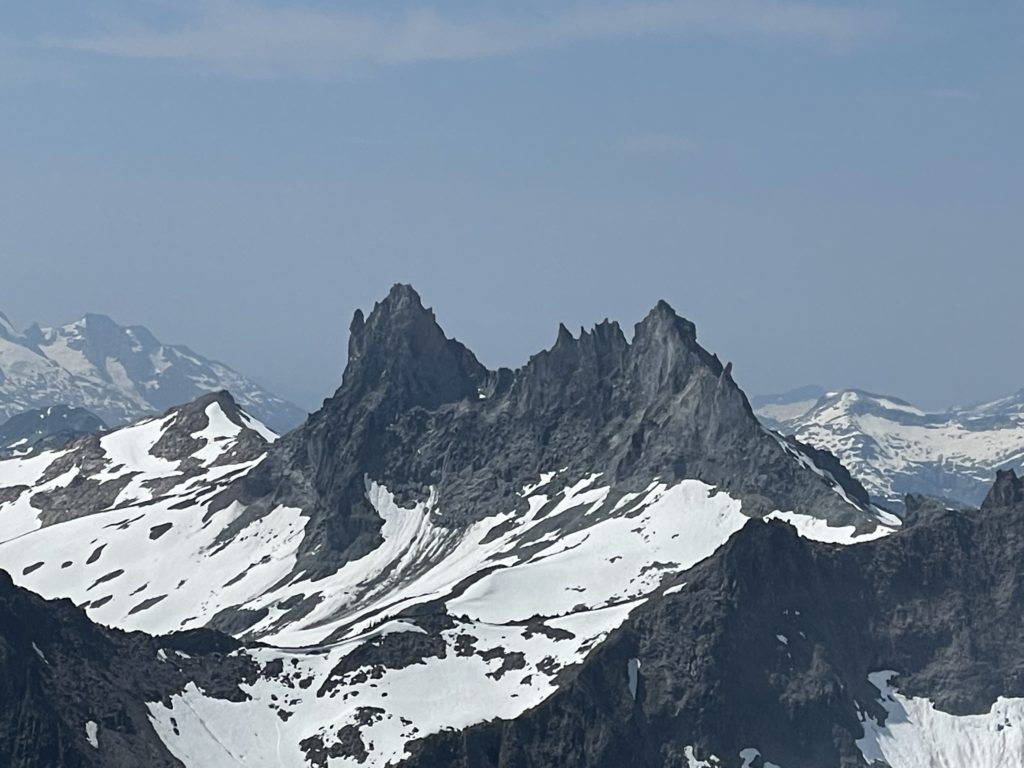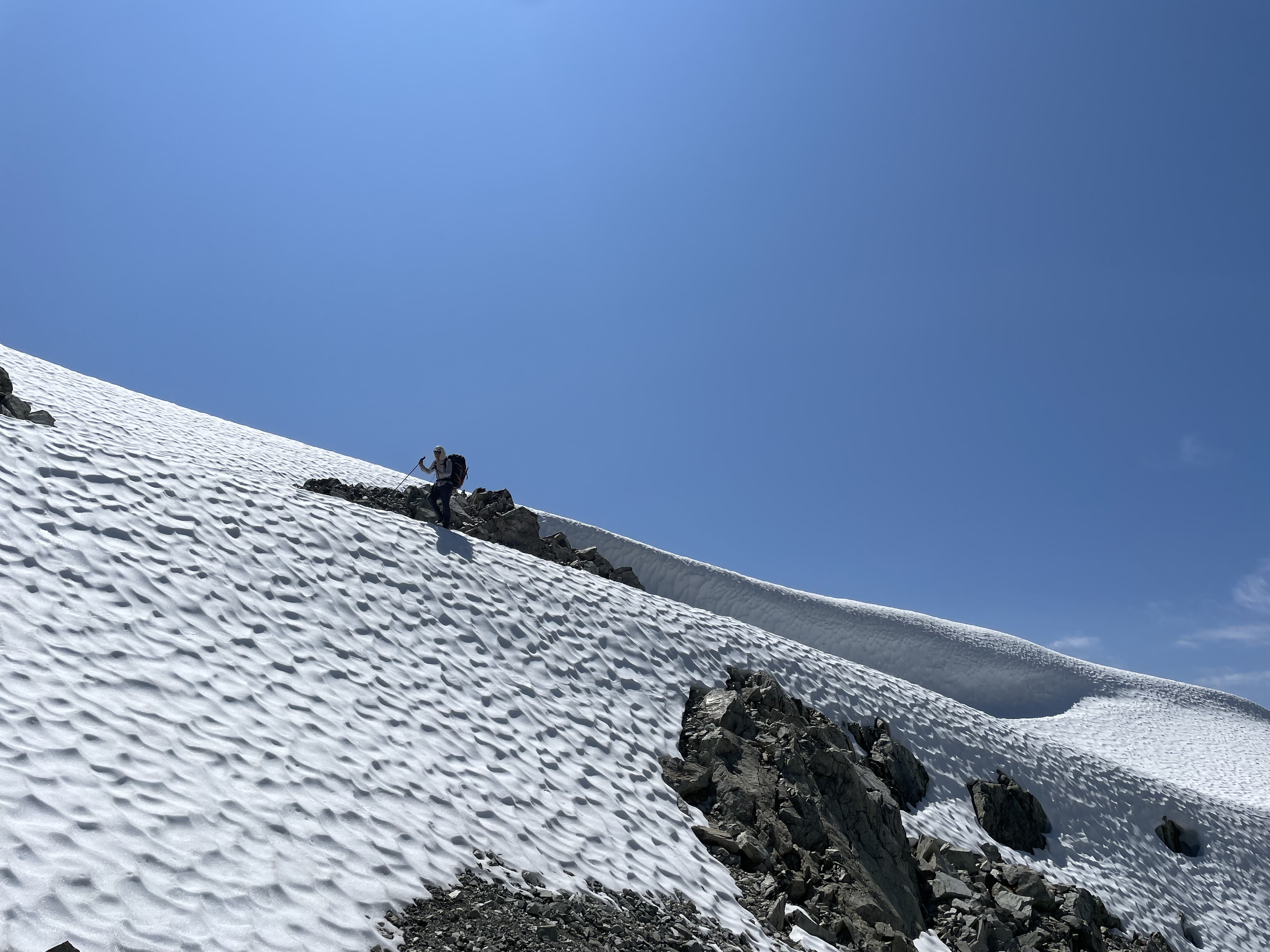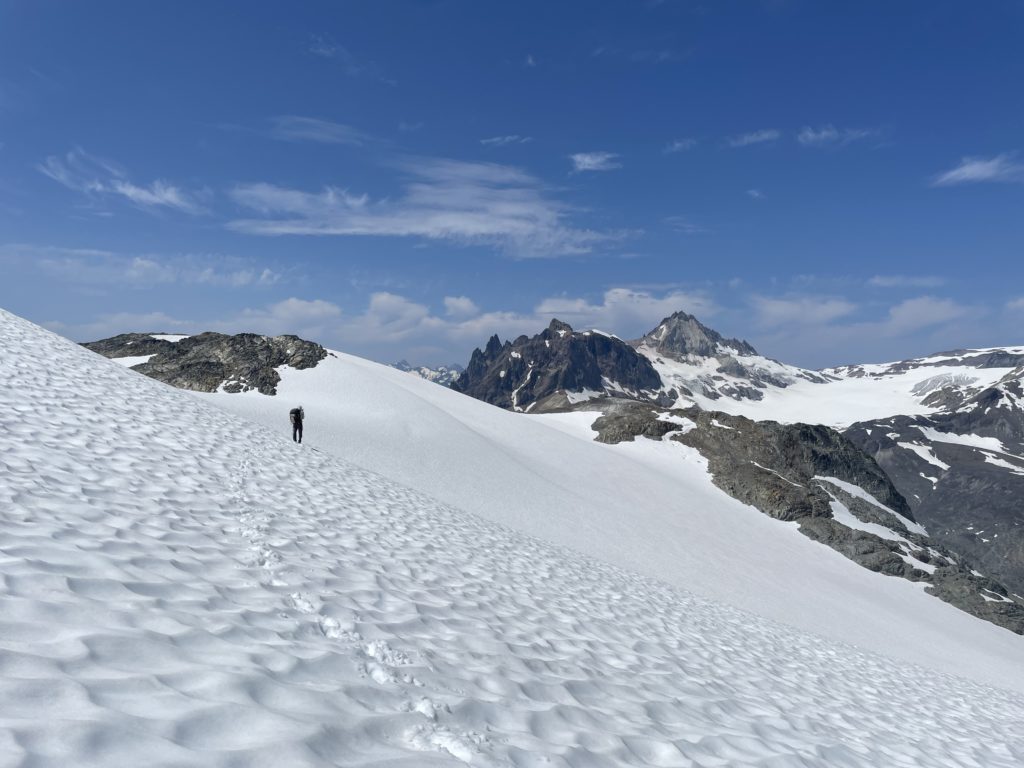 A new plan was hatched! We decided to ditch our heavy gear at the knoll, which was a more logical camping spot, and go for Cayley in one push. Unfortunately, that would mean we wouldn't climb the summit as a team with Elise, Chris and Seb, but we figured we could leave a fixed line for them and they could go straight for the summit light and fast without us. I ditched everything but climbing gear and ice axe + crampon and we started our way down the steep chossy west side of this unnamed knoll.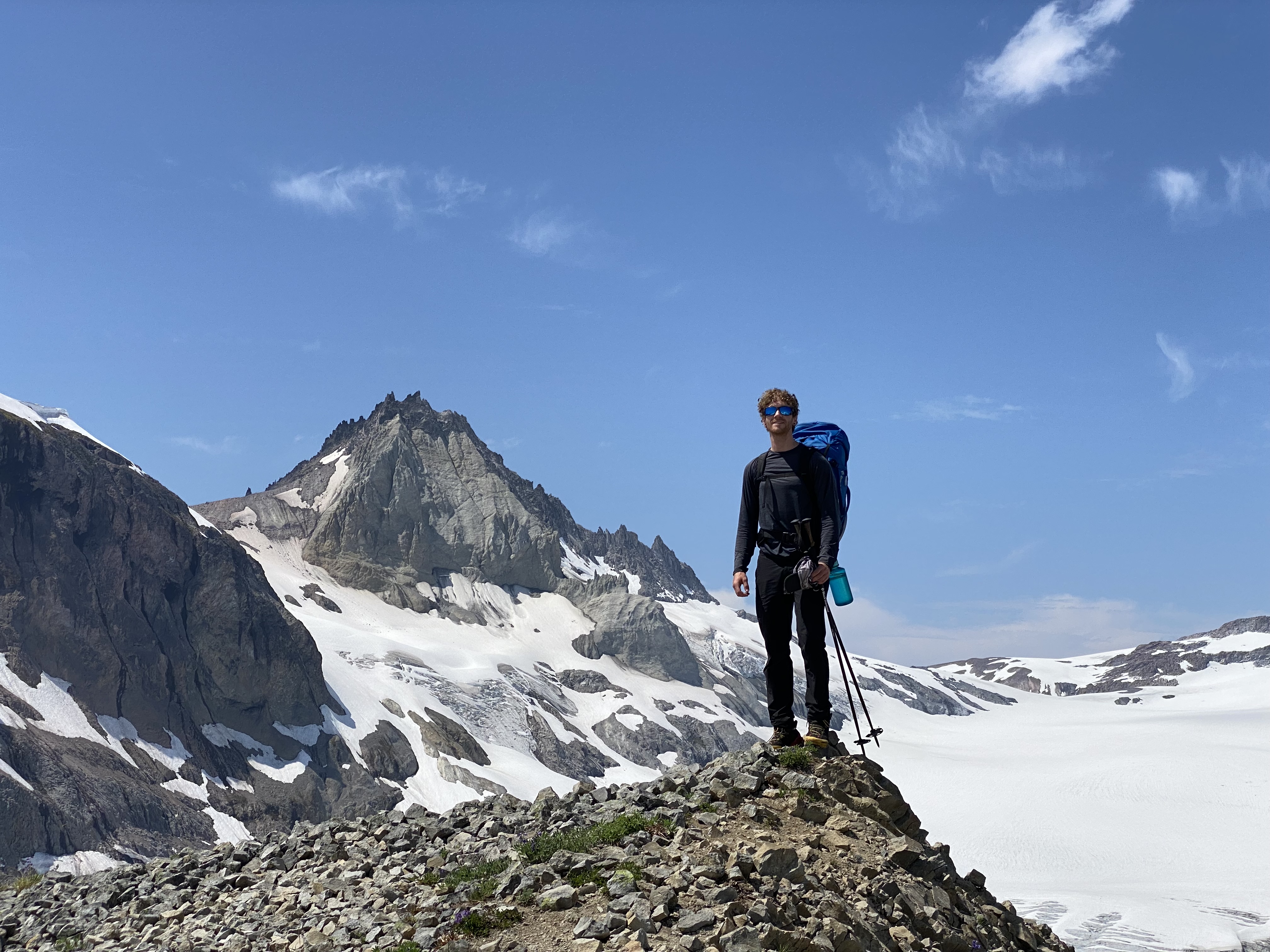 It was a tedious descent filled with compact choss and loose dirt, a sign of things to come! We made it down without incident and began traversing up the dry glacier at the base of Mount Cayley. Steven lead us through and avoided any spooky sections with ease. Once we reached the snow slopes up to the Cayley-Pyroclastic col, we donned crampons and started the march up. The snow here wasn't too steep and in perfect condition for climbing and as such we made good time to the col.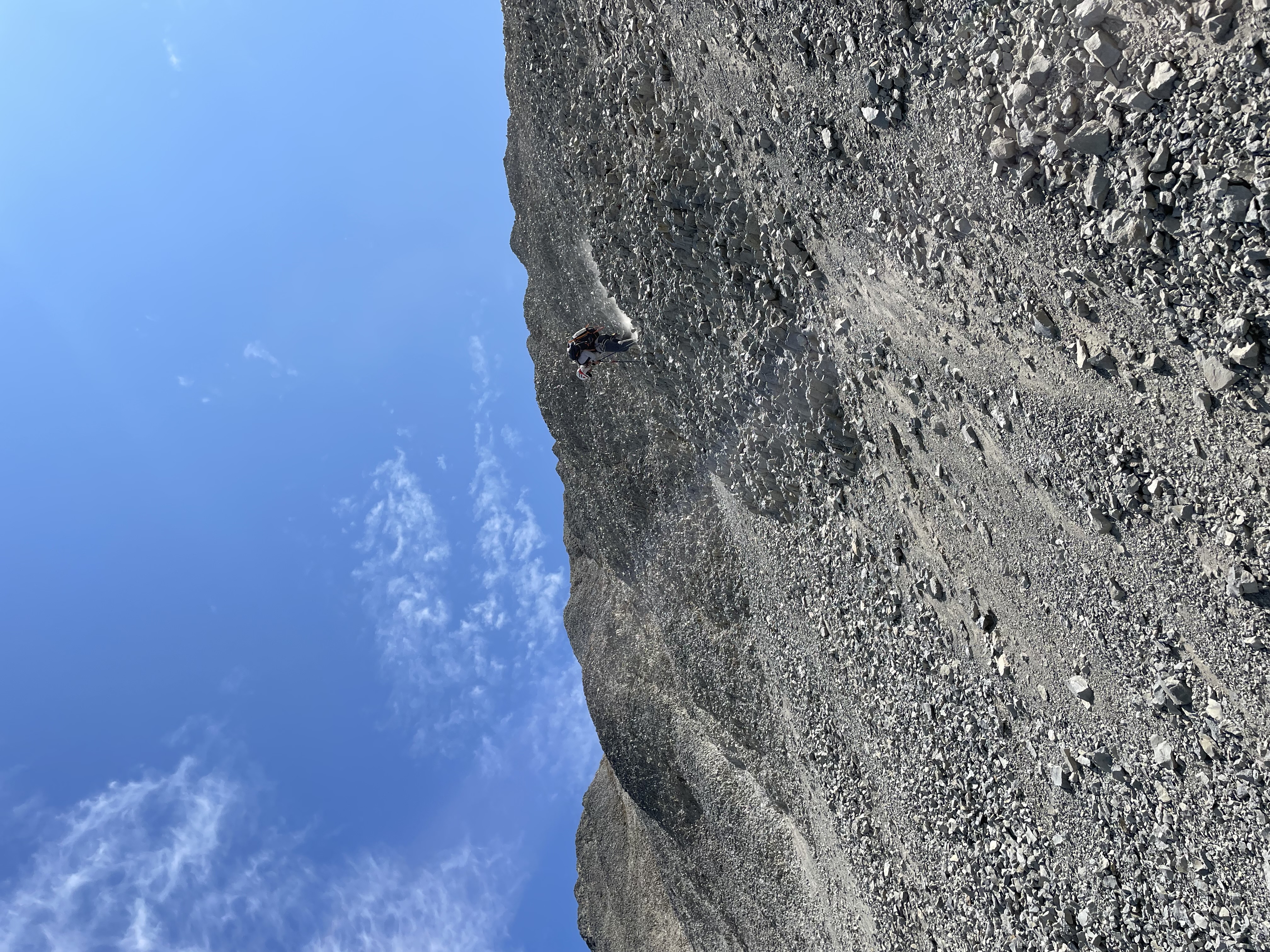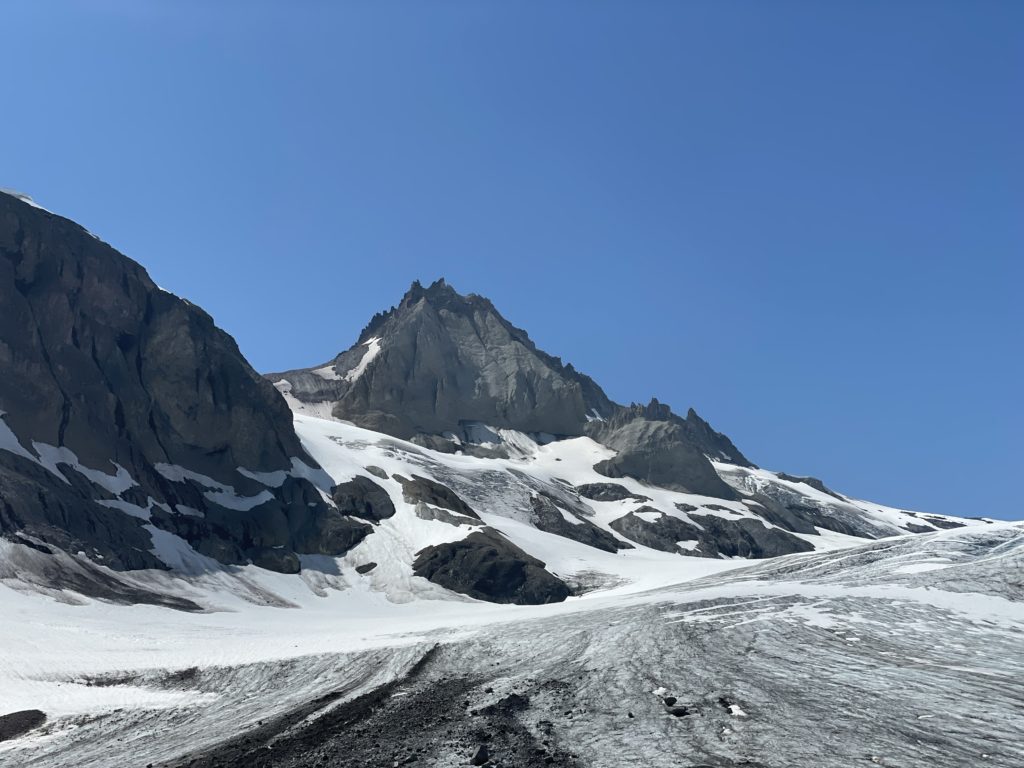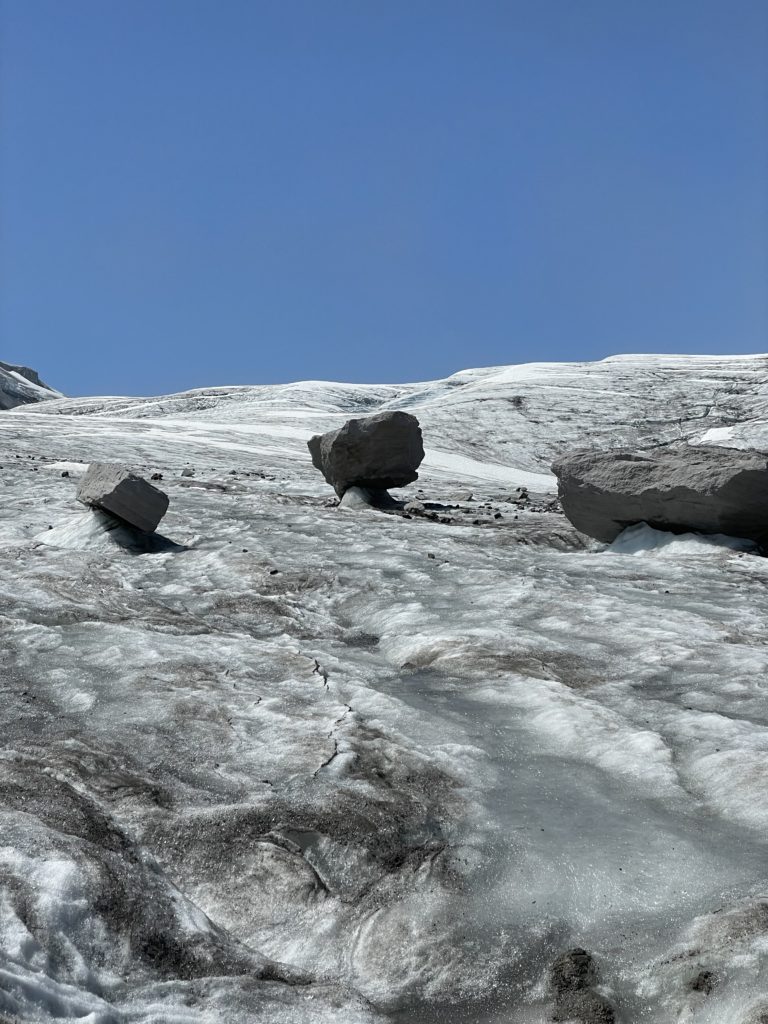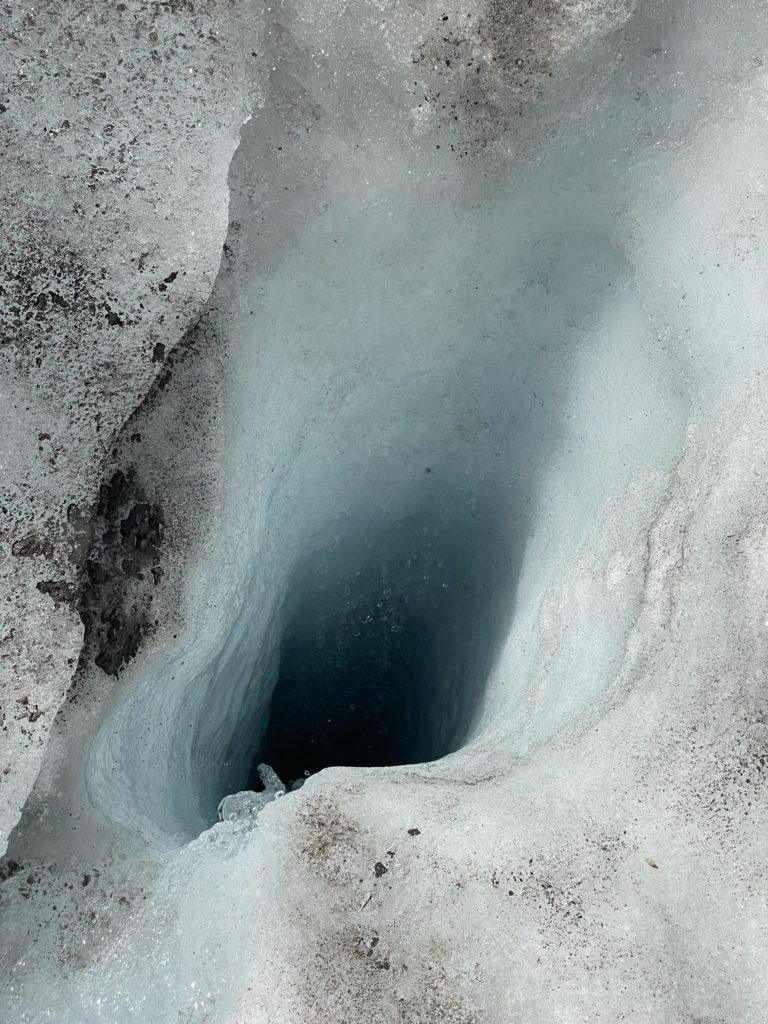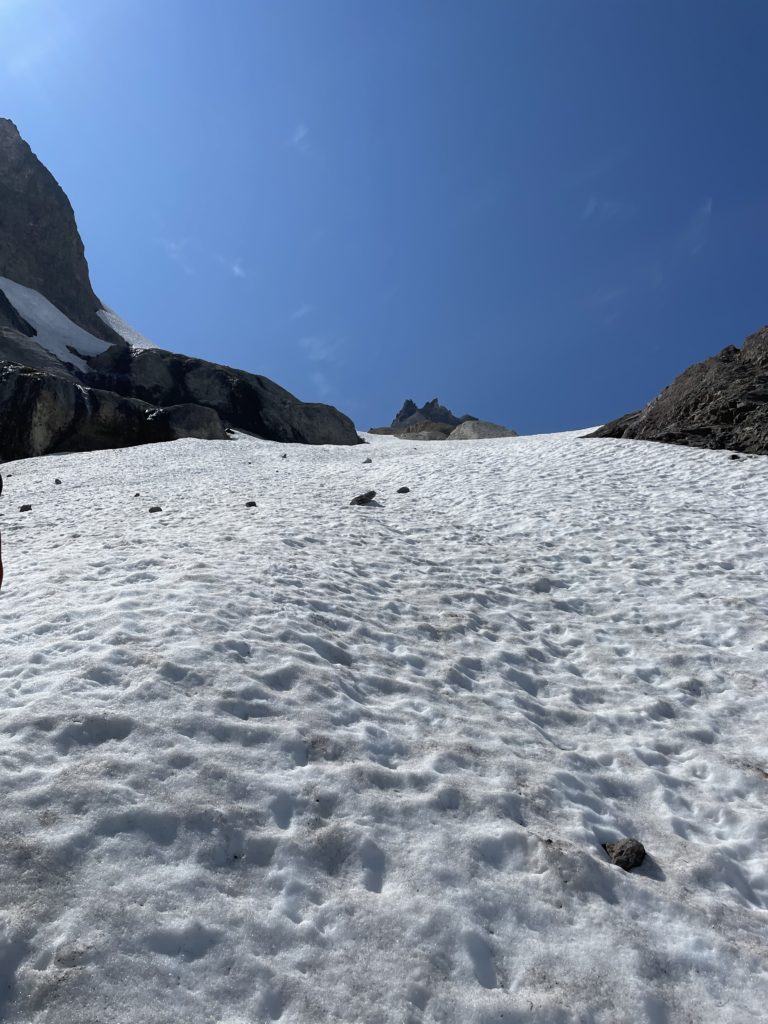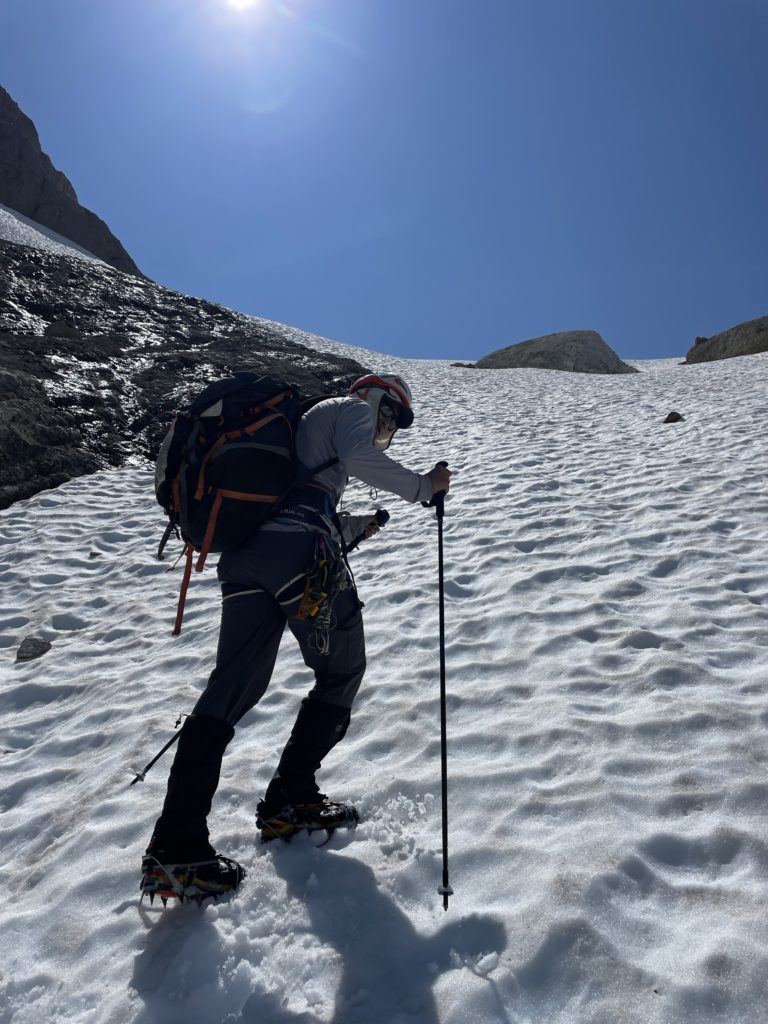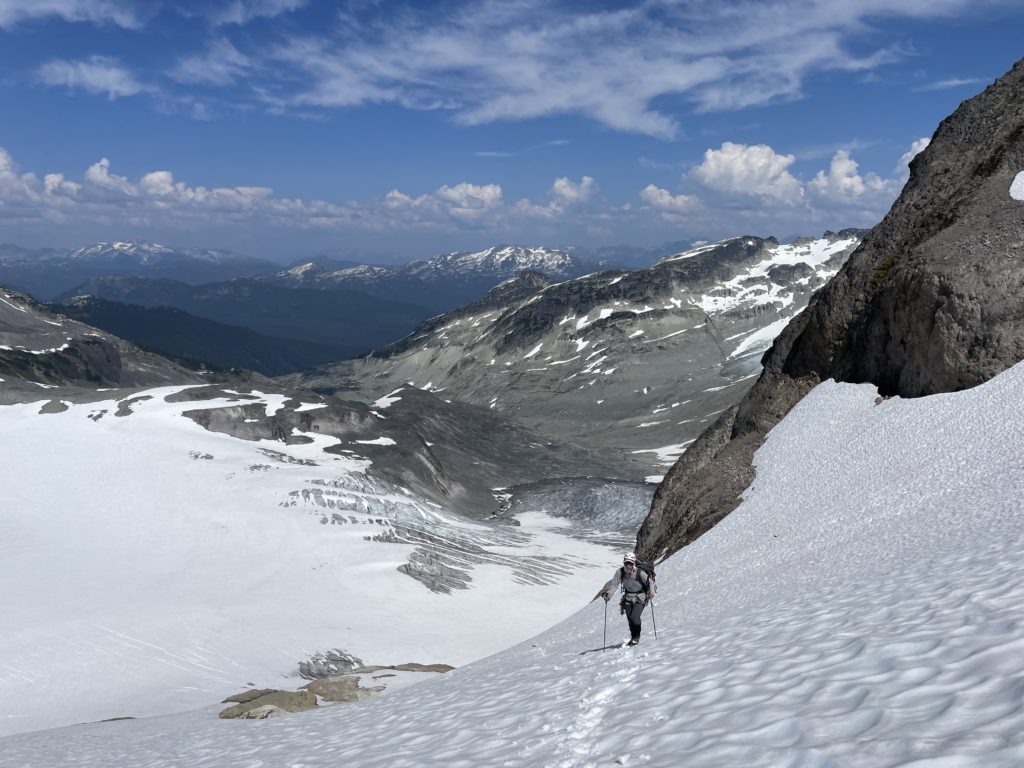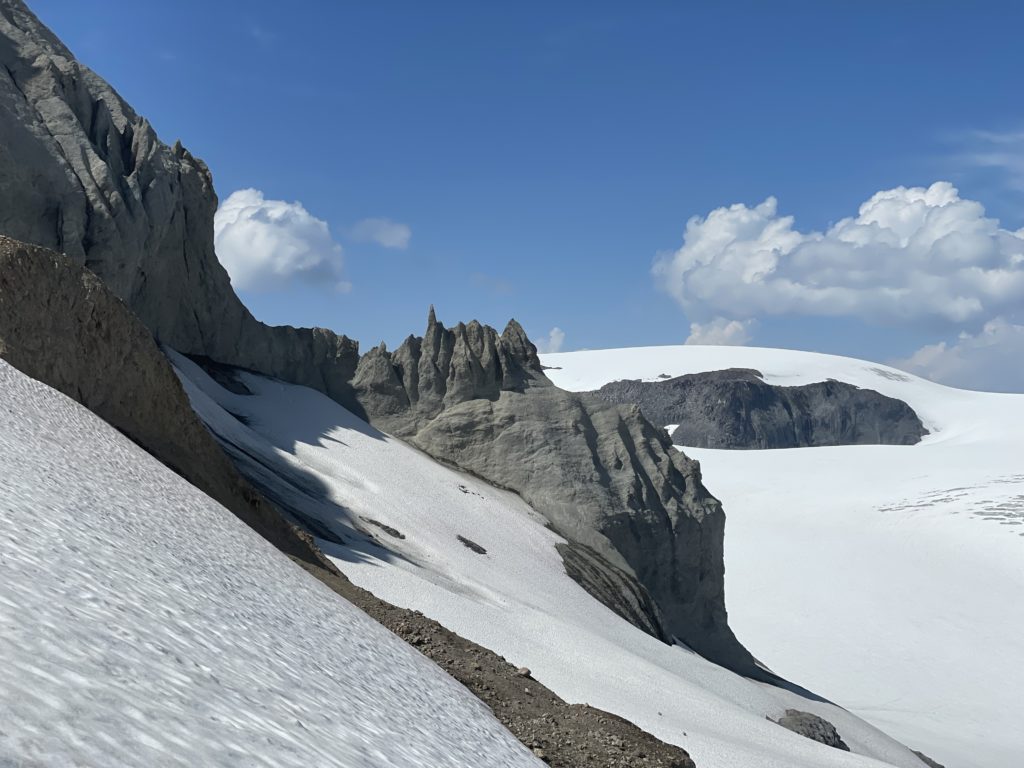 Now we had a good look at the route up to the ridge. Ahead lay an arete of loose looking choss/dirt and then gradually it merged into more solid looking pinnacles of rock. The upper portions looked maybe 4th or low 5th class but not terribly sustained. Steven lead us up the arete and then around the top of the small upper snow patch. There were two main gullies we could take to the ridge, but the upper left gully seemed the easiest. We didn't make it more than a few meters up and quickly realized the rock was incredibly unstable. Everything was held together with a thin film of sand. Knocking one hand hold out would result in a seemingly random rock further away coming loose as well.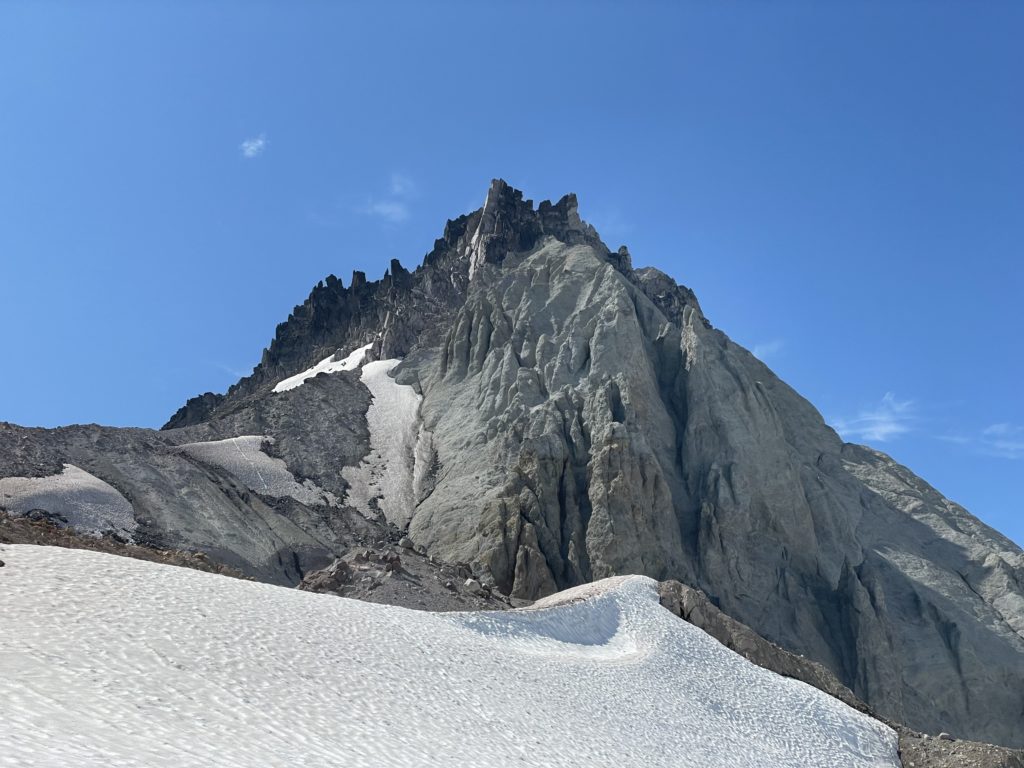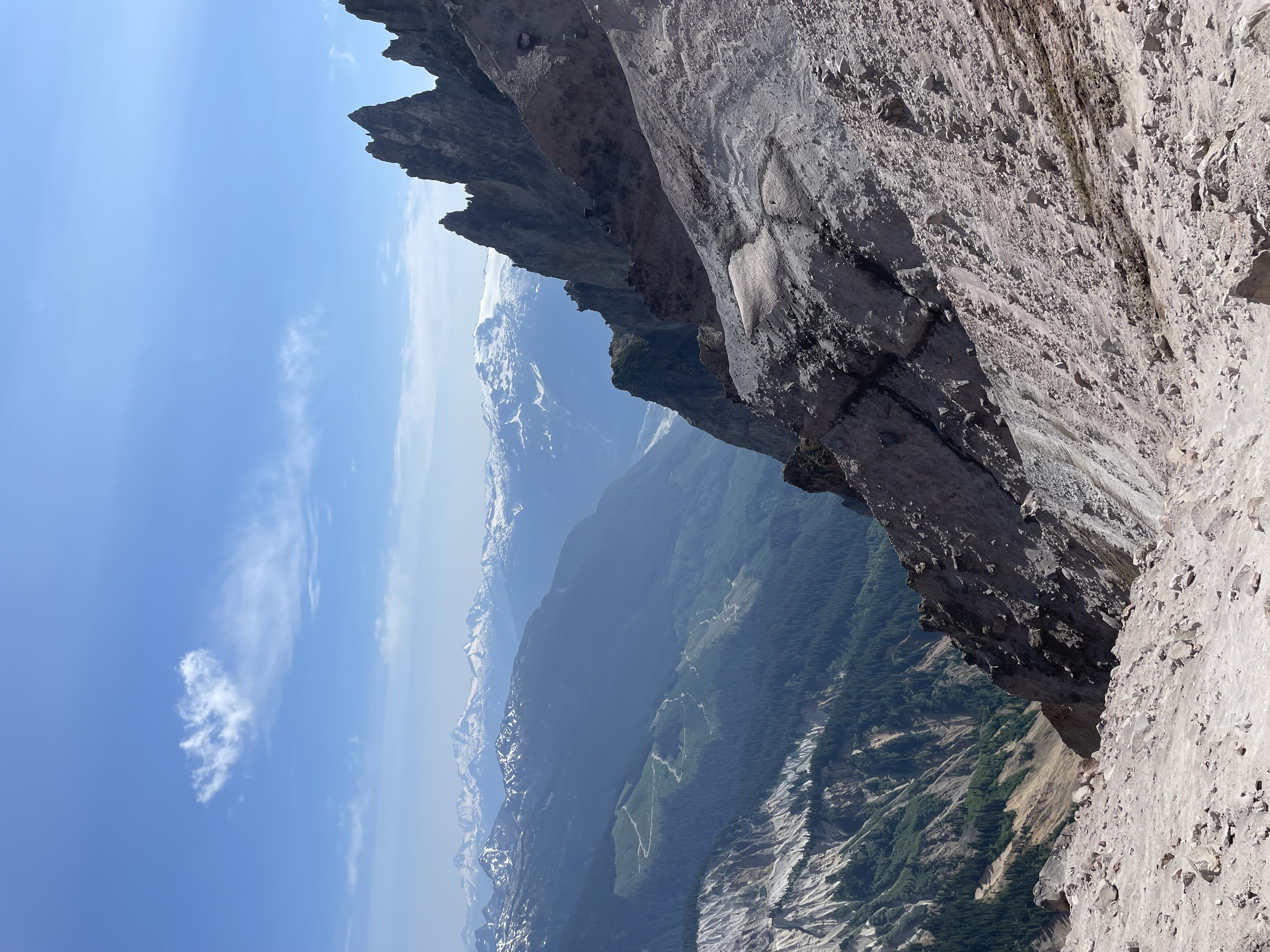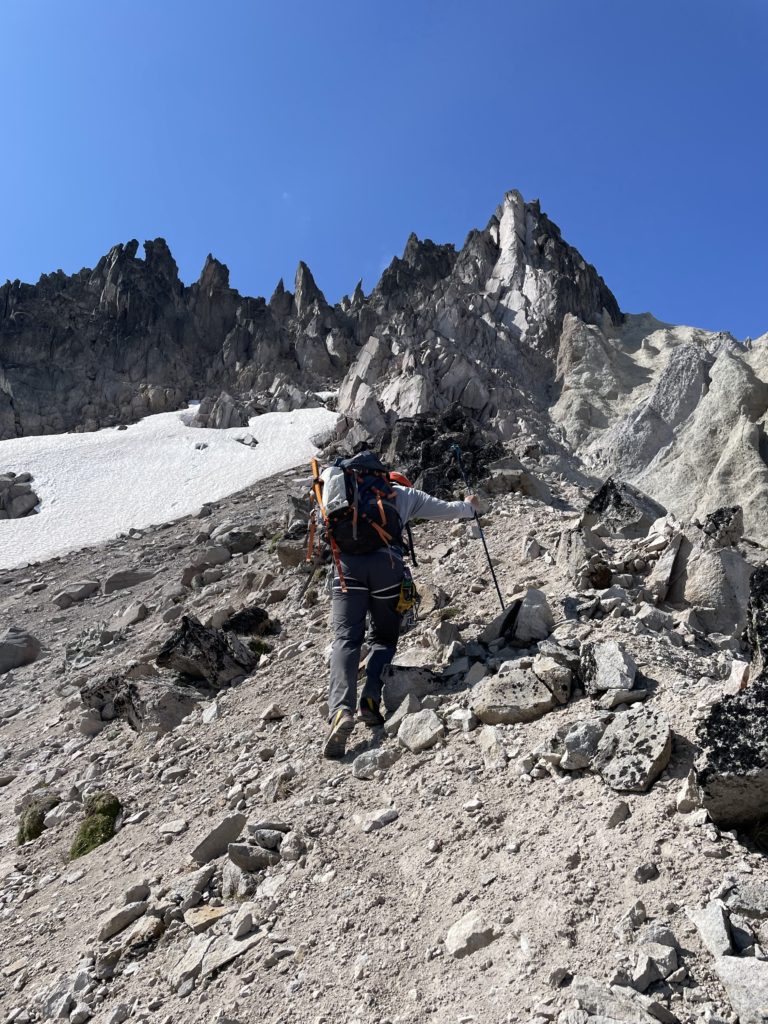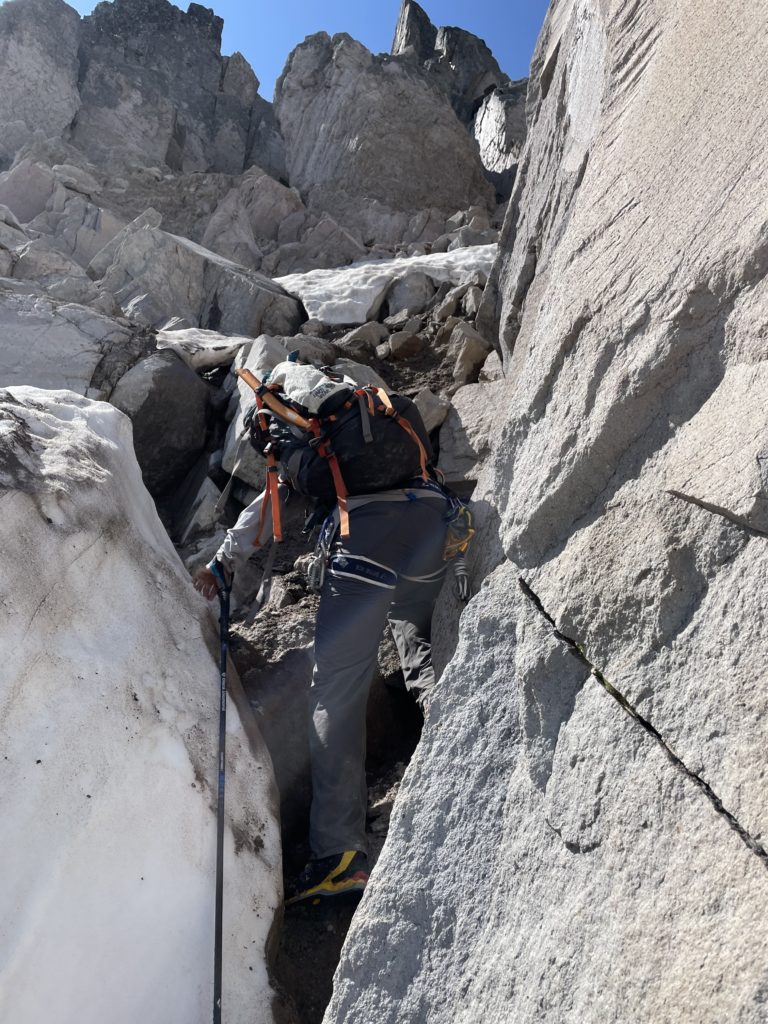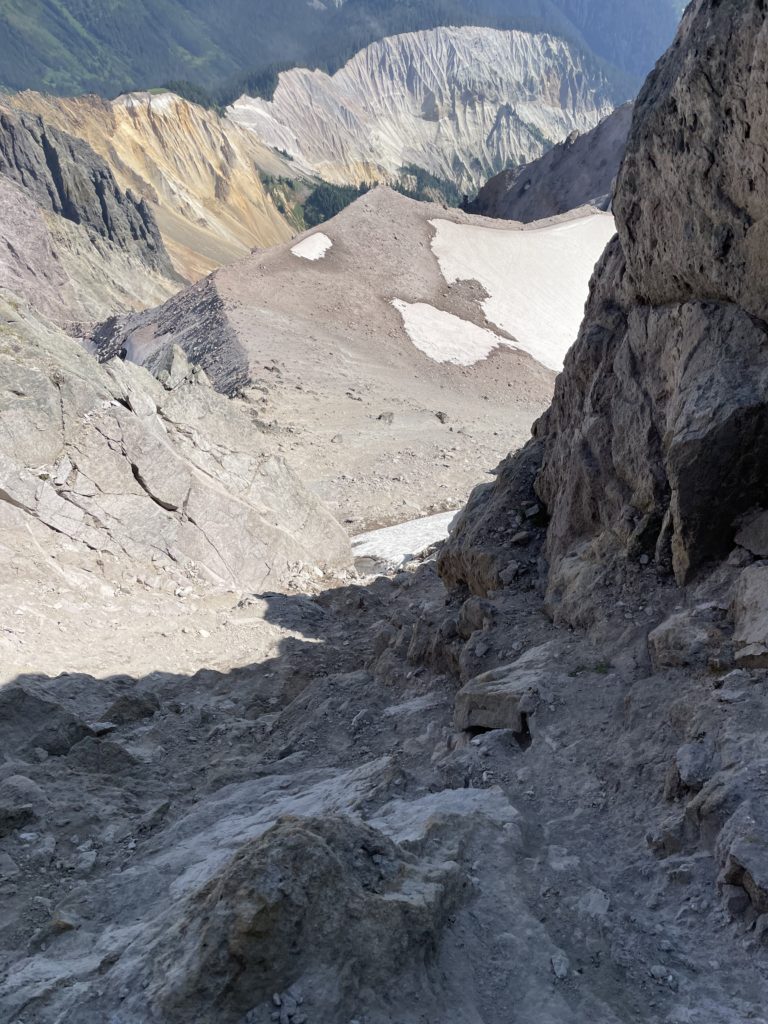 Extra precaution was warranted and we gingerly ascended and tested every hold. Each meter gained turned into several knocked off rocks and sometimes large boulders. It was clear any party larger than 2 would be a major liability. Slowly we climbed up the upper left gully and eventually reached a lower section of the ridge. We made a pact then and there to rappel this whole section and that would mean no ability to leave a fixed line on the summit. We'd deal with that later though and turned our attention back to the climb. Now we had to traverse on less steep, but equally loose terrain on the south side to reach the base of the summit tower. Again every other step would send a shower of debris down, sometimes to make safe footings other times inadvertently.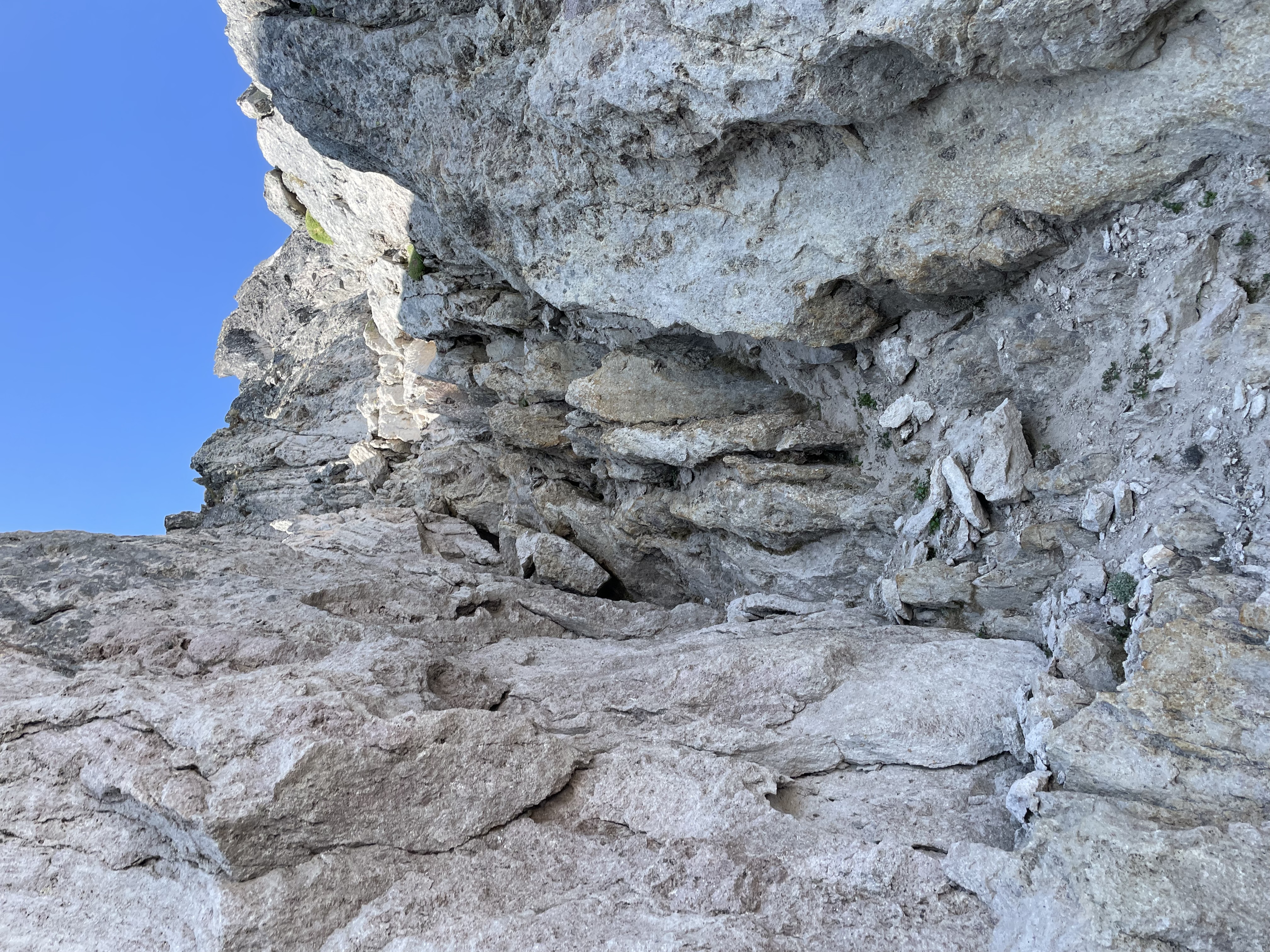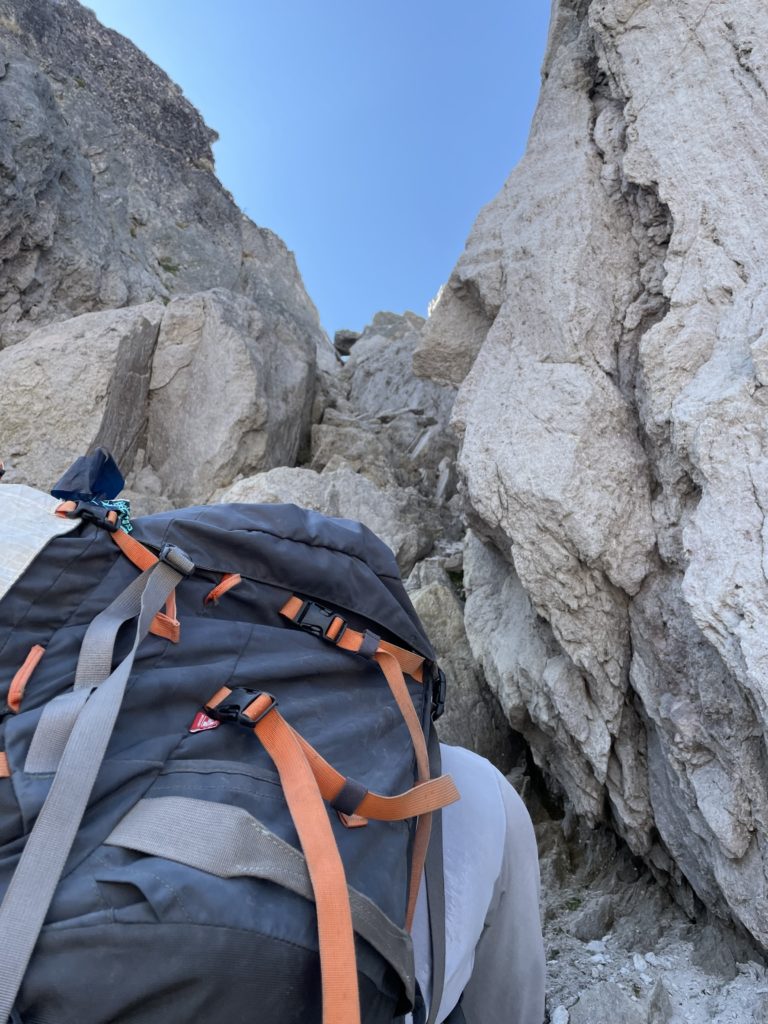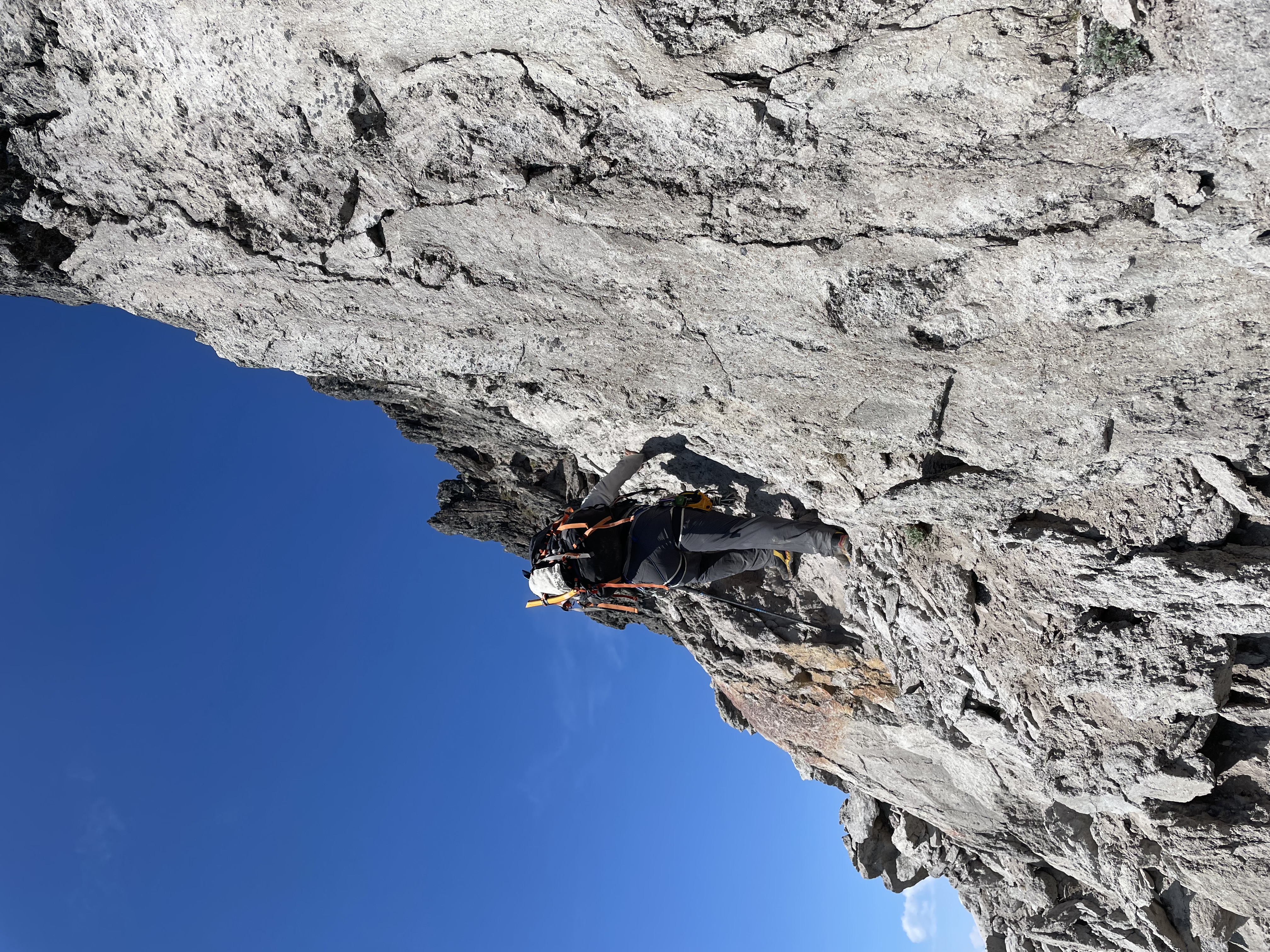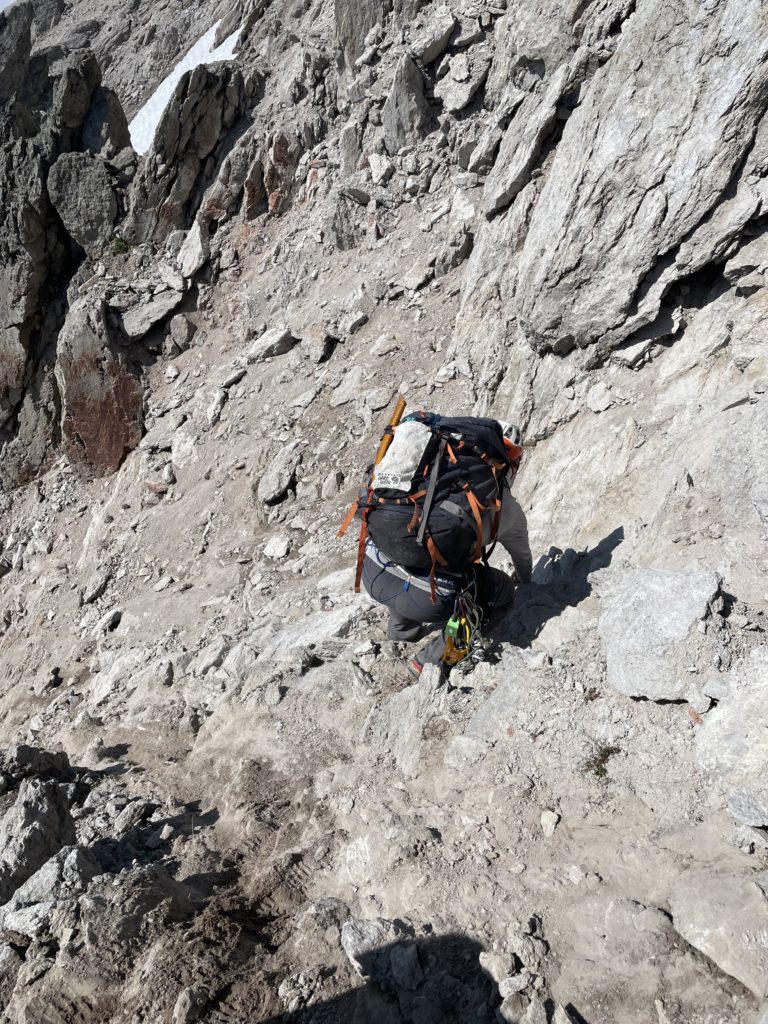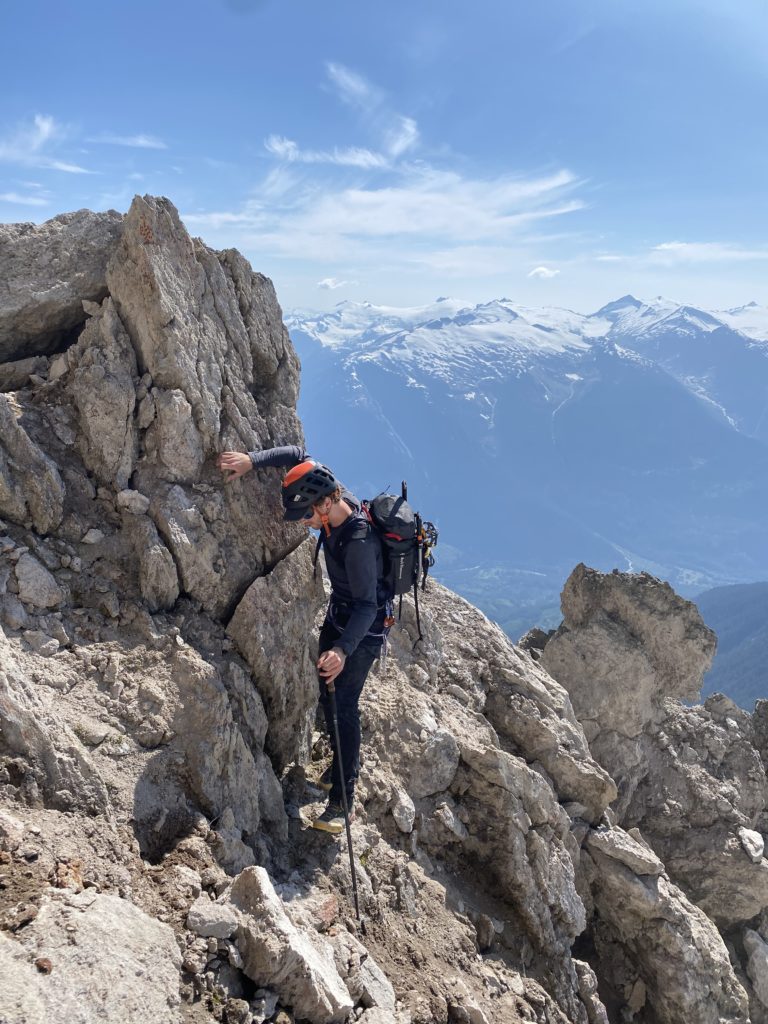 Nearing the summit tower, the slope steepened again and we mistakenly climbed a bit too high. We were now in an awkward position where we needed to swap to climbing gear but there wasn't a good spot to do so. I spotted a short ledge above and what appeared to be some rappel tat further up climber's right. Meanwhile, where I was standing was a marginal looking option to belay from; a large block that looked partially attached. I told Steven I'd climb up to the ledge to scope this anchor out and he could tie into the block.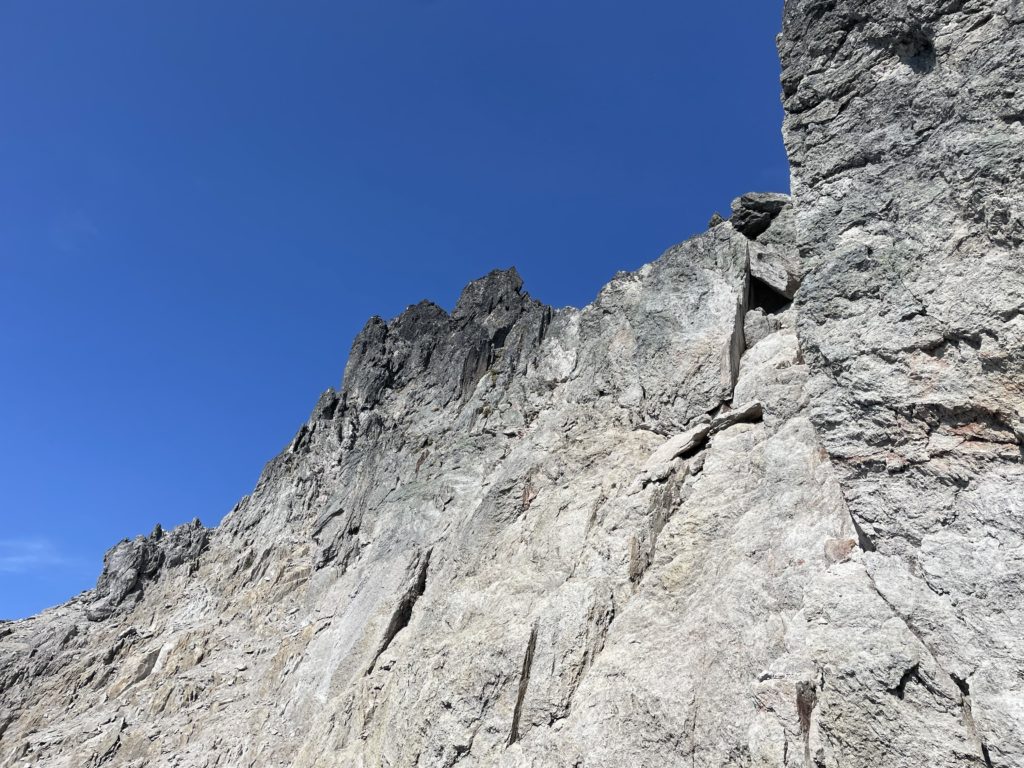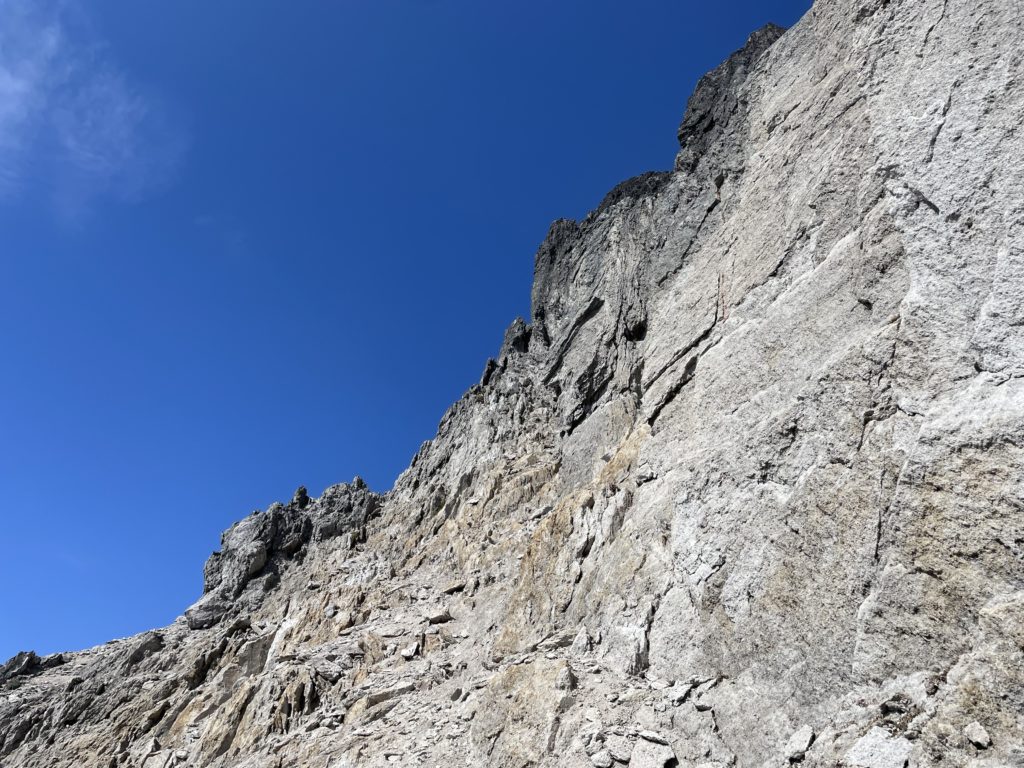 I made a few strenuous moves up to the ledge and discovered the rappel anchor was too far climbers right in a steep and loose section of the face. The ledge offered an ok stance to swap into climbing gear though, so Steven tied in to the block below and tossed the rope up to me. I tied in and then swapped into climbing shoes. I lowered my boots down to him on the rope and then was ready to start the lead.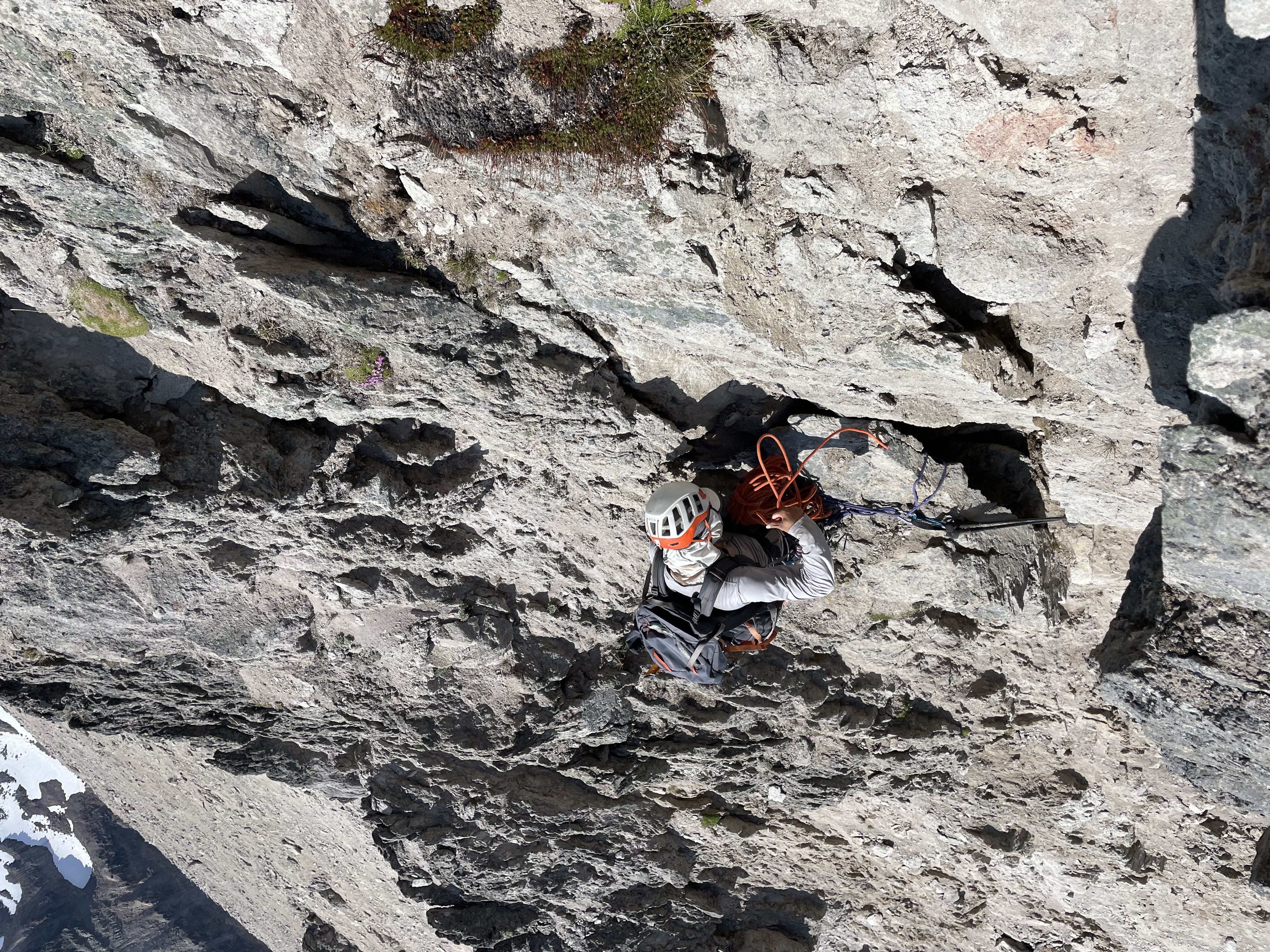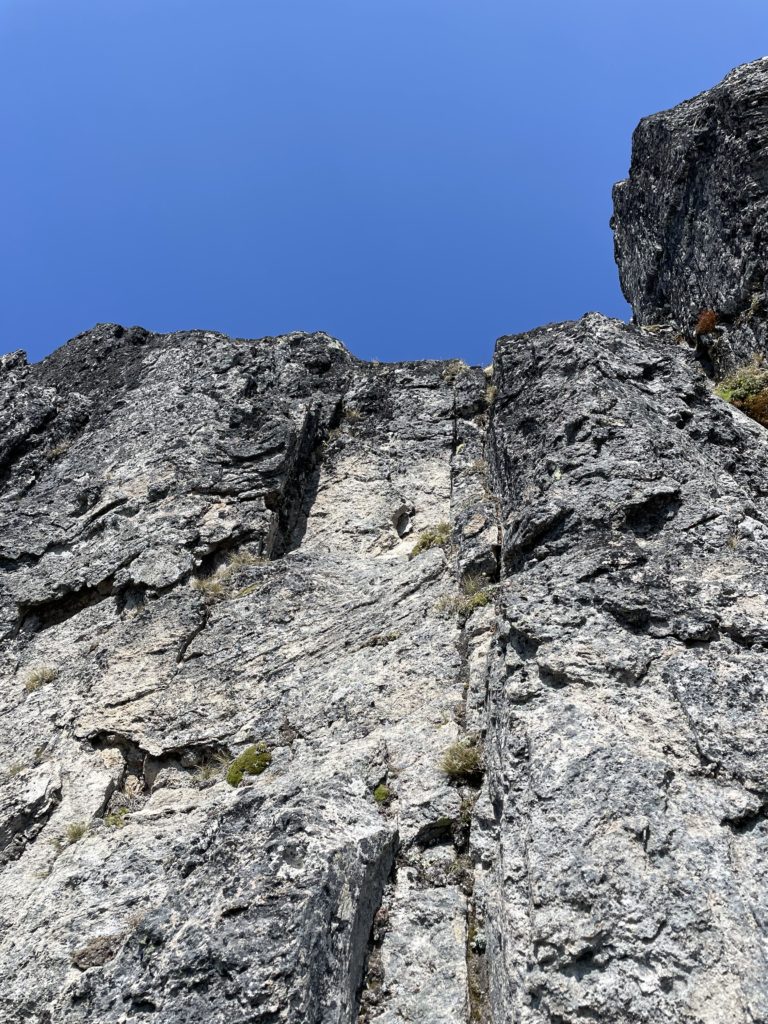 Above me it looked like 15m of 5.6 climbing or so with lots of positive looking holds. The big question was how many of them could actually be used/trusted. I searched around for some pro, but nothing presented itself. Oh well, the climbing didn't look too hard, so I pressed on. I double, even triple, checked everything and managed to avoid the more hollow sounding sections of wall. Every few moves I'd grab something that wobbled and have to search around for something better. No matter what, I had to put some faith into the unknown, but it wasn't overly strenuous climbing. I made it perhaps 10-12m up and found my first candidate for protection. Unfortunately, the crack was formed as a result of detachment so I had to move on. I made a fun stemming move between a more solid looking section of face and some sturdier flakes and pushed up to a ledge. Finally, about 12m up the first solid crack appeared and I dug out some dirt for a #0.75 placement. By this point the grade had eased off, so I simply traversed the ledge trending climber's left. I plugged a #1 into another good crack and then clipped a slung horn a meter further. With that, I had landed at the top of the summit pinnacle. There was an existing cord around the summit horn, but I added my own and clipped in.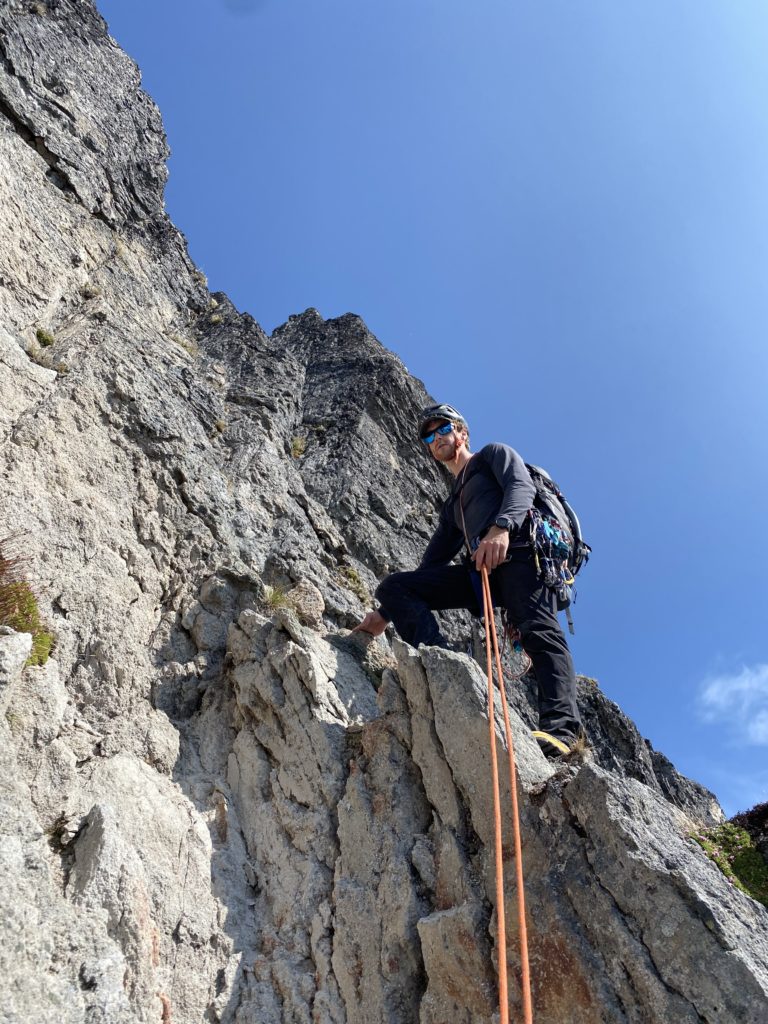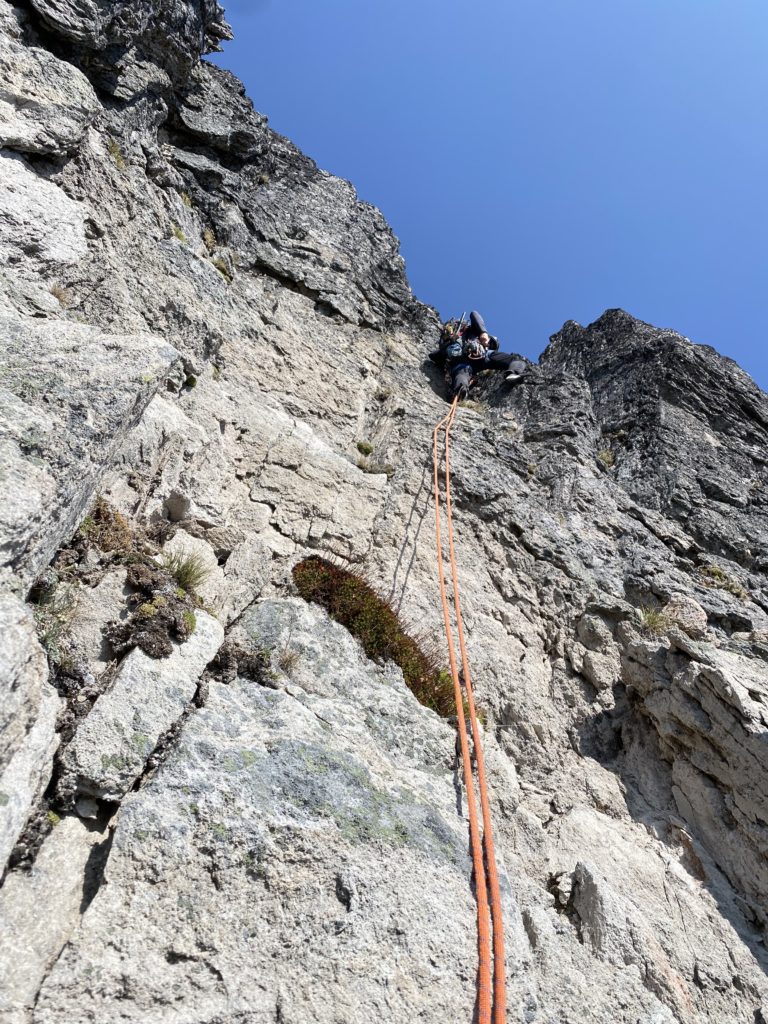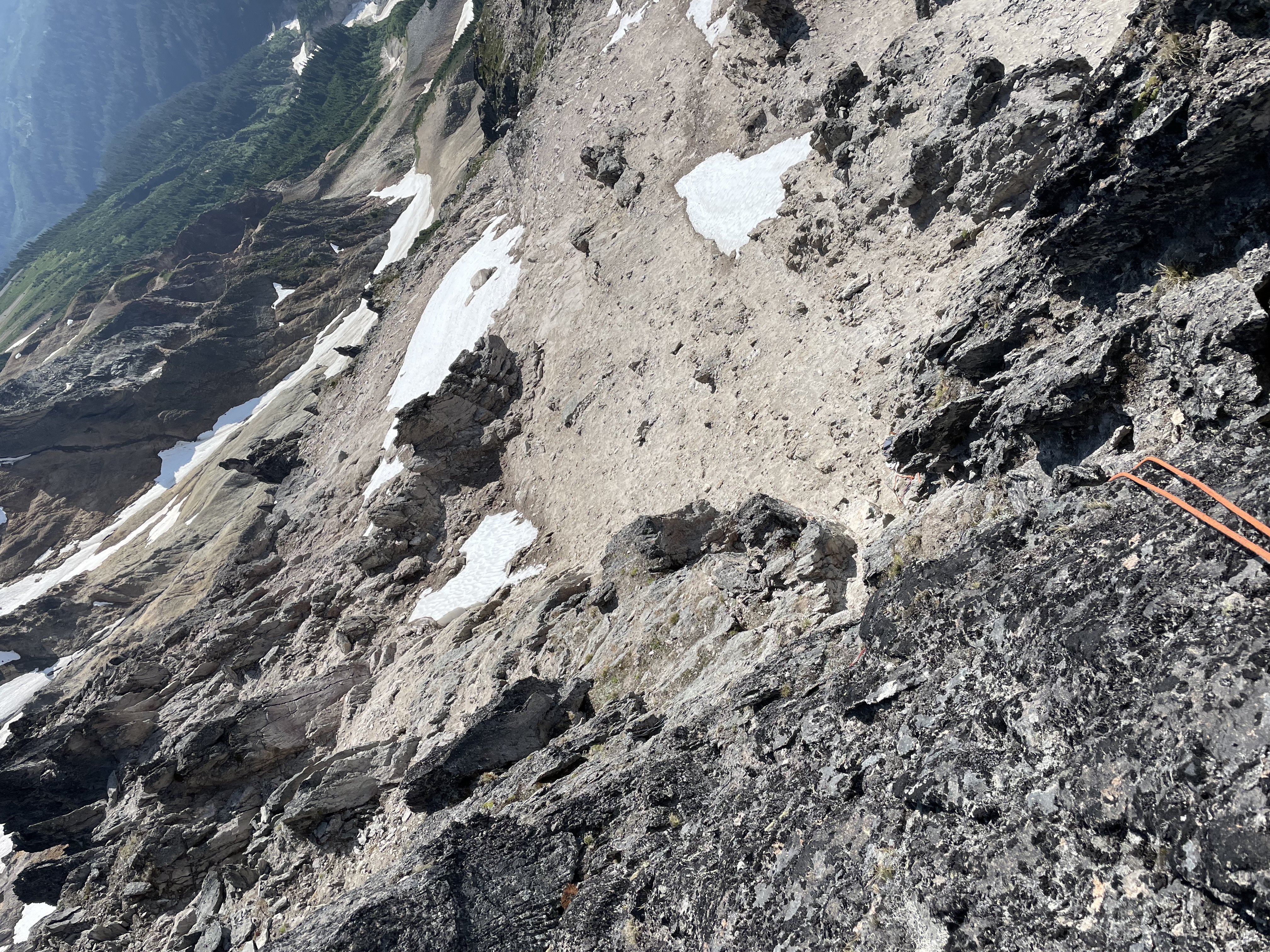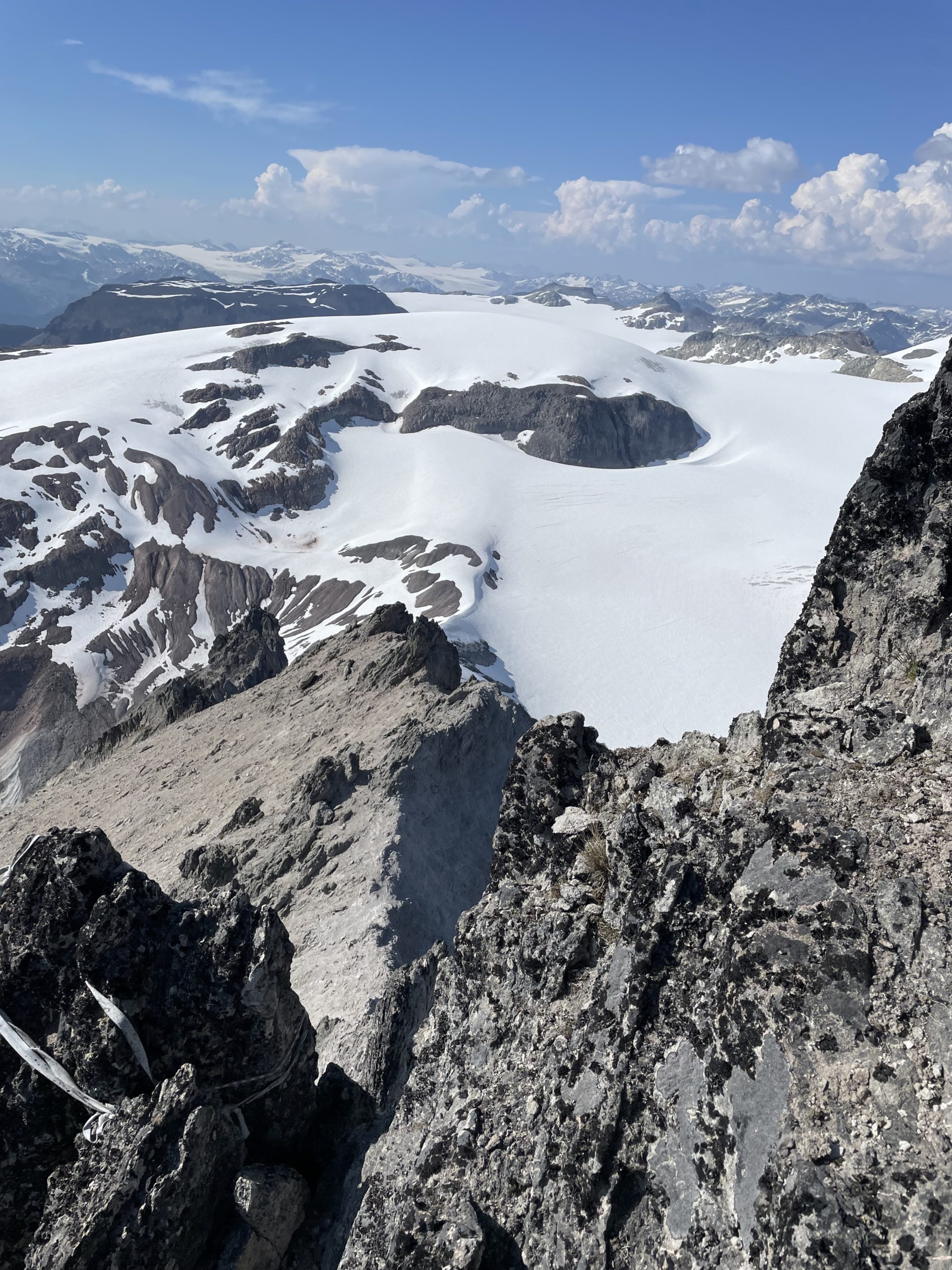 From there, I pulled in the remaining rope and belayed Steven up. He took a slightly more direct line up the flakes, but thankfully avoided ripping any holds out. Once grouped up at the top, I scrambled around the horn to stand on the highest point besides the sharp horn itself and then returned to the relative safety of the belay station. Steven had some service so we quickly notified the rest of the team to cancel the plan as we'd have to pull the rope for rappels and they weren't planning to lead the tower without us there.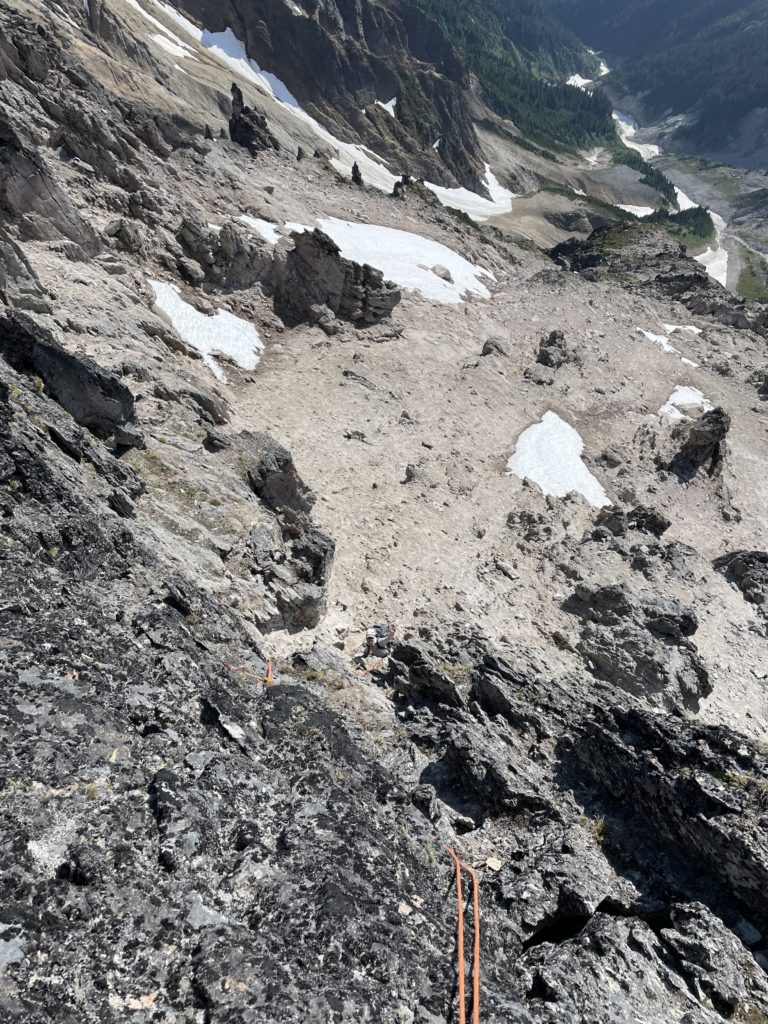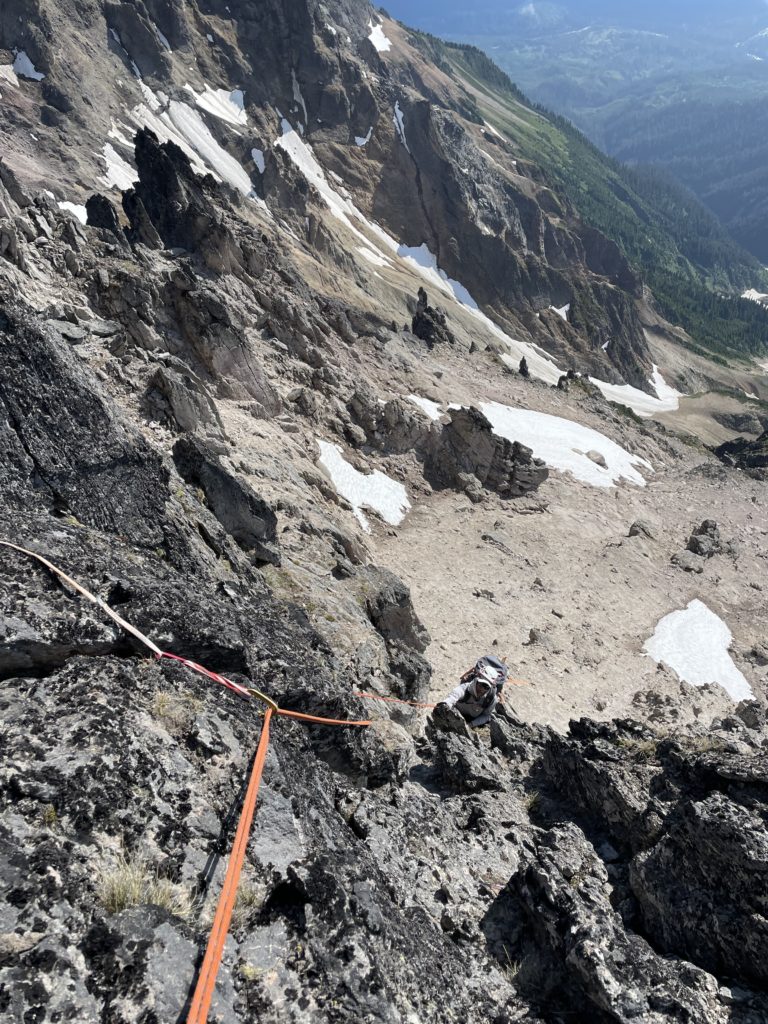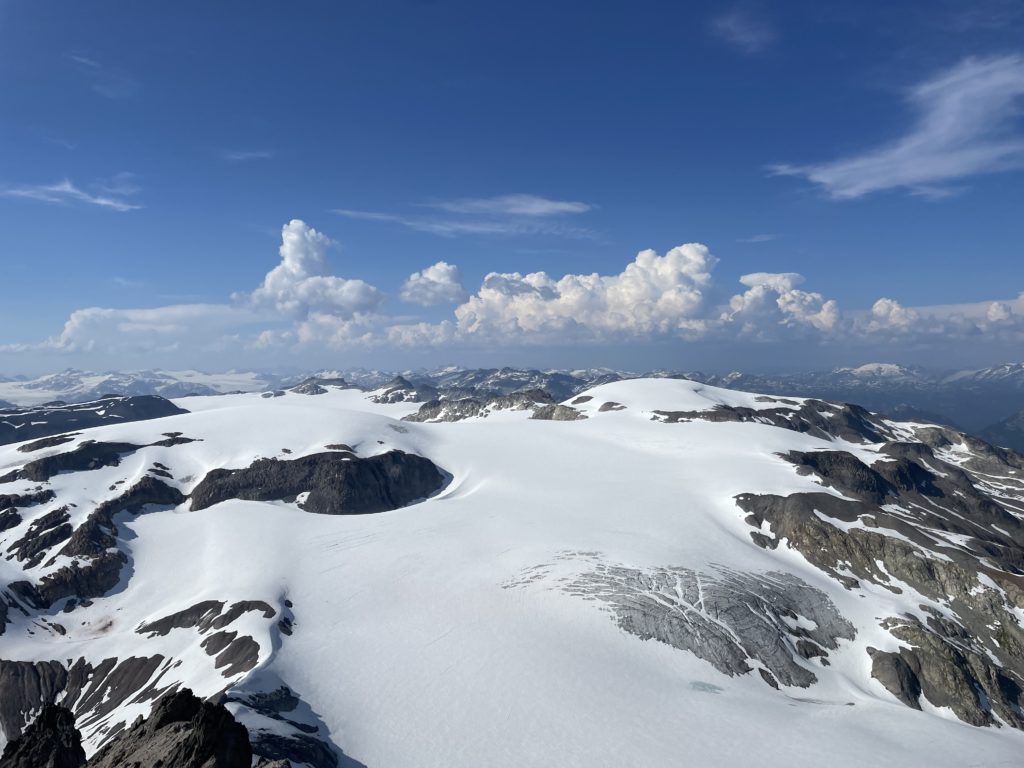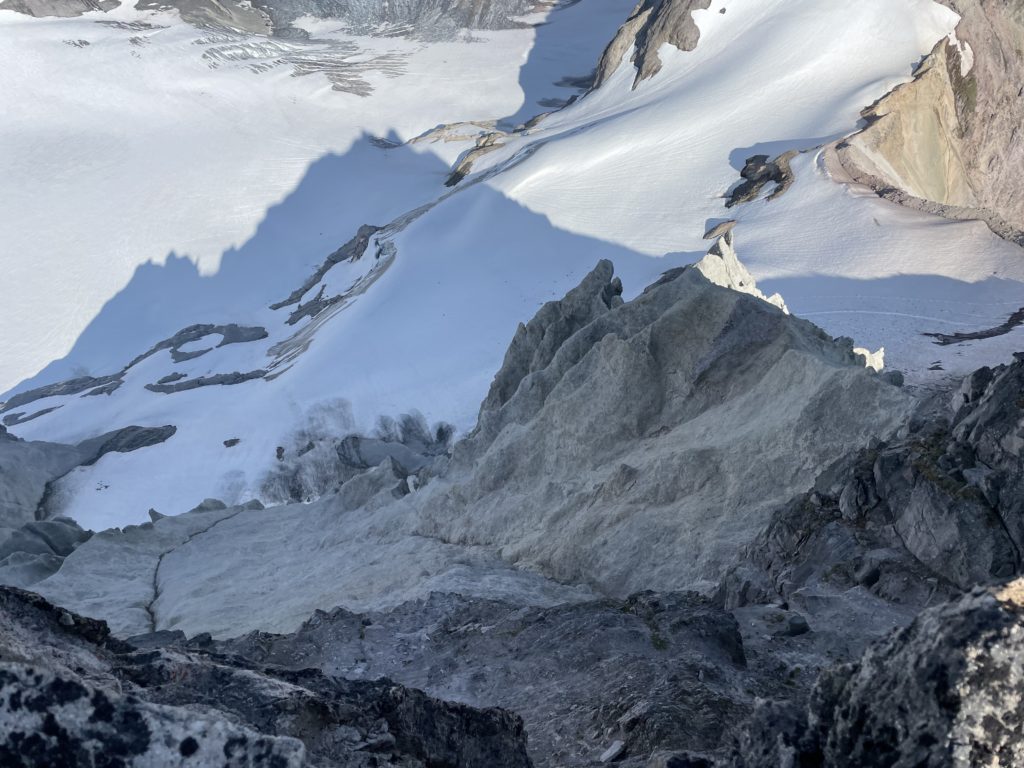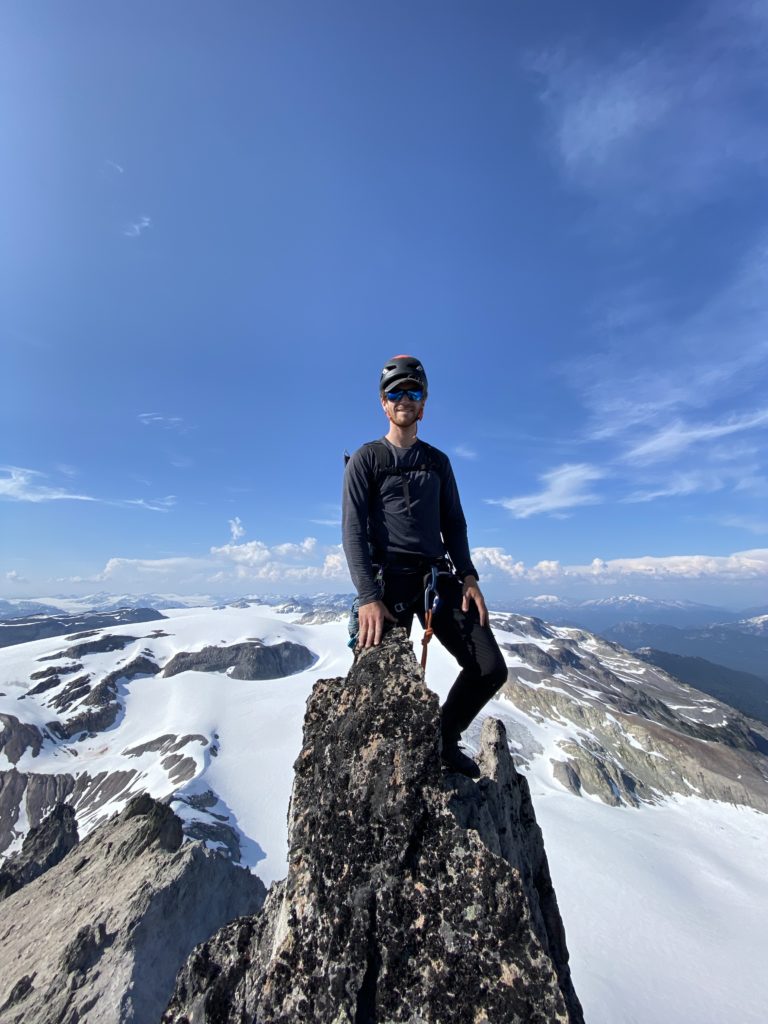 It was now 5:28 and we were both keen to get off this loose and dangerous summit. There was at least 5 different slings around various parts of the summit so that seemed to indicate that several ascents over the last few years/decades. Steven located the best looking option, a solid looking block with 2 old slings around it and one new looking one. He set up rappel and carefully descended off the tower. The block had a loose horn on top so we had to be cautious not to knock it off on rappel. I went to descend next and double checked the station. I let out an "oh shit" when I saw that new sling had already been partially sliced through. I relocated the cord from the main summit horn, as it was in good condition, and added that to the block and then rappelled down.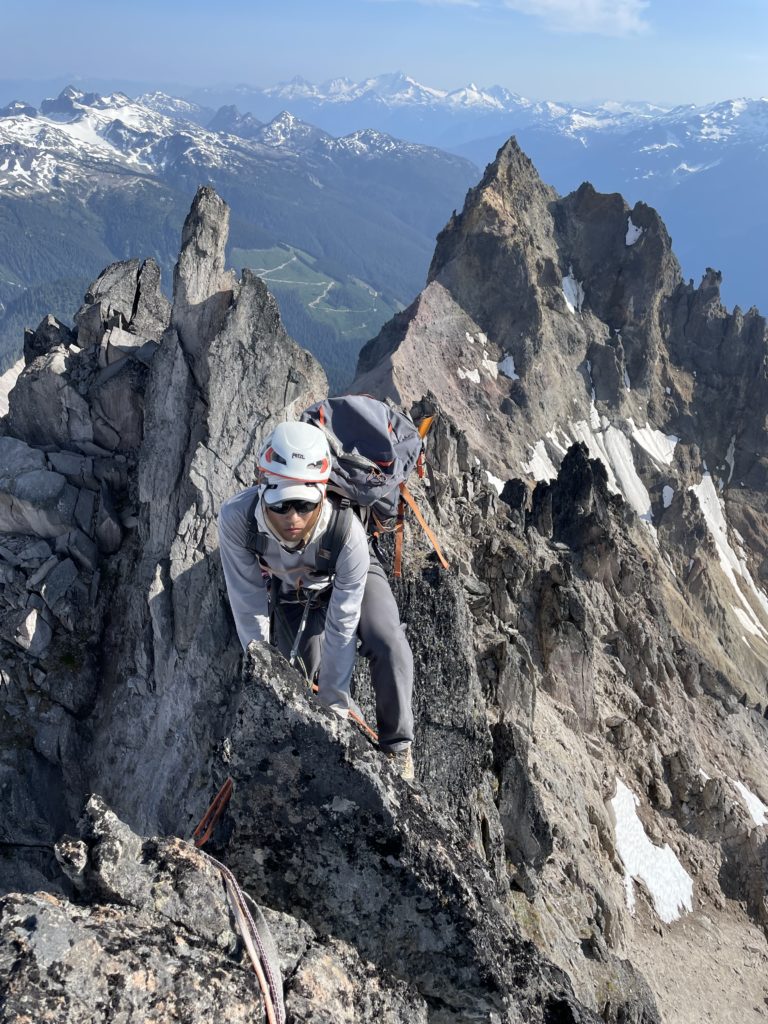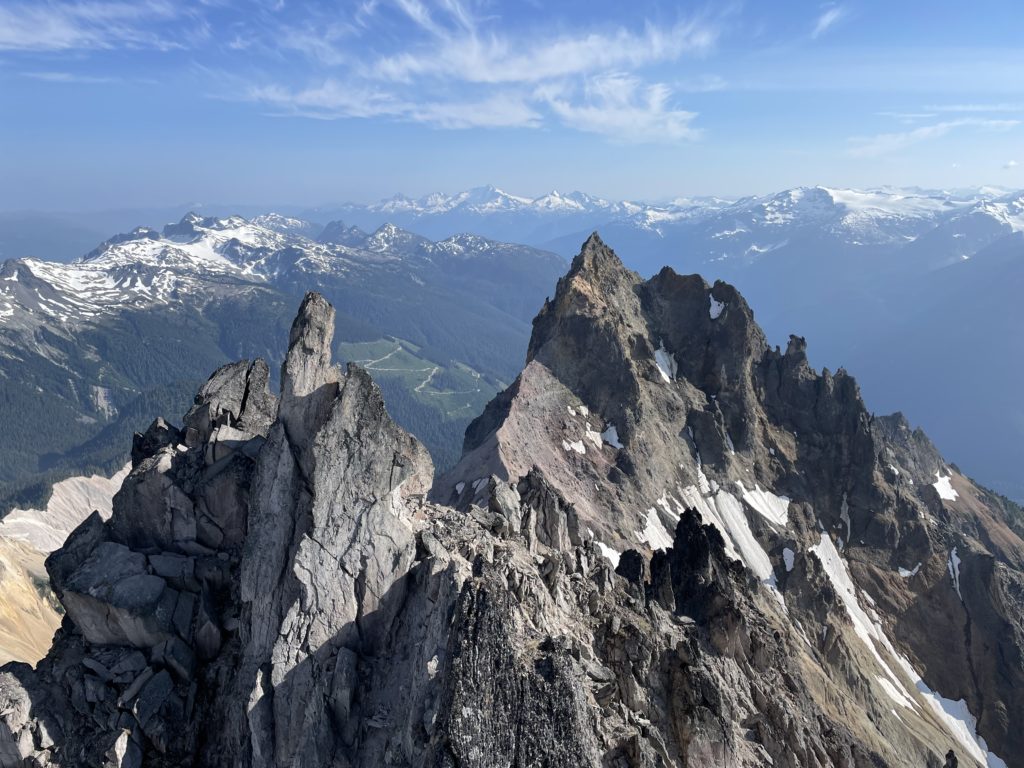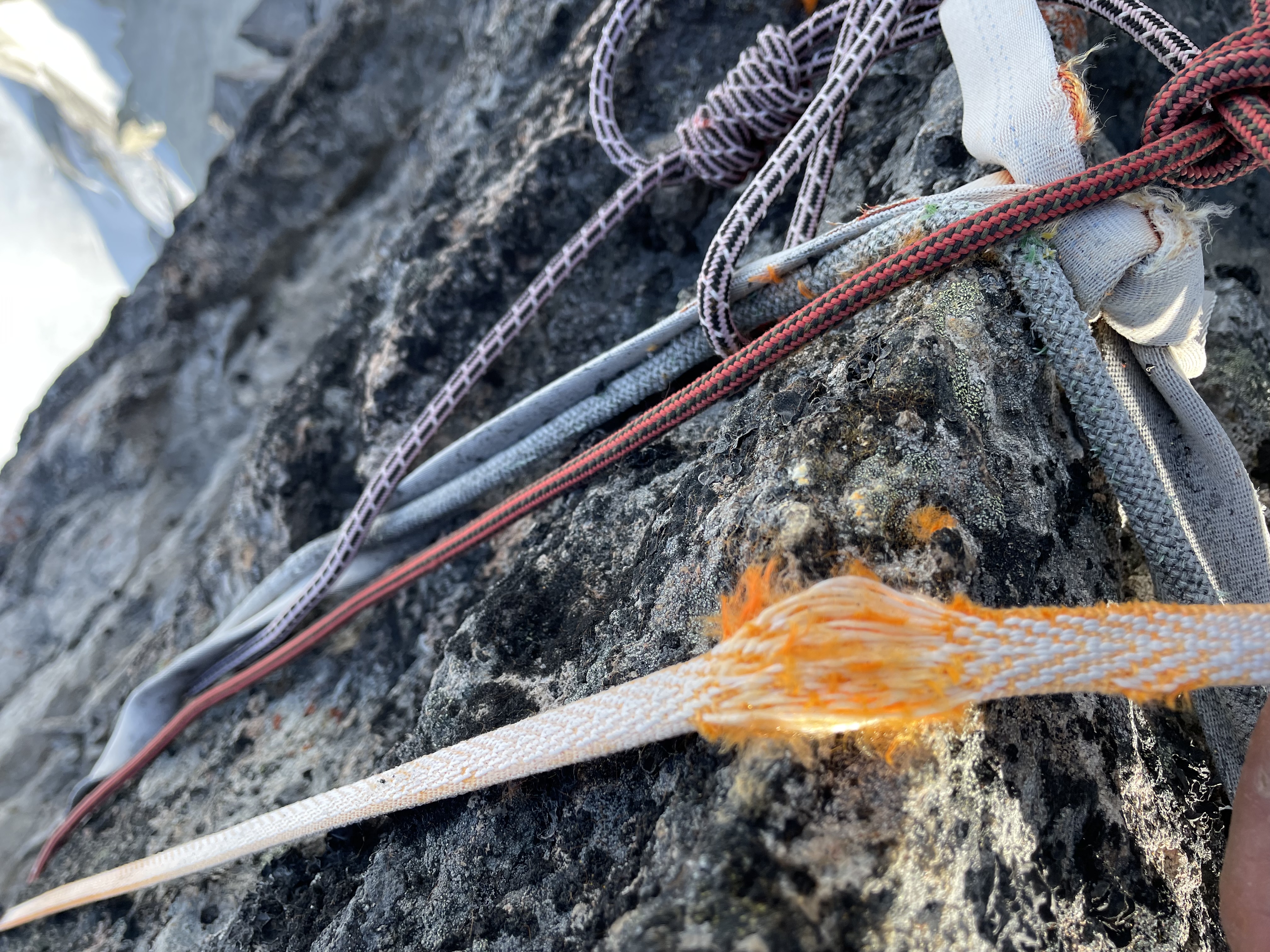 I managed to recover a newer looking double length sling that Steven and I had spotted on the way up (this was the anchor I originally tried to reach when trying to sort out where to belay from). We pulled the rope and it made it most of the way down before getting snagged about 4 meters away from us. I scrambled up to untangle it and realized the rope just partially wrapped around some porous rock. That put us on alert as it was clear this rock was not shy about grabbing on to rope with relative ease. I freed the rope and scrambled back down.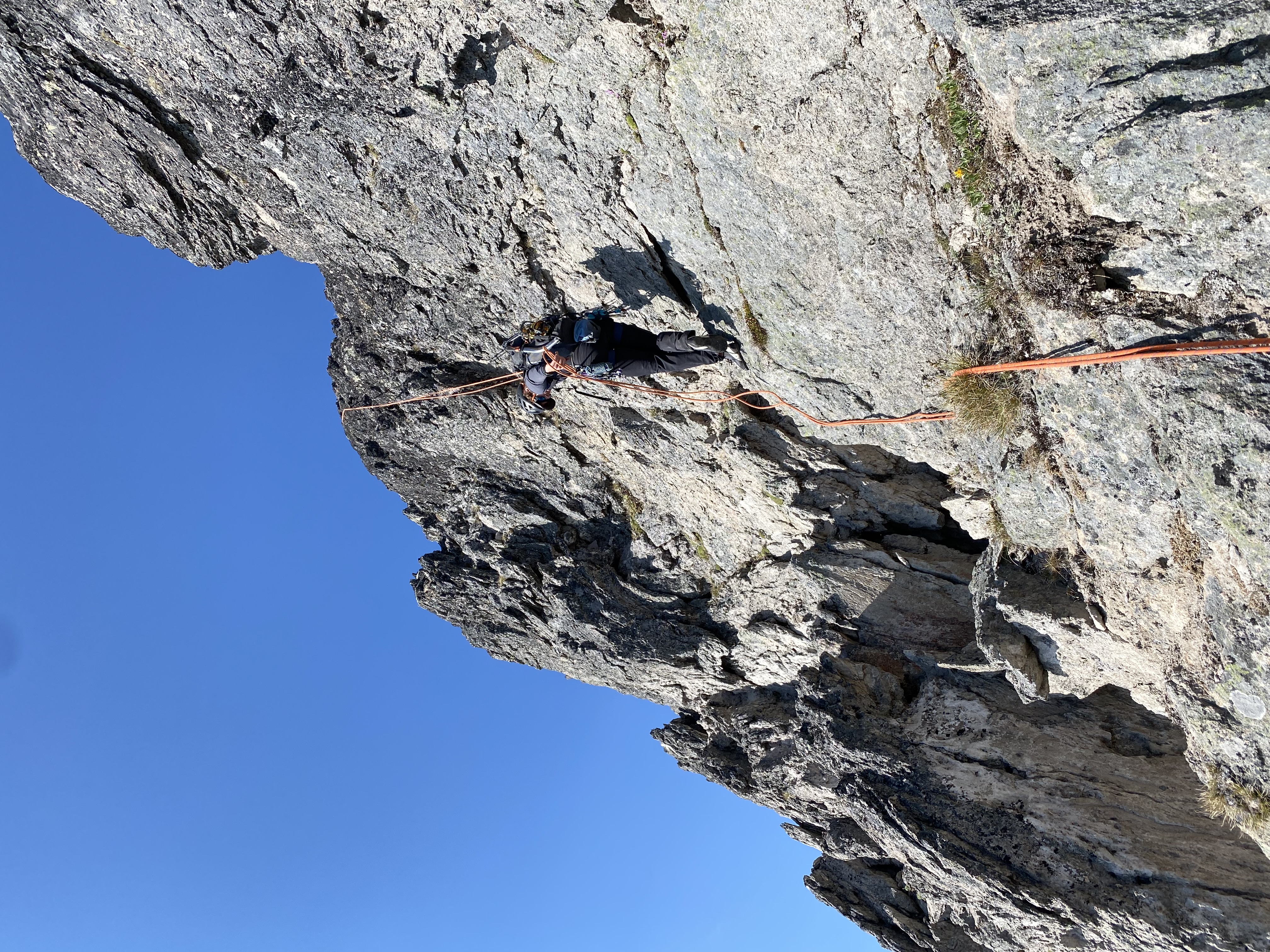 Steven then traversed an easy section of ridge line to the next rappel station he had spotted while I swapped back into boots. I met Steven at the station after and he started the rappel. Just a meter down, he grabbed a loose block and it almost went hurtling down onto the rope. Practically anything he touched had the potential to come loose and send a sizable amount of rocks for a free fall. The next station was down and around the corner so once Steven was clear I trundled the loose block and kicked off a small rock avalanche down the gully. I trundled a few smaller pieces, but for each piece I'd remove another loose candidate would appear. If I continued, I'd be there all night, so I resorted to a cautious rappel down going taking a steady slow pace.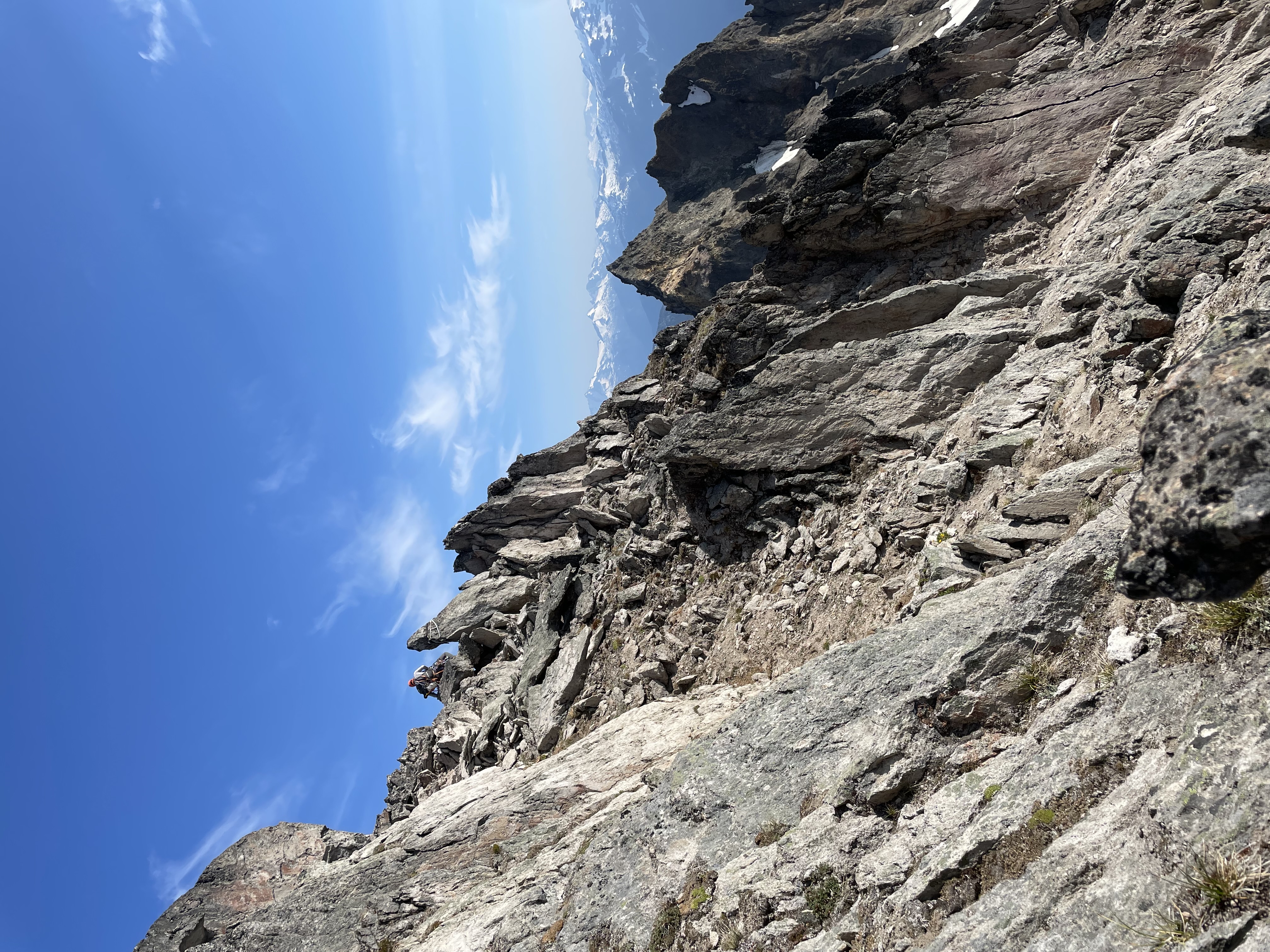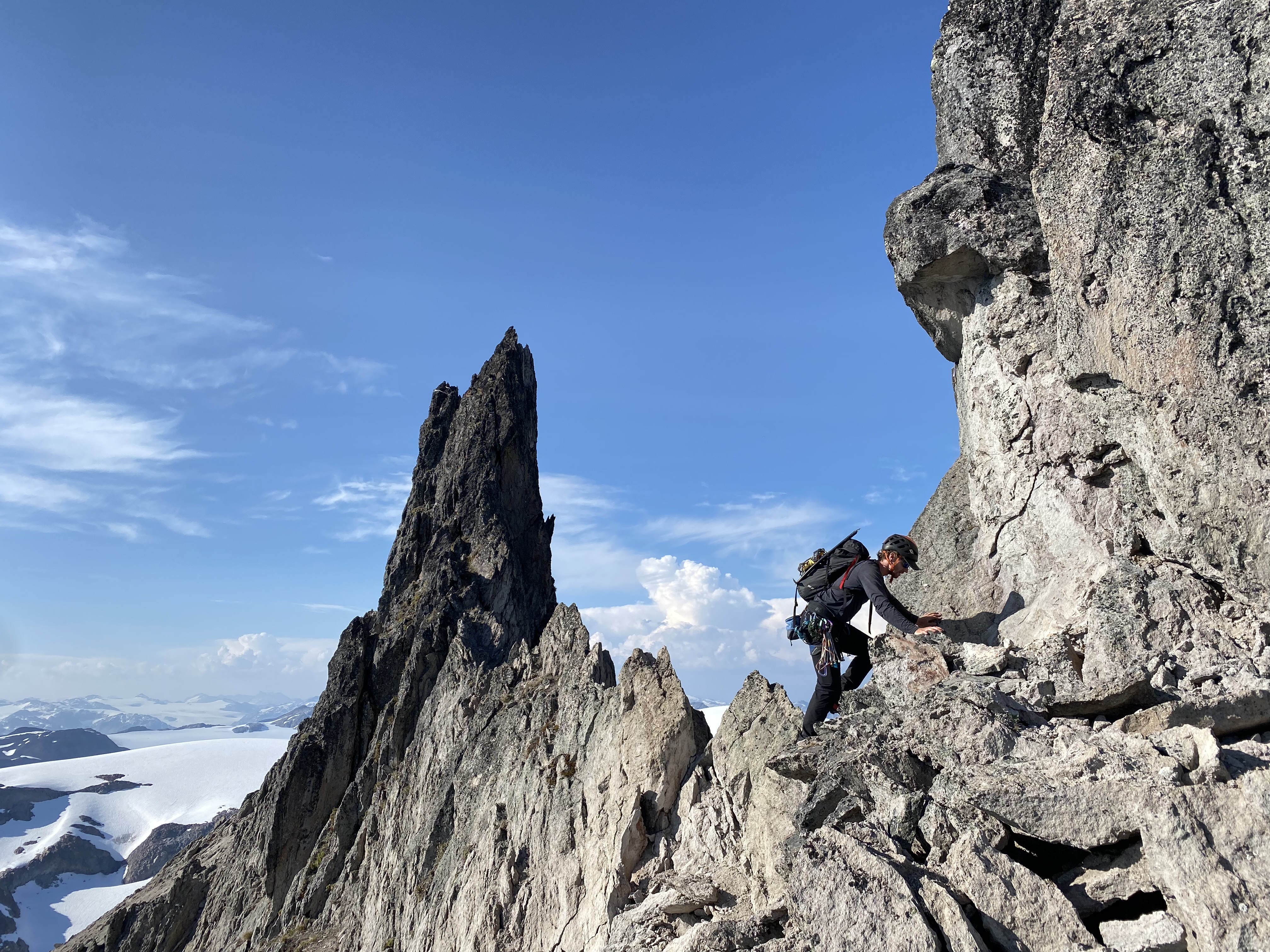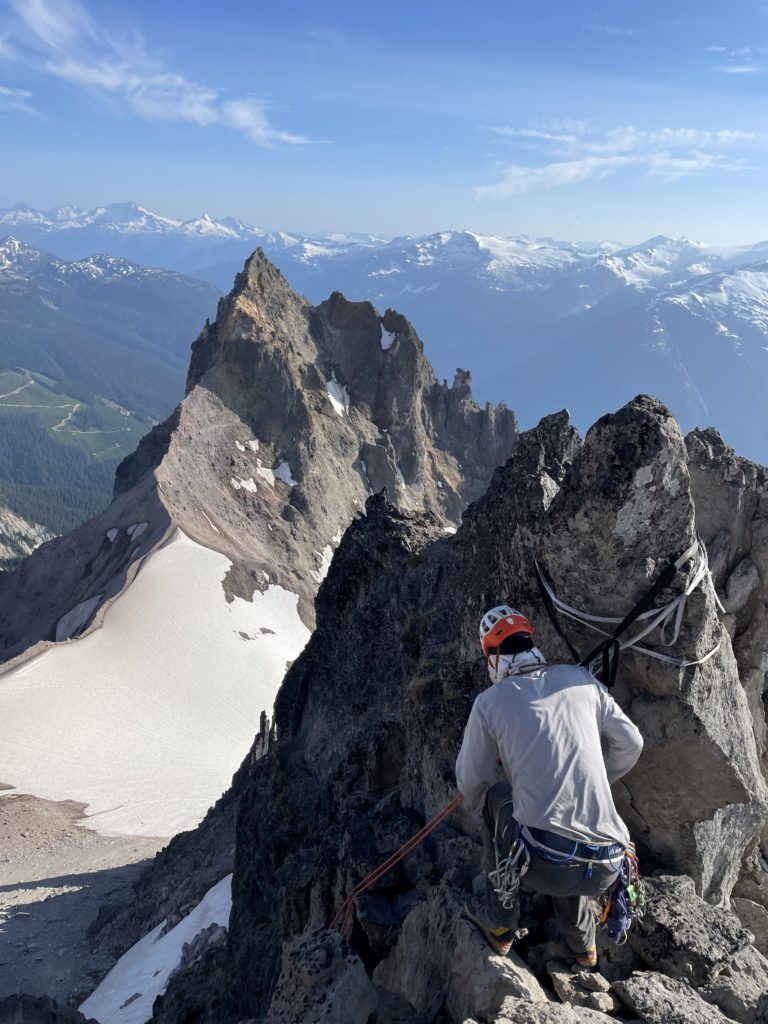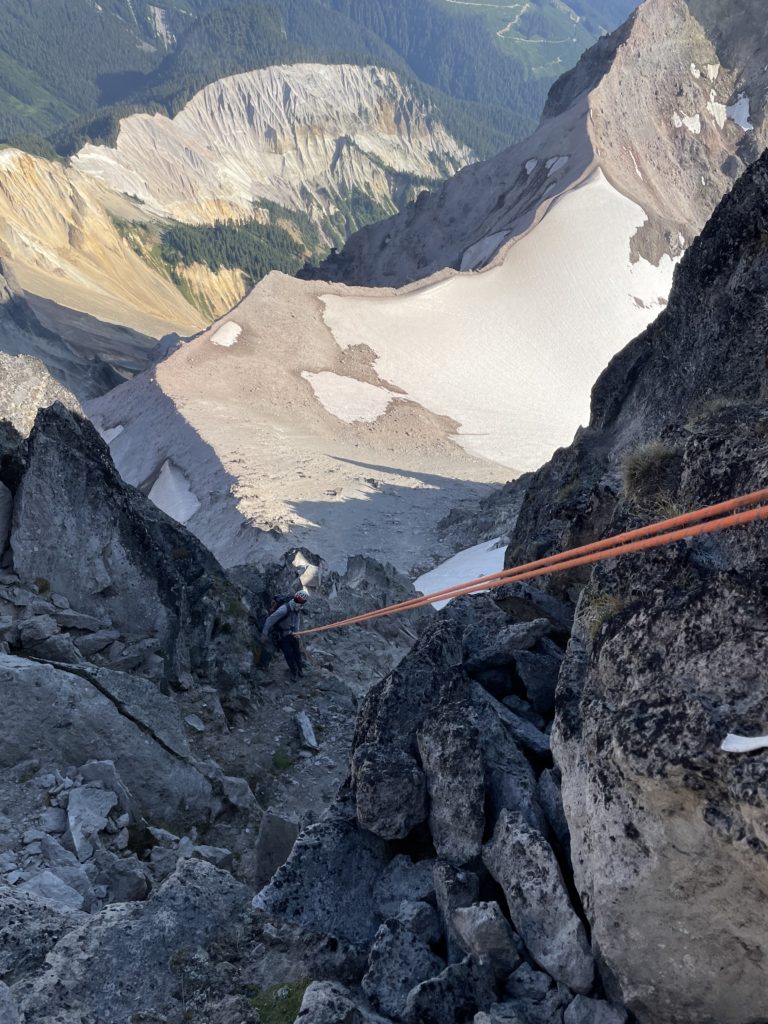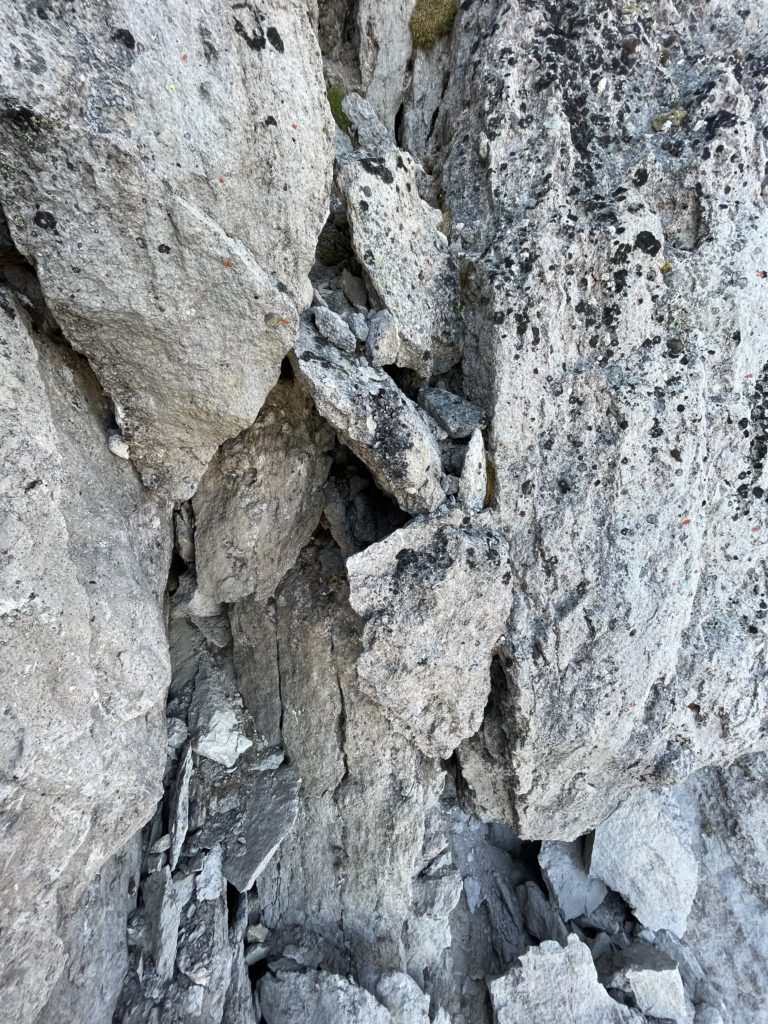 I reached Steven and we pulled the rope for the next rappel. Thankfully there were no snags and we continued down and around to one more anchor. Steven set up the next rappel on a virgin block of rock and then we made our third and final rappel onto the snow below. We swapped into crampons and made the short down climb from there. Finally we were out of the major danger zone and just had to descent the choss arete back to the snow slopes below.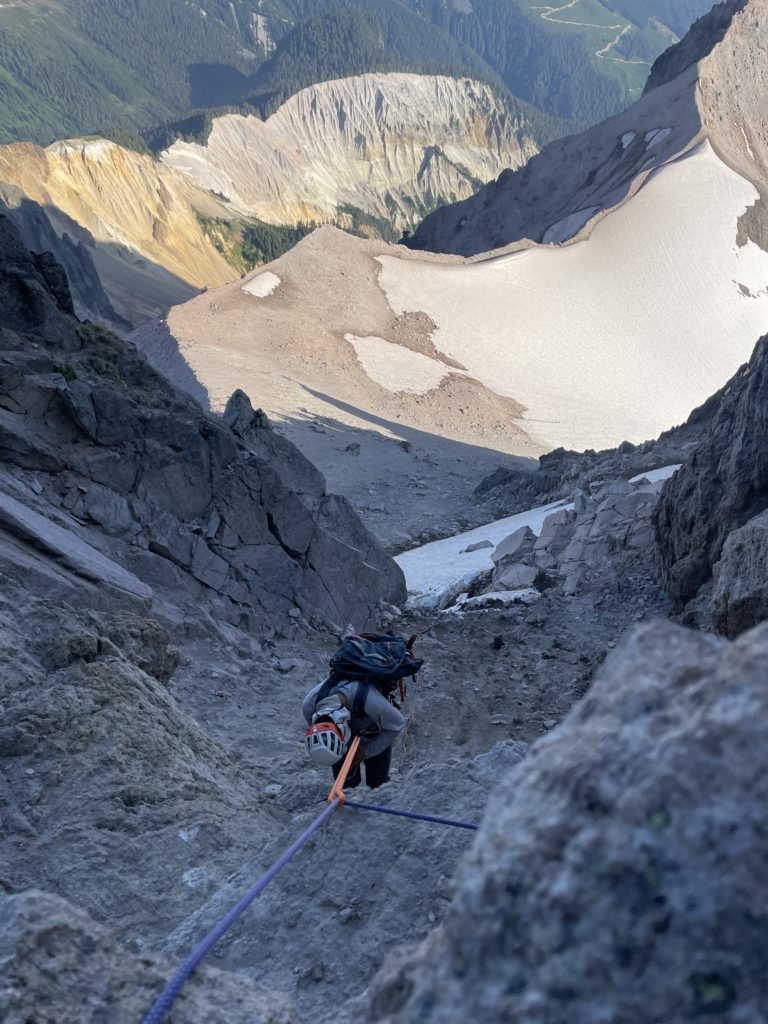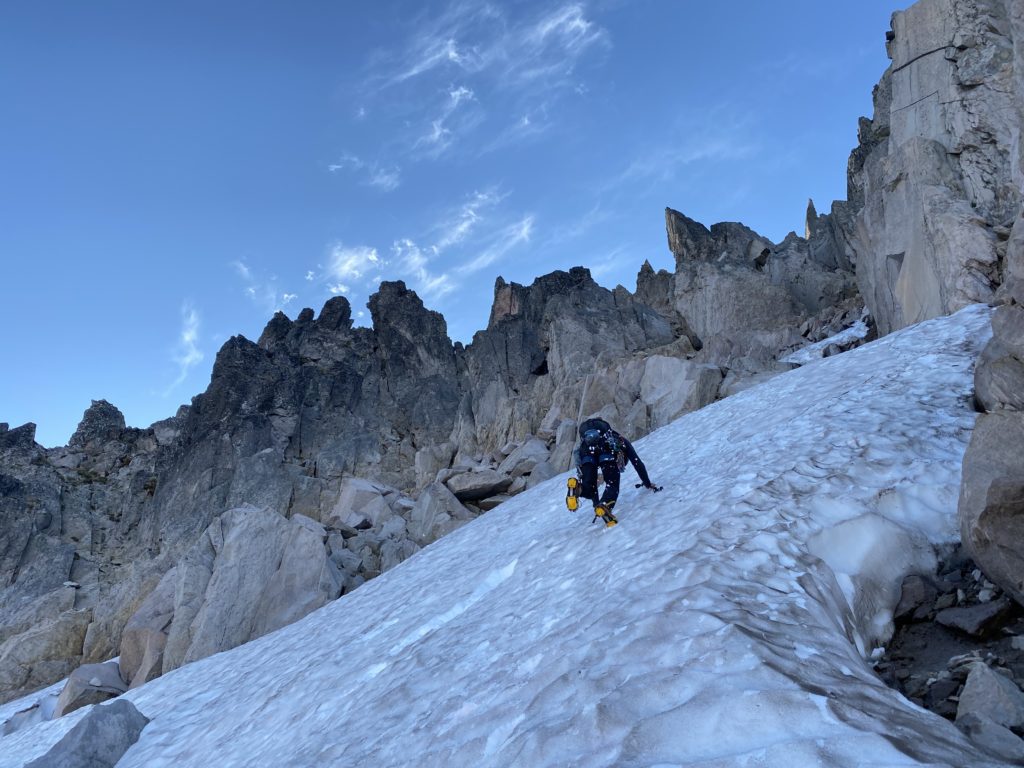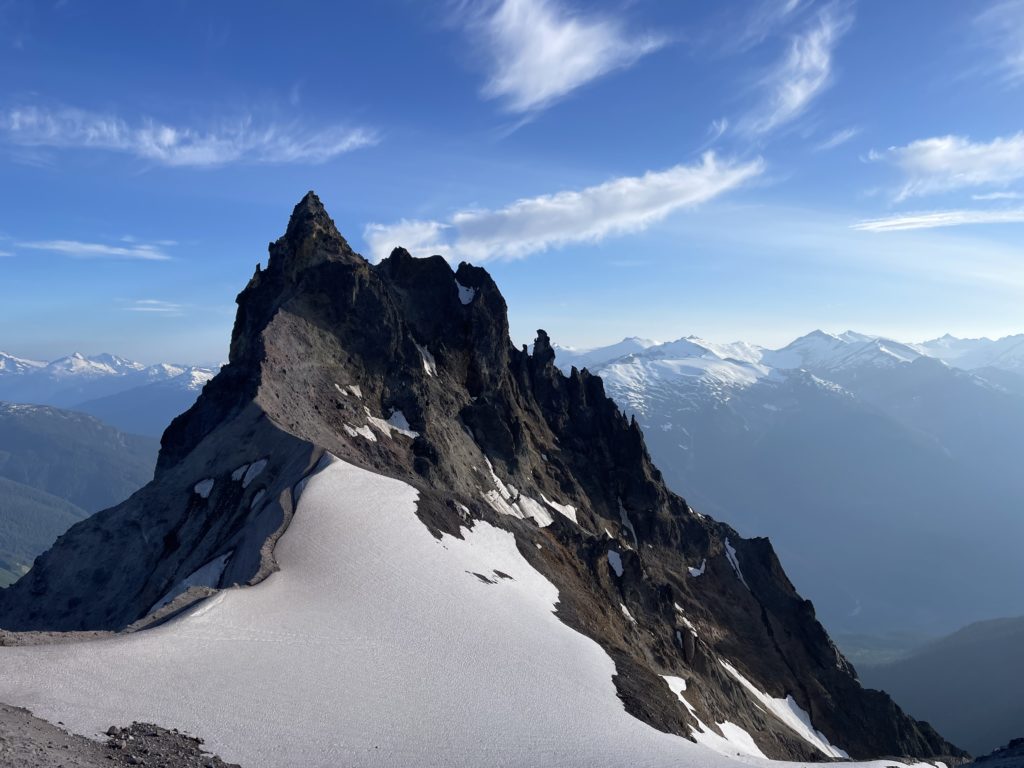 Amusingly or not, each step on the arete would kick a small set of rocks which would then cascade into a major rock fall down the gully on the right side. A fall into this section would be certain death. We carefully hiked down and rejoined with snow slopes at last. Now free from all of the choss on Cayley, we made a fast fun ski boot down to the glacier. Steven lead us across again, largely retracing our original steps. Now we had to slog over 100m from the glacier up that steep choss knoll. It was a grind, but we eventually topped out, grabbed our gear and set up camp just further beyond near some running water.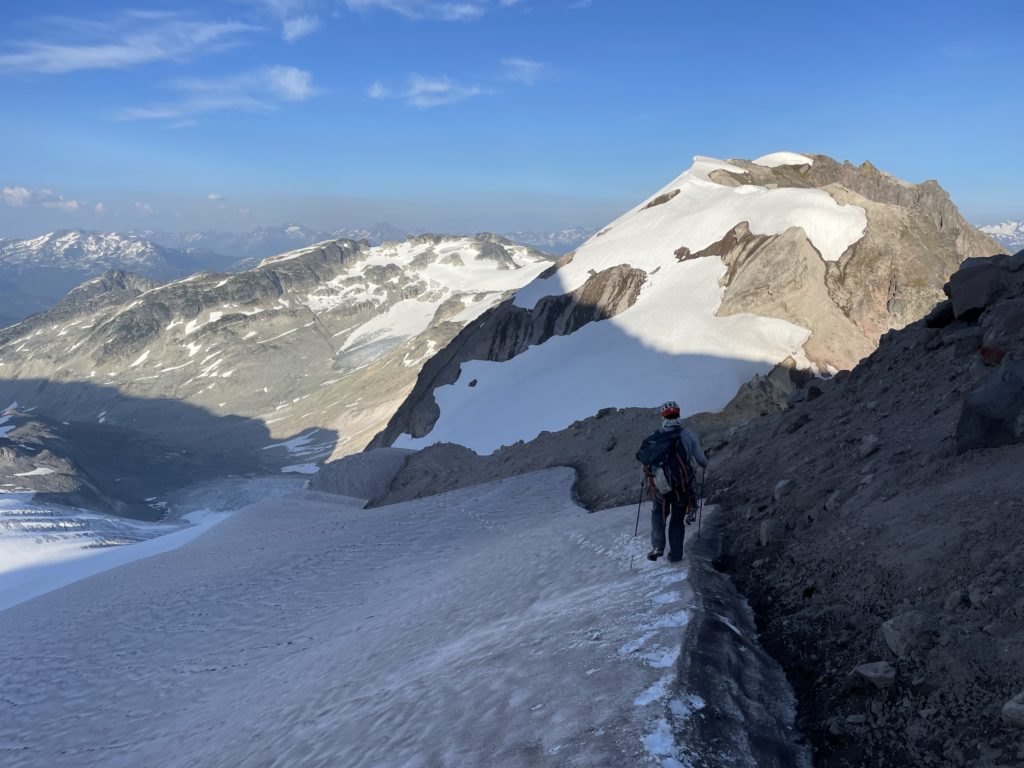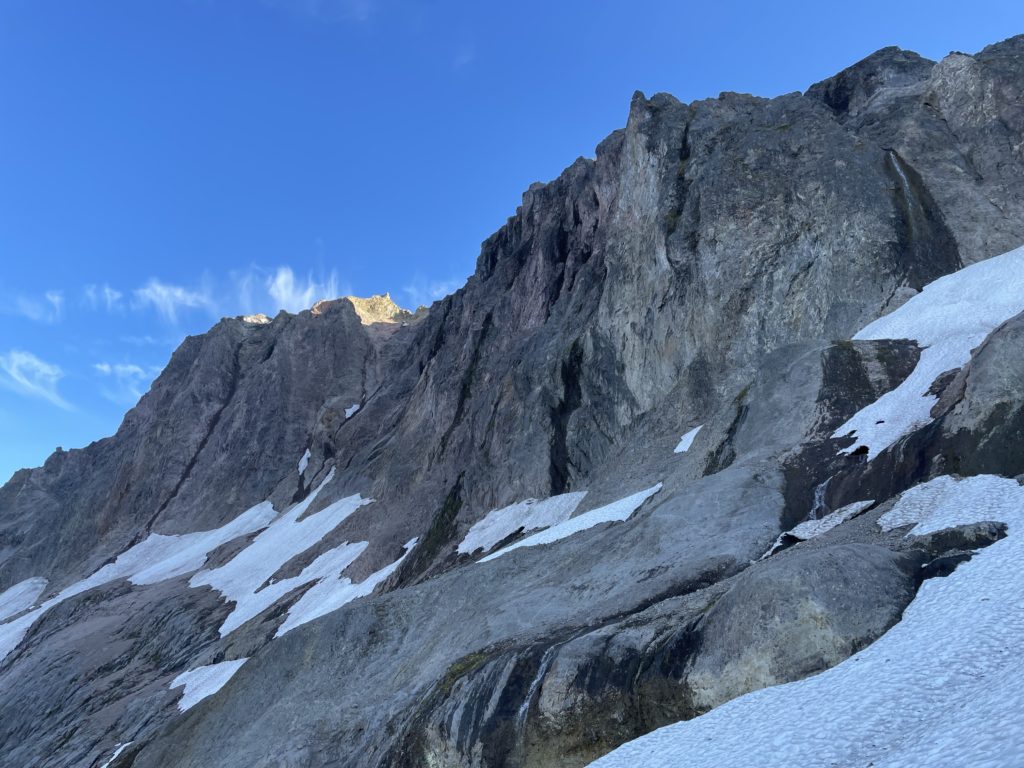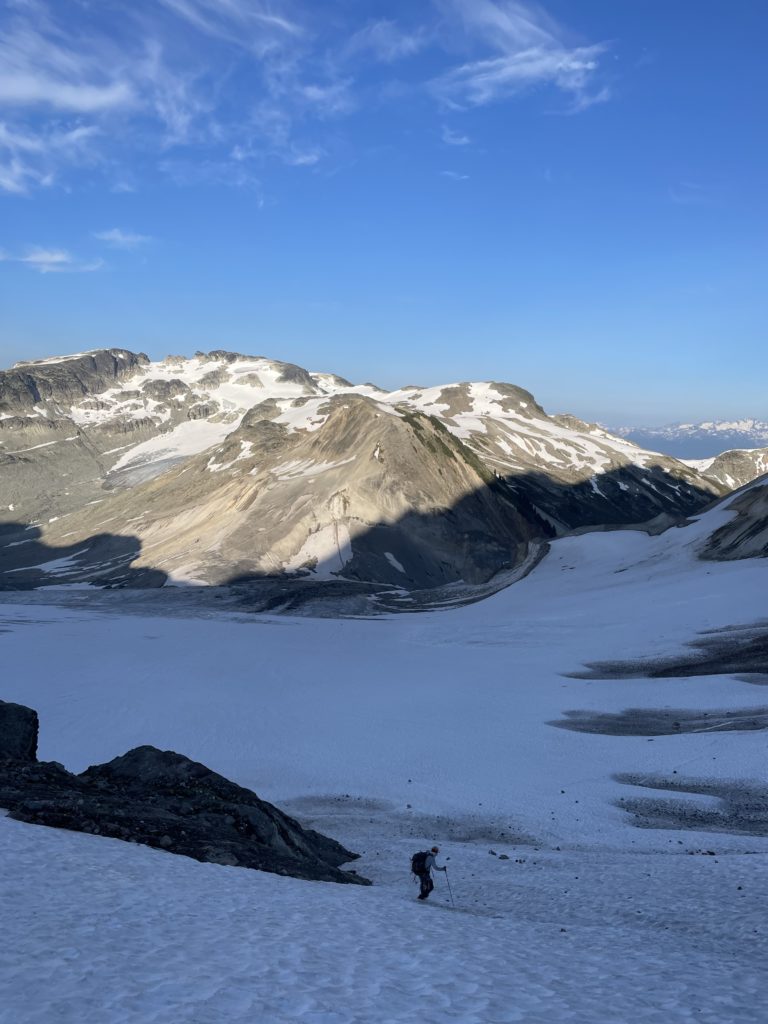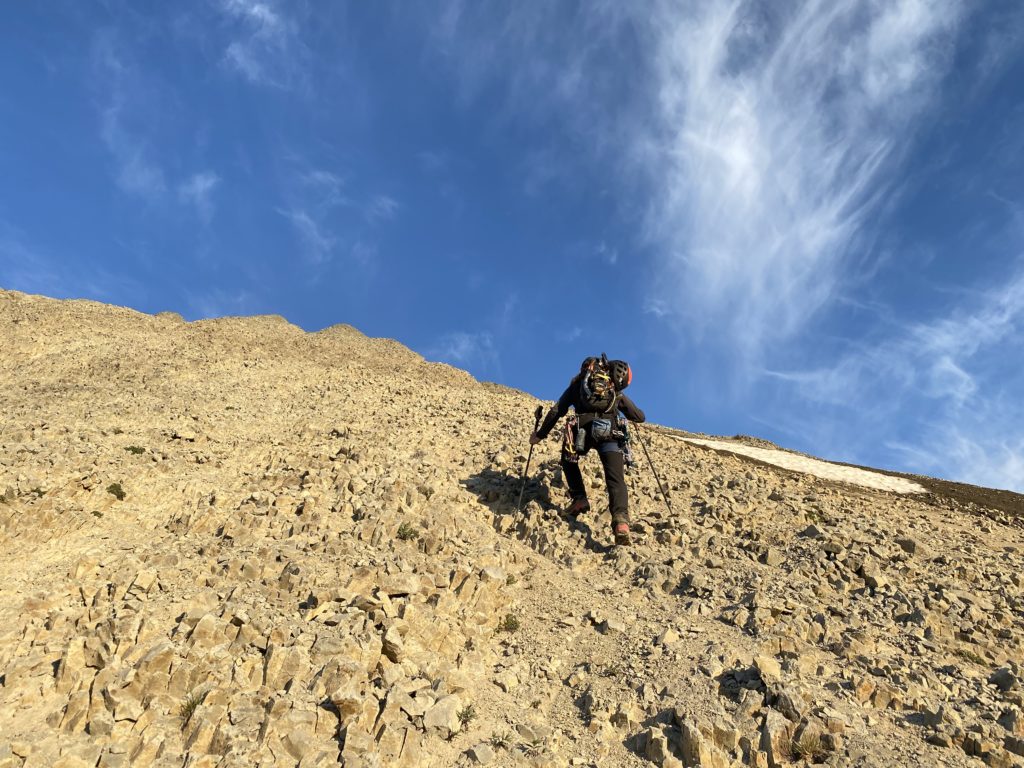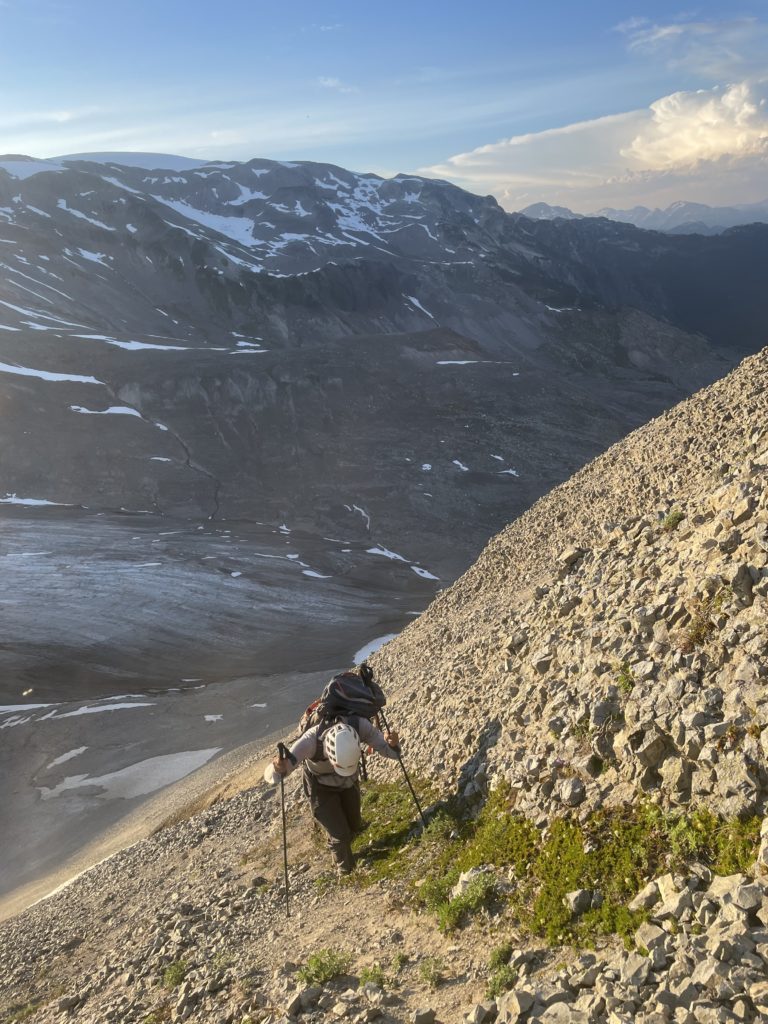 After some dinner, we settled in for a long night of sleep and didn't get up until 8:30am. We got off to a leisurely start and then regained that 400m up to the Brandywine ridge line. Again it's mostly easy snow travel so there's not much to add here. Once back on the main hiking trail, it was just an easy plod back out to the truck.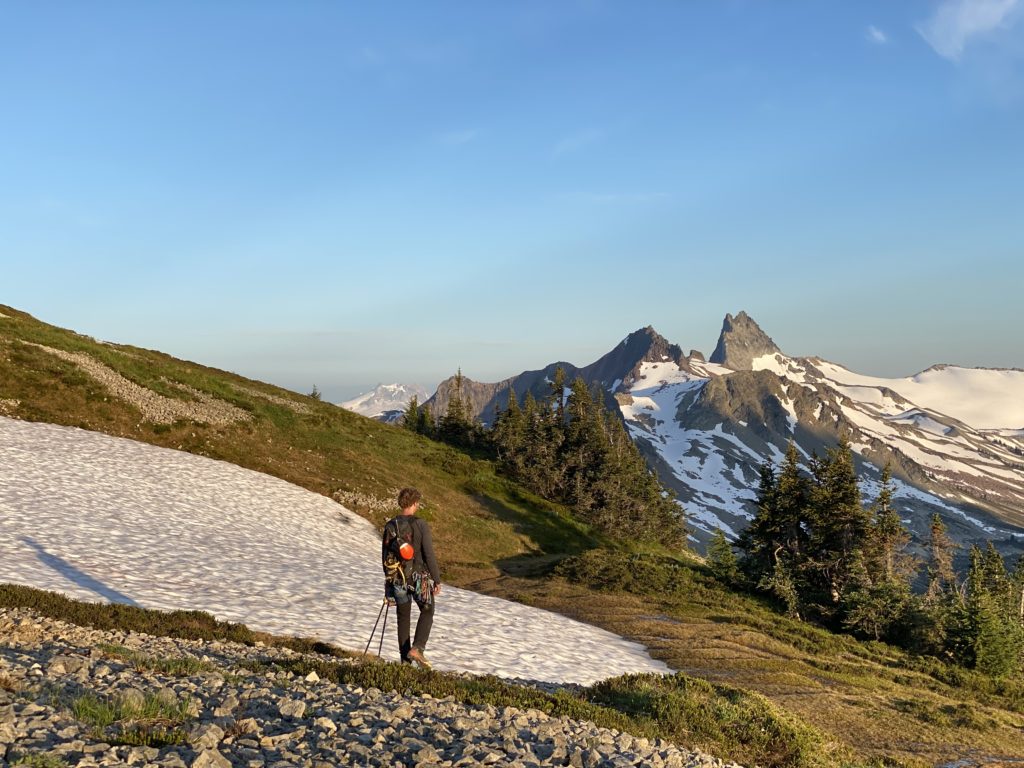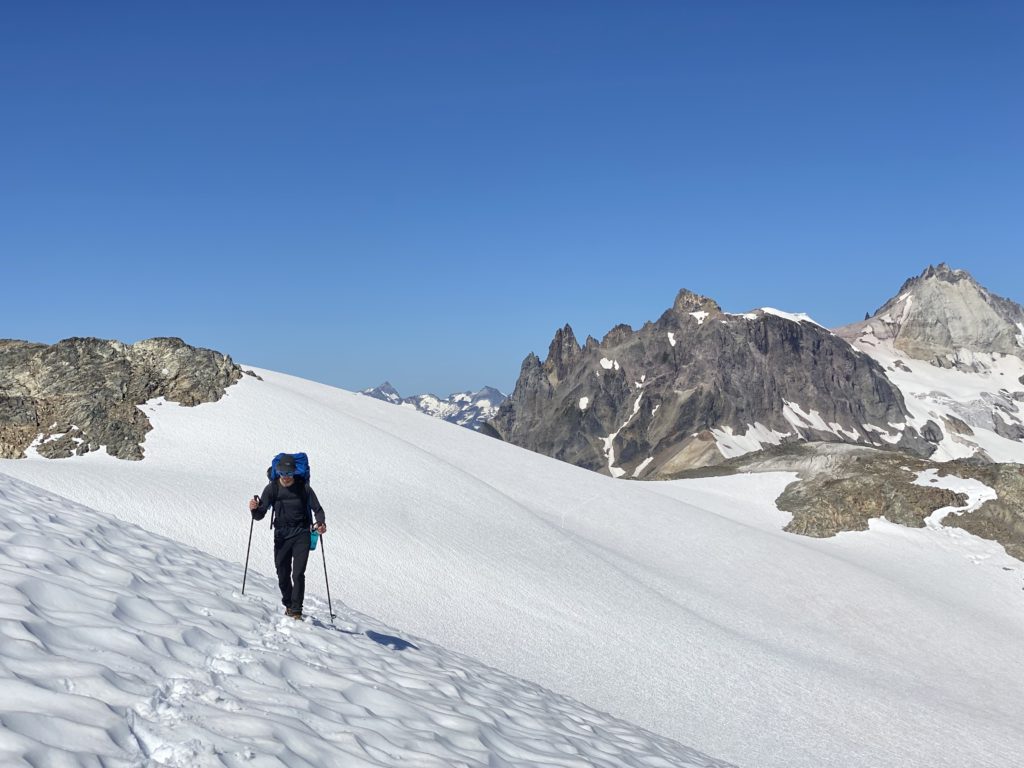 I'm super stoked to make an ascent of Mount Cayley, but neither of us expected such dangerous rock conditions. The rock fall is very unpredictable and this summit is best done with snow pack up to the summit tower. From there either a mixed climb or dry rock on a shorter section of questionable rock will enable you to dispatch with the crux without all the dangerous choss below.