Elevation Gain: 1,415m
Distance: 15.5km
Total Time: 9 hours 39 minutes
Date: May 30th, 2023
Located near the southern end of the Chilliwack area stands a striking duo of pointed towers by the name of "The Border Peaks". On the northern side is the smaller but sharper Canadian Border Peak and the goal for our Monday ascent. Most of the route is comprised of exposed and chossy 3rd and 4th class terrain with a single ~5.6 technical pitch near the summit block. Elise, Alex, Trevor and myself had been floating around a few ideas to take advantage of the nice weather. A recent report on CBP had caught our attention and so we decided to make a go for it.
We left Vancouver around 5:30am reaching the Chilliwack Valley area around 7:00am and slowly made our way down the Tamihi Creek FSR. It was fairly smooth sailing, but frequent water bars on the road meant we never could get above 30km/h for long. At around the 14km mark, we hit a near-show stopper water bar, but with some careful driving and bumper scraping we managed to drive through it. I finally pulled us over at around the 15km mark where another jeep was parked.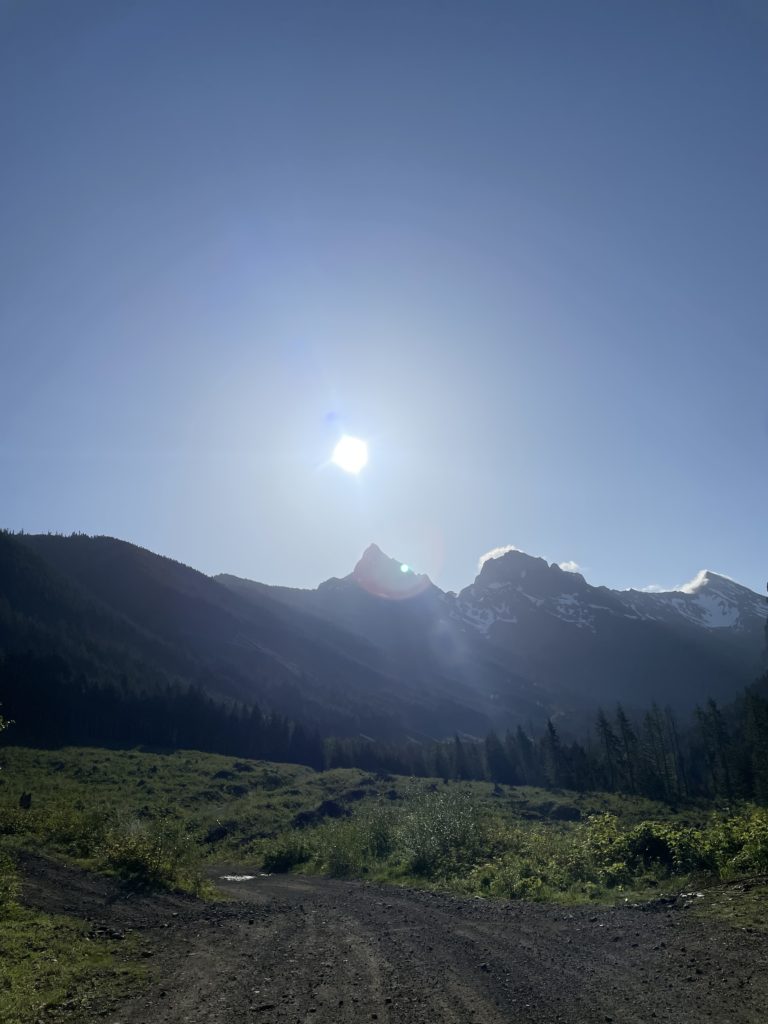 The first part of the approach was a 5ish km FSR plod and while the road was undriveable, it was easy walking with a clear path. At the end of the round, around 1600m in elevation, we made a short bushwhack through the old cut block and then ascended up through open forest to reach the ridge line. Once on the ridge we found firm snow on the north side and easy walking conditions until we reached a steep 60m rise on the ridge. Alex lead the way kicking bucket steps in the snow until we reached the top and had a clear view of the summit ahead.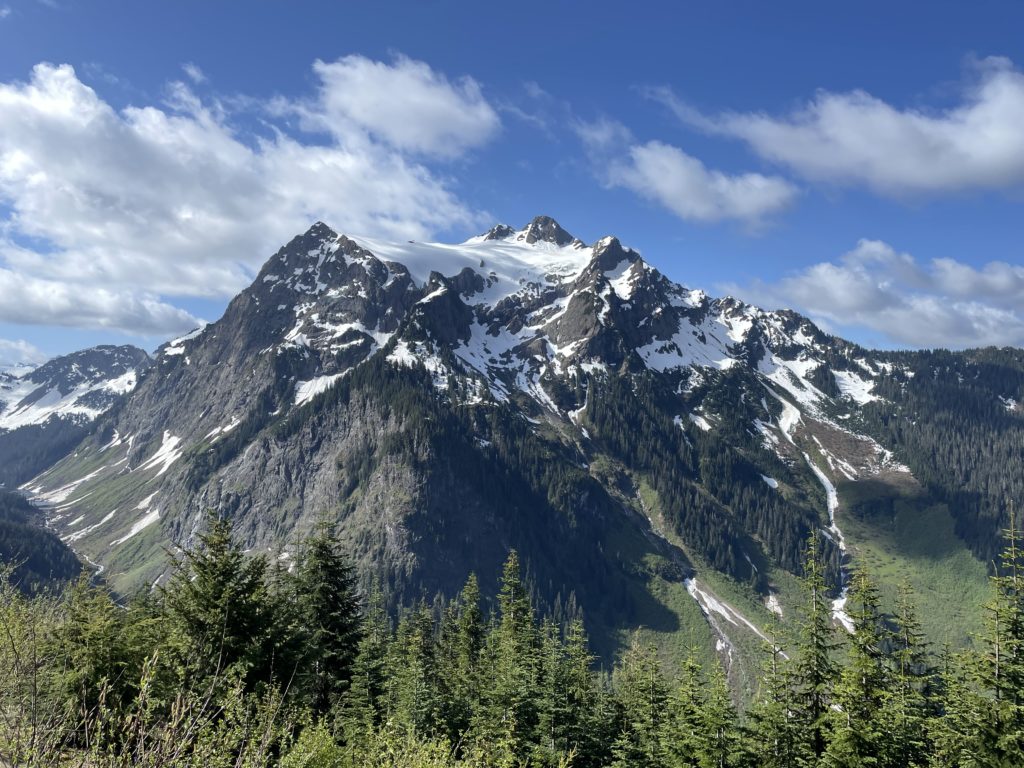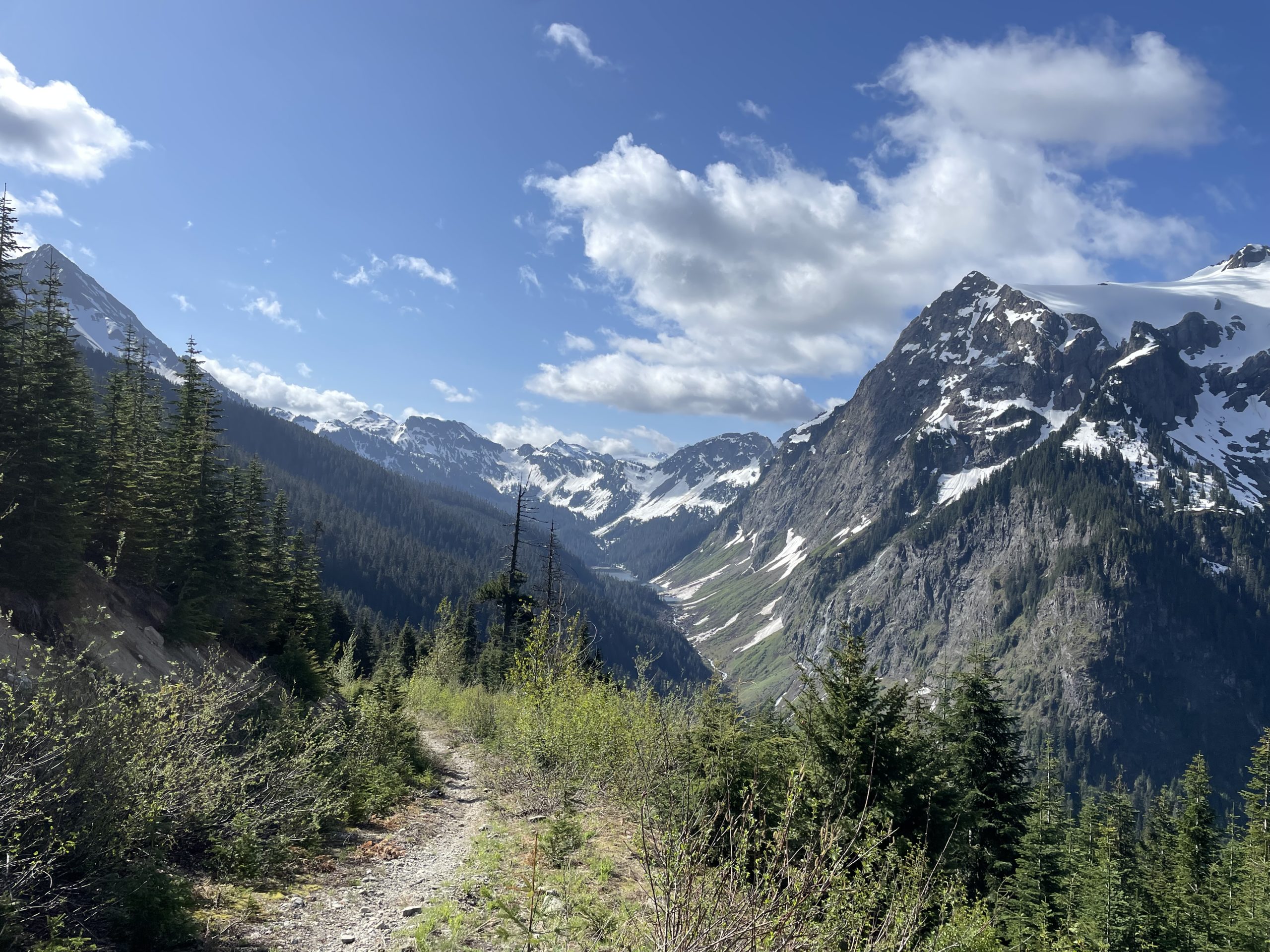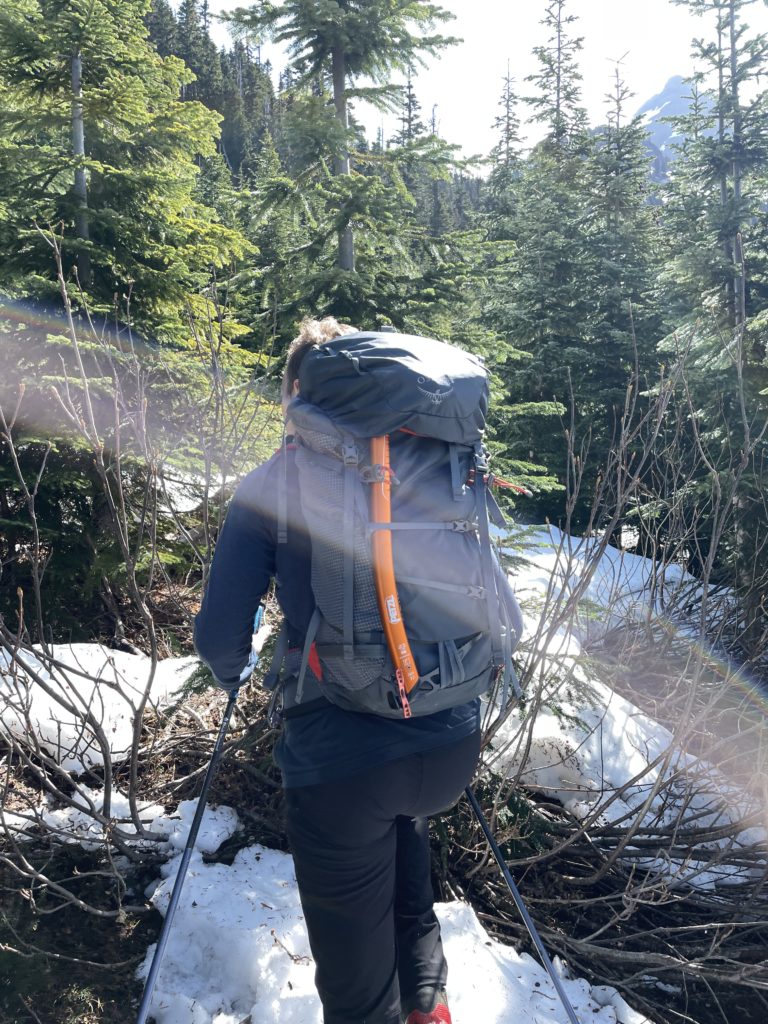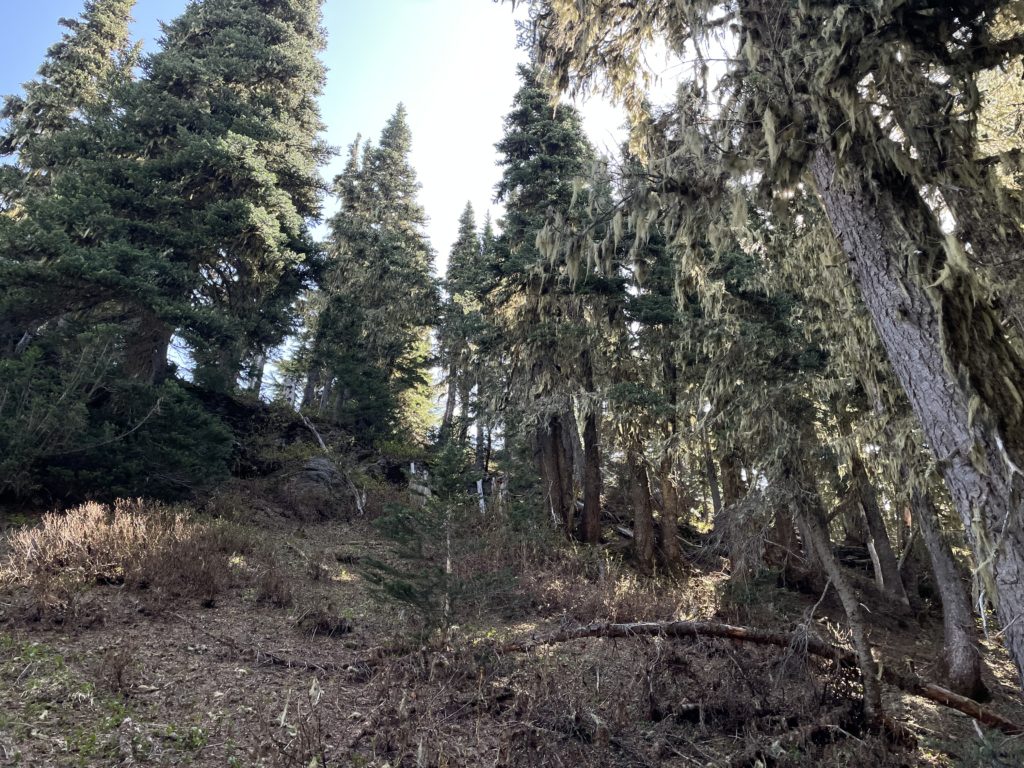 From our vantage it looked daunting with all aspects appearing near-vertical. However, we knew a route would reveal itself as we got closer, so we continued our way along the ridge until we were joined up with the north western scree slopes of Canadian Border Peak. The lower section of the slopes was a bit of a scree treadmill, but we soon reached our traversing height towards the western gully. I lead us around some loose scree benches traversing until we were underneath a prominent gendarme. We scrambled up a short 4th class step and then dropped down the other side to gain the gully entrance.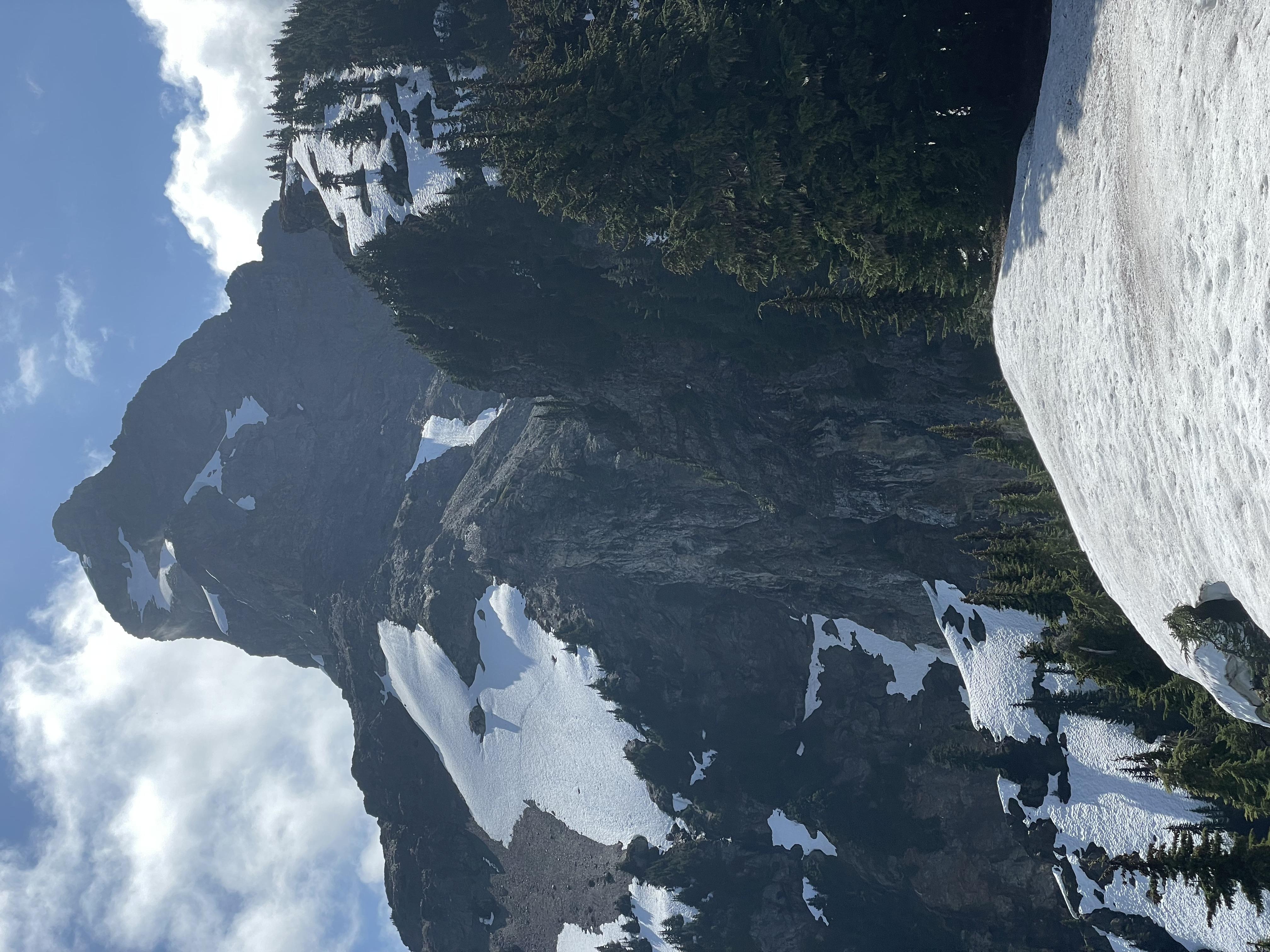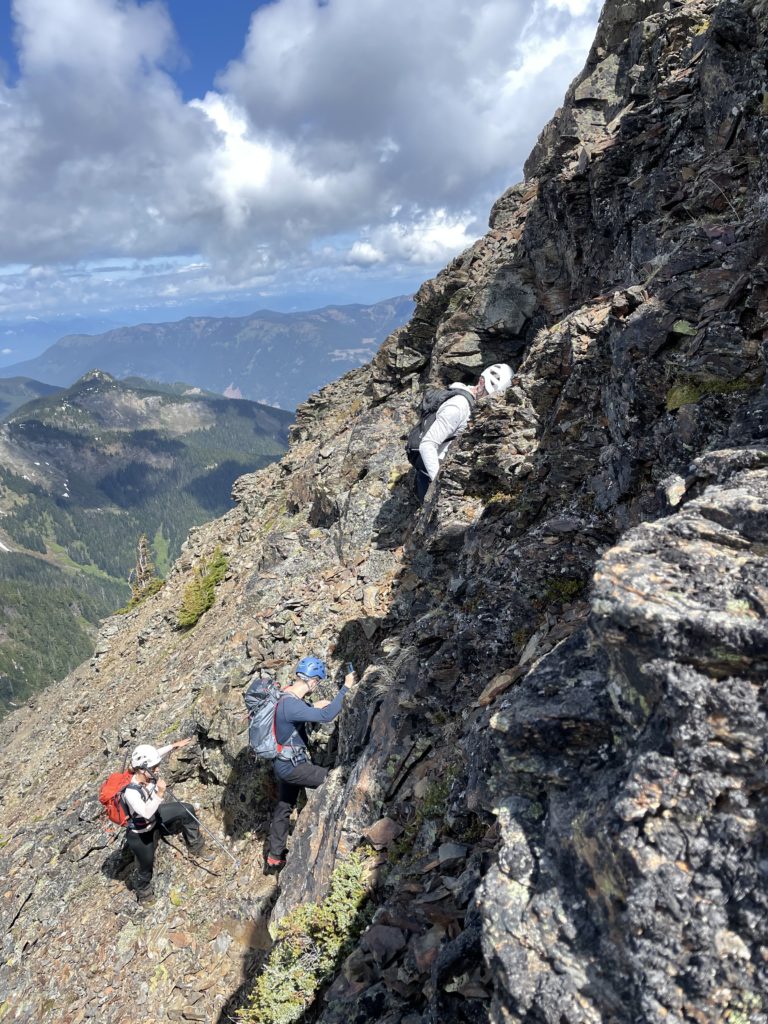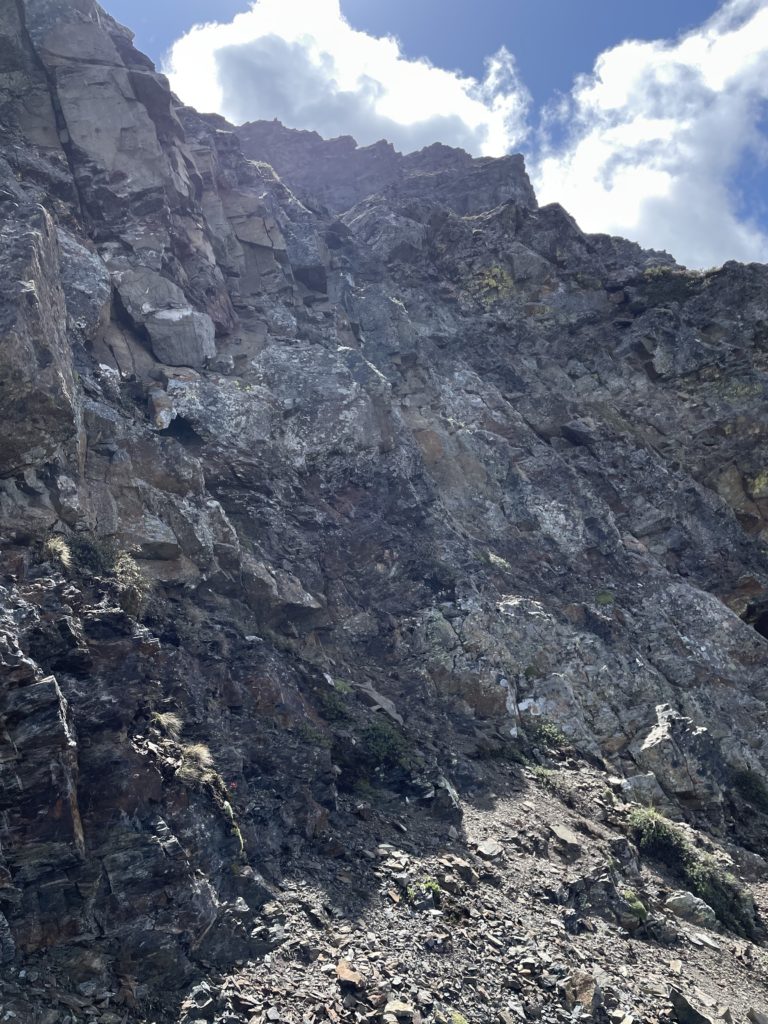 Ahead lay a chossy mess of 3rd and 4th class scrambling so we stuck close together to avoid rock fall hazard. Of which, there was no shortage. Every step and every hand-hold had to be carefully checked and sometimes discarded as it came out of our hands. The route finding was a bit tricky, but we stayed climber's left in the gully, avoiding any of the branches further left. We progressed upwards until reaching a section of steeper, but more solid rock. At first I thought this was the technical pitch, but it did not match the description and so we proceeded as normal. While this section was not too difficult to climb, it did feel like it was nearing 5th class territory. Especially given the more challenging movement required to avoid using rotten rock.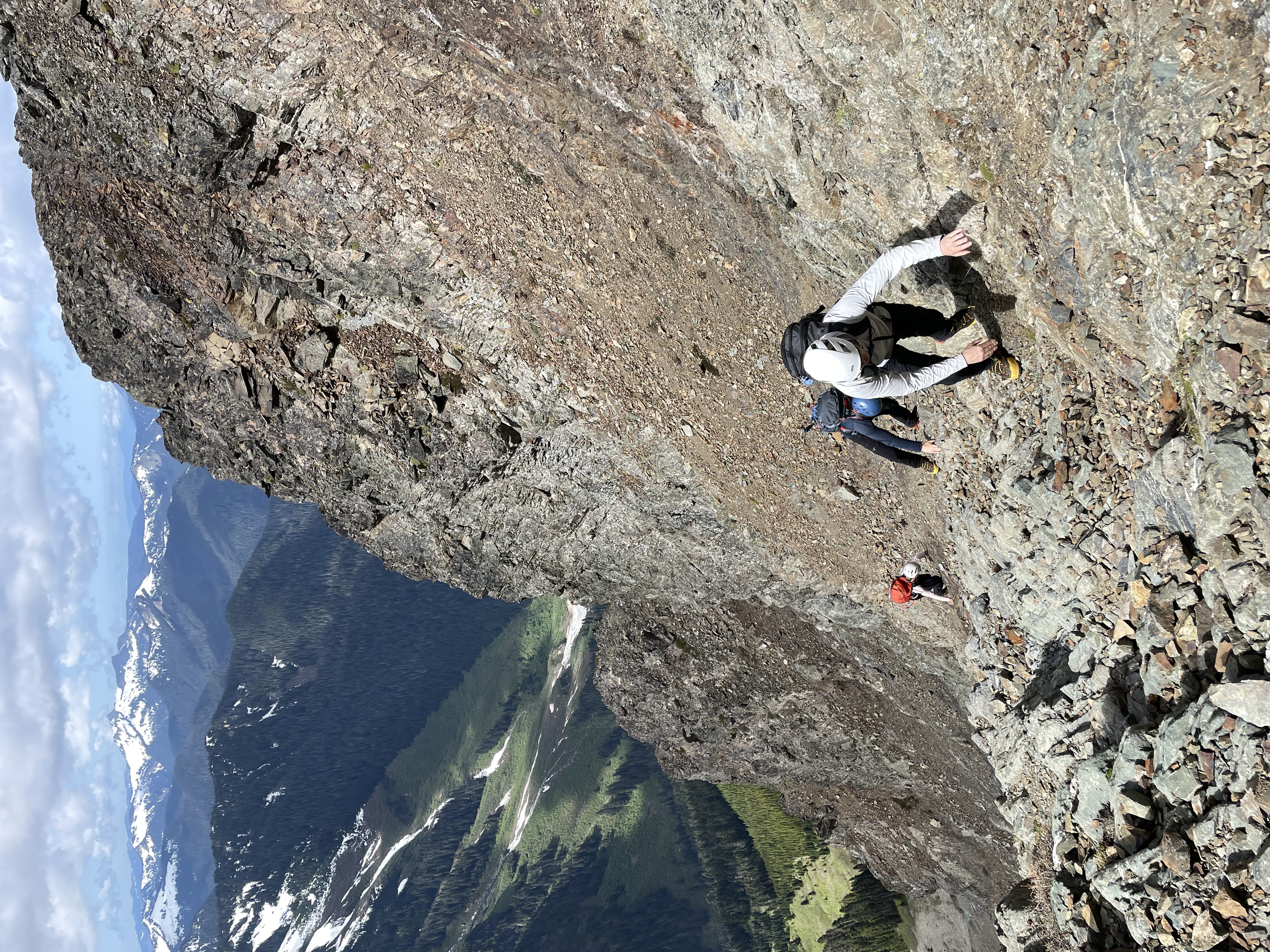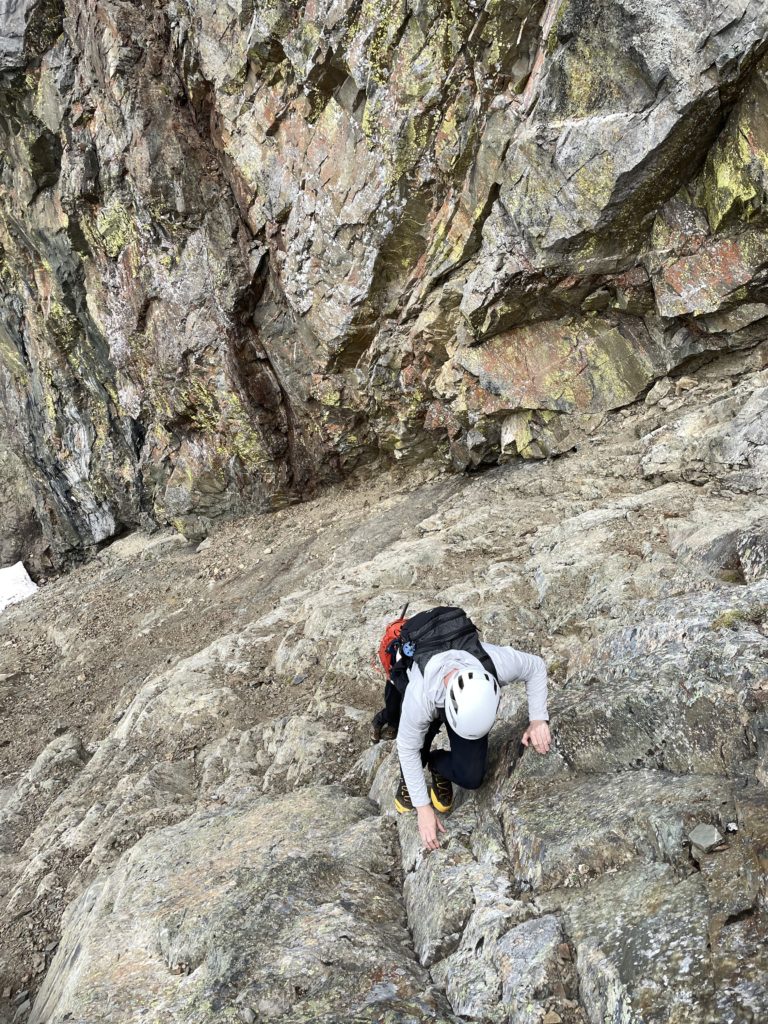 Above this step was another section of scree-treadmill type terrain and then we gained the northern shoulder below the summit. From the shoulder we could see the technical pitch at last and thankfully it didn't look all too bad from our vantage. We paused for some food and then marched our way up to the base of the pitch. Alex was keen to get a first alpine lead in, so he geared up to start his climb. I had brought an 8mm x 60m rope that we could twin and have the 4th climber tie in once the 2nd had reached the anchor.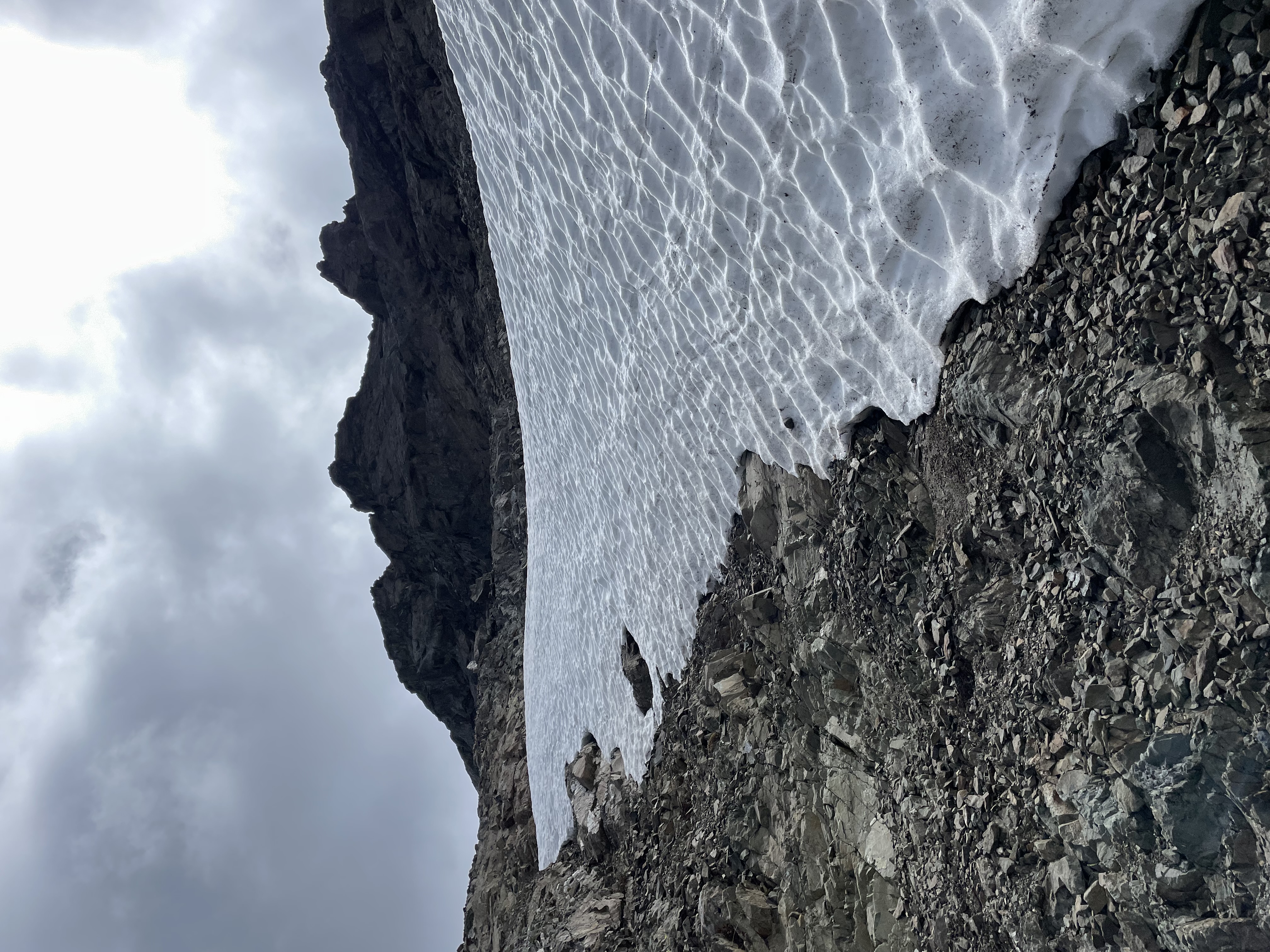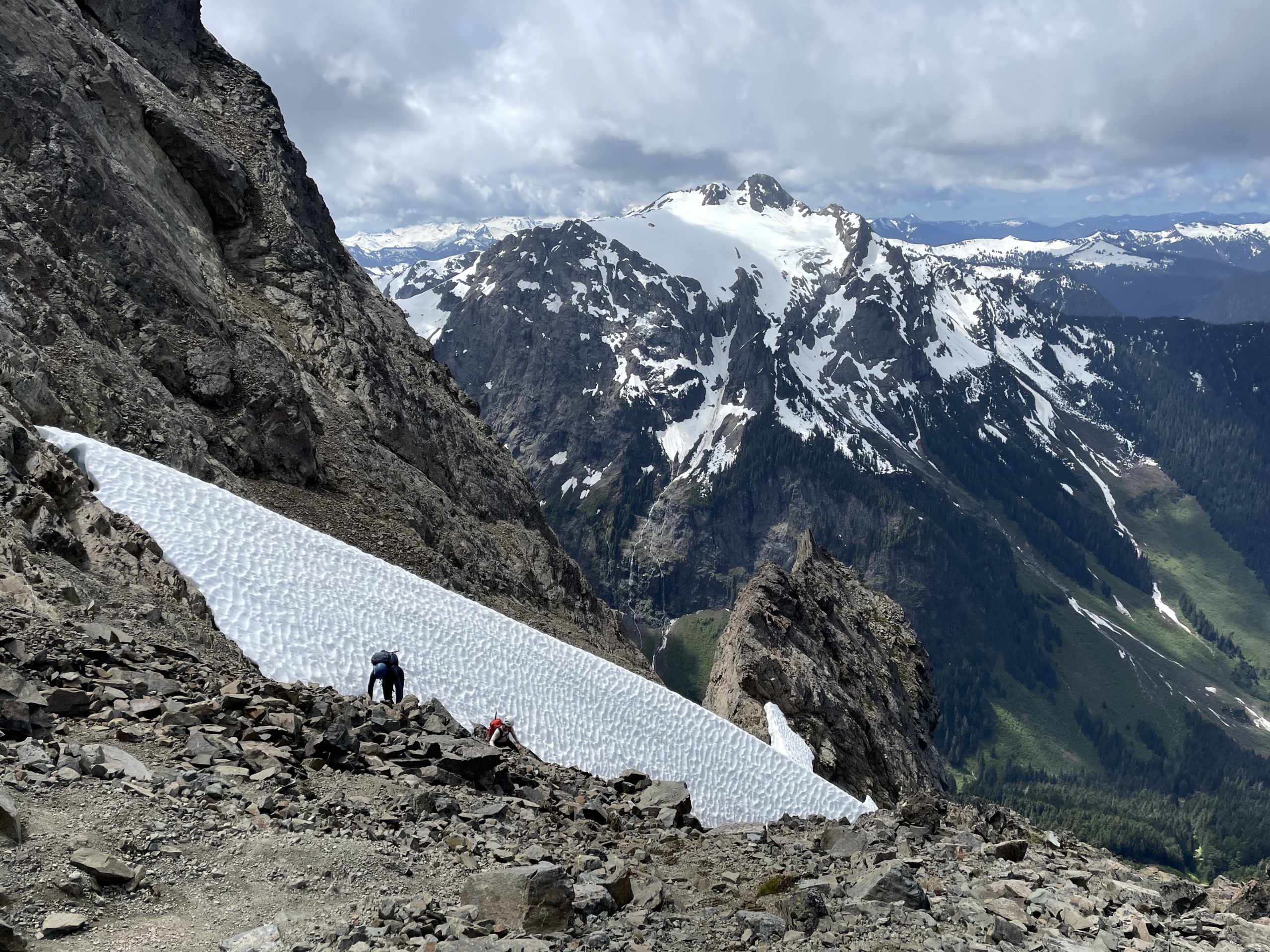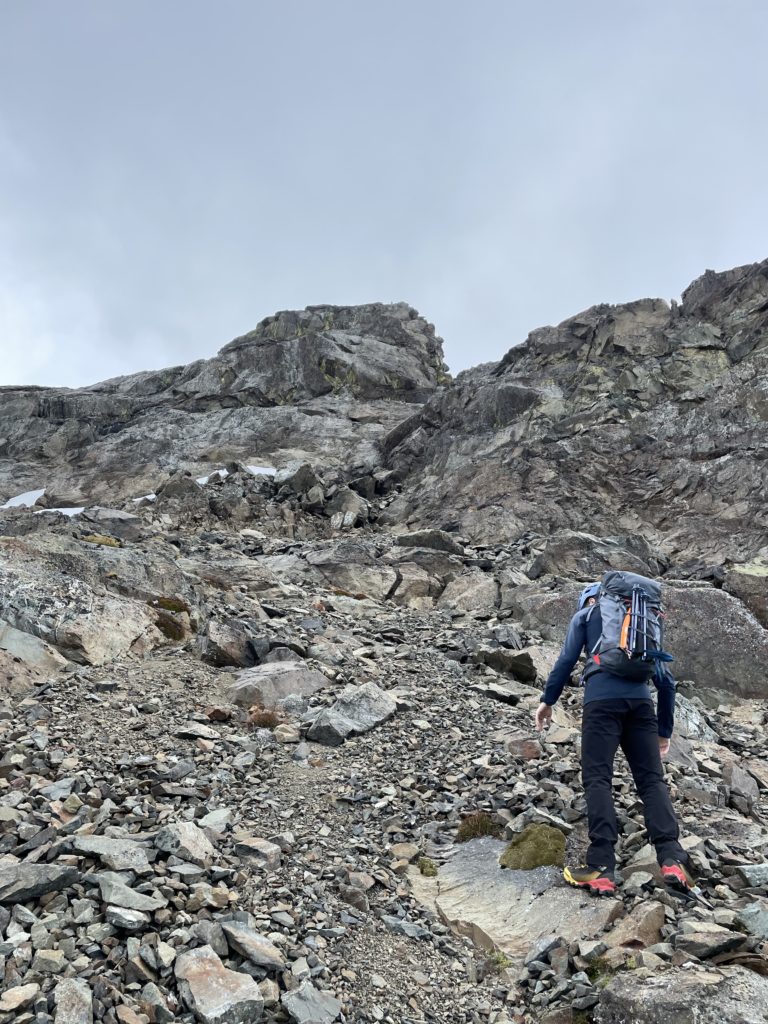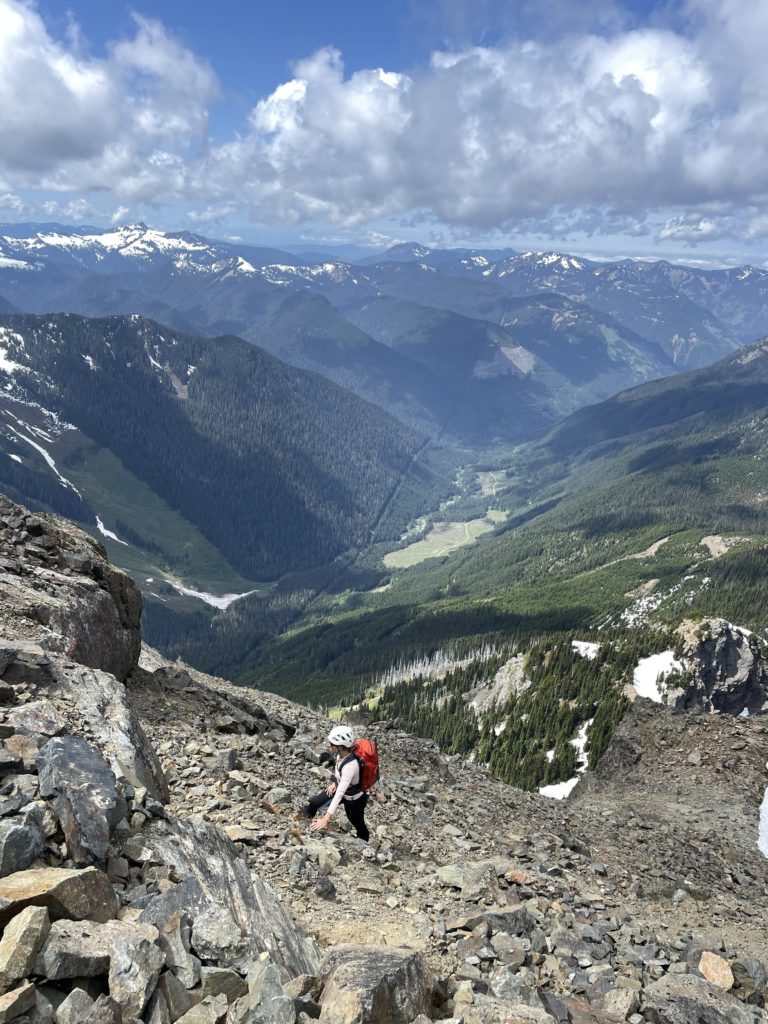 Alex started his lead in a leaning dihedral of sorts, but quickly found rotten and difficult to protect rock. He lowered down and re-ascended up a more featured middle section climbing about 20m up to the anchor. He was able to place all of two pieces, neither of which could be made particularly bomber. Trevor went up second and then Elise and myself. The 5.6 grade seemed pretty reasonable, as I was able to climb in just boots which is usually an indication the grade is not too high. Perhaps even 5.5 would be reasonable to say too.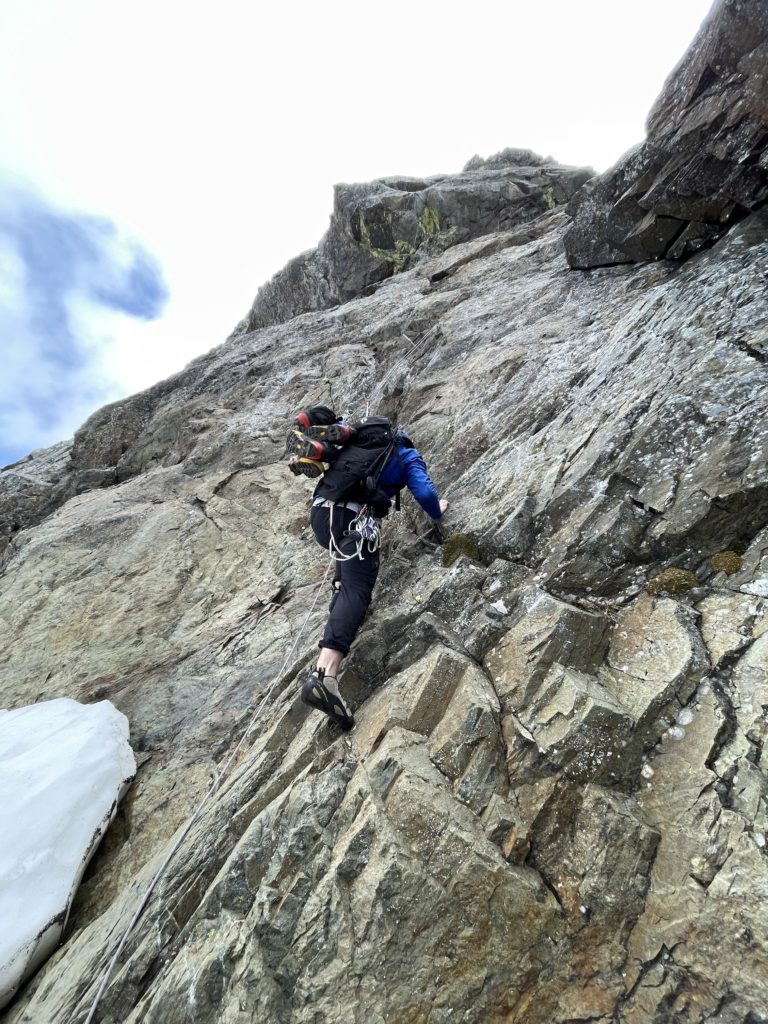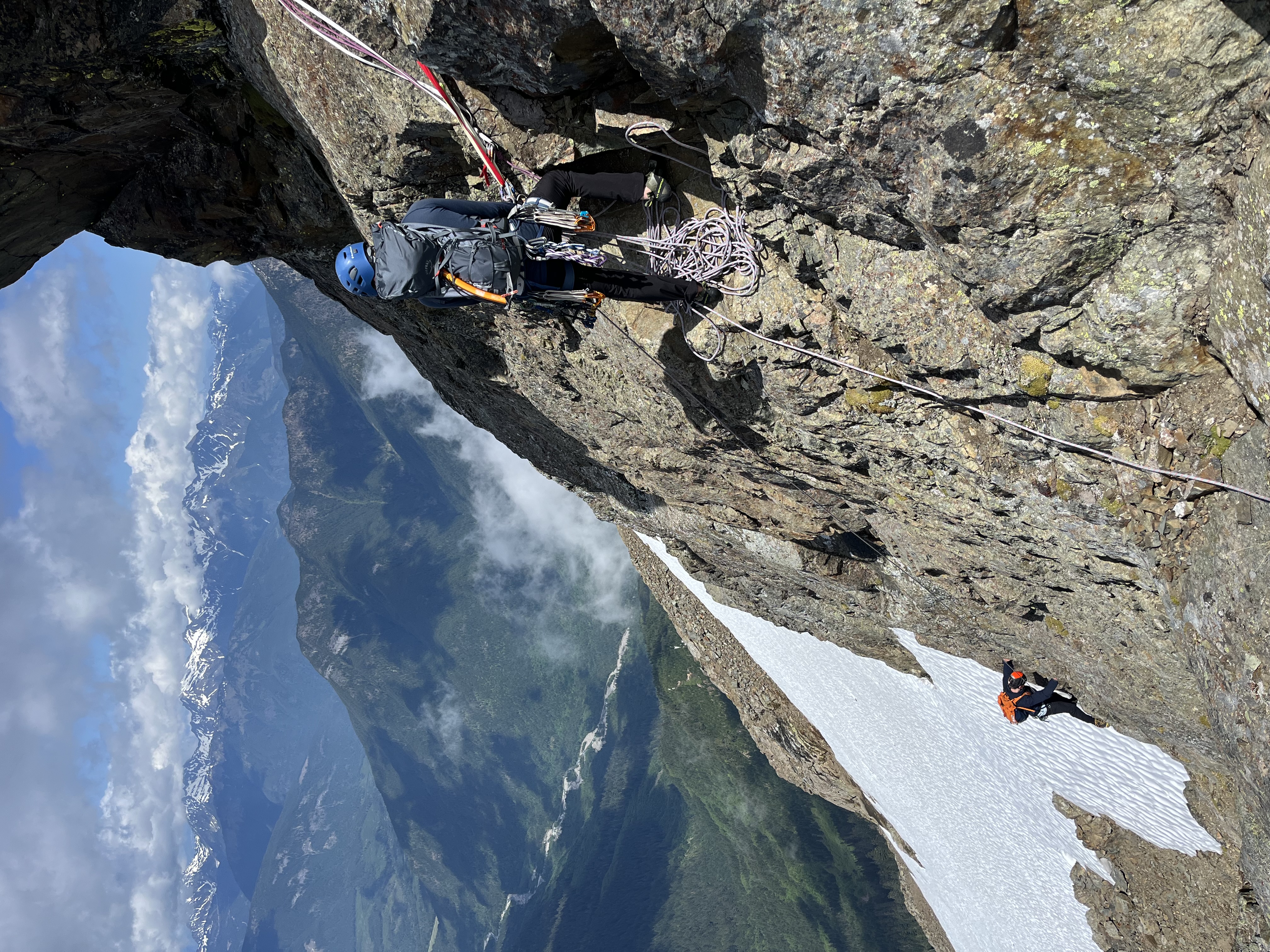 After the crux pitch was a steep gully that Elise lead the group up. This section is considered 4th class by many, however I think it's nearing 5th class given some of the more challenging moves. Above the gully was a short slab section and then a tame scree slope to the summit.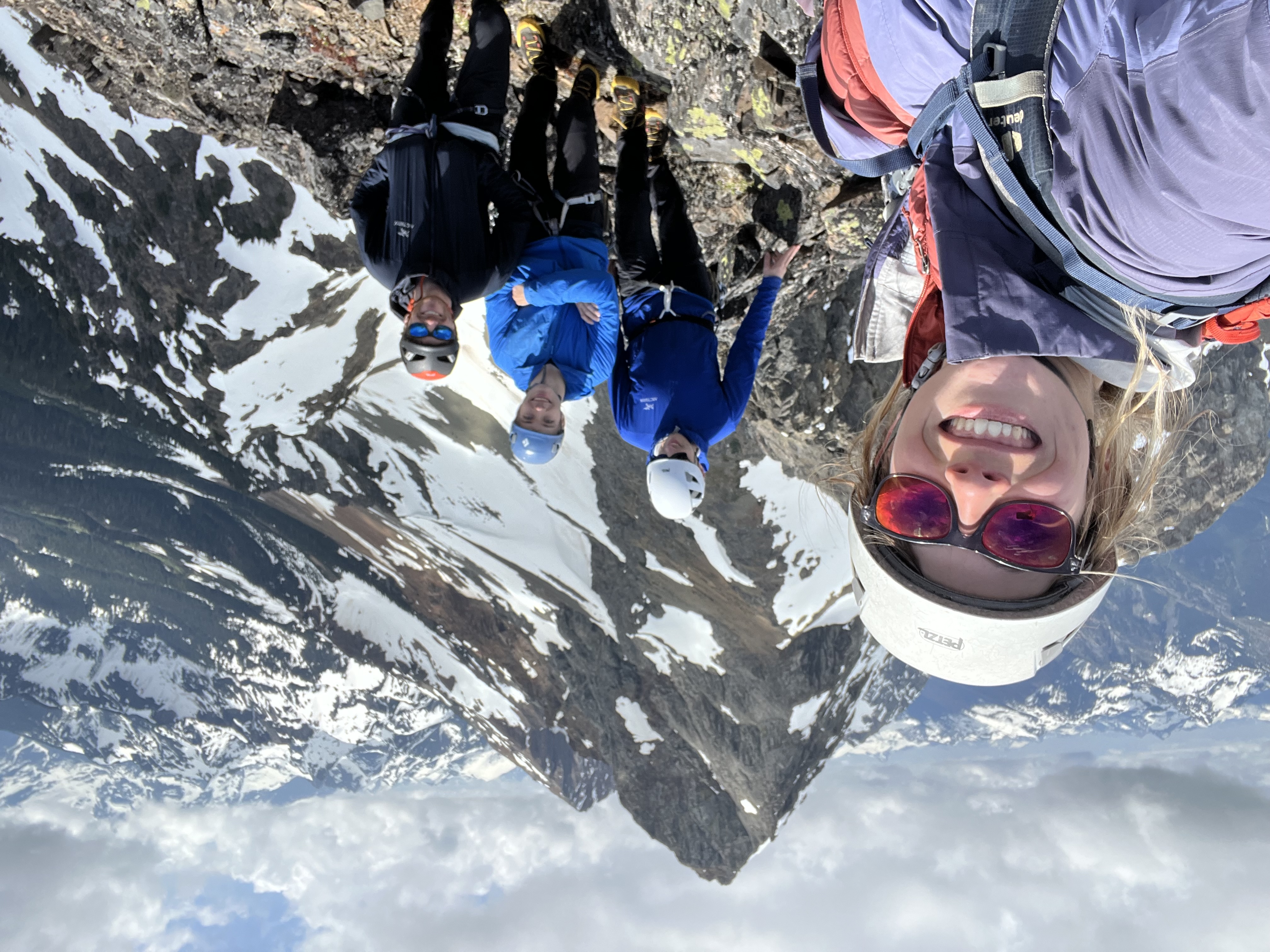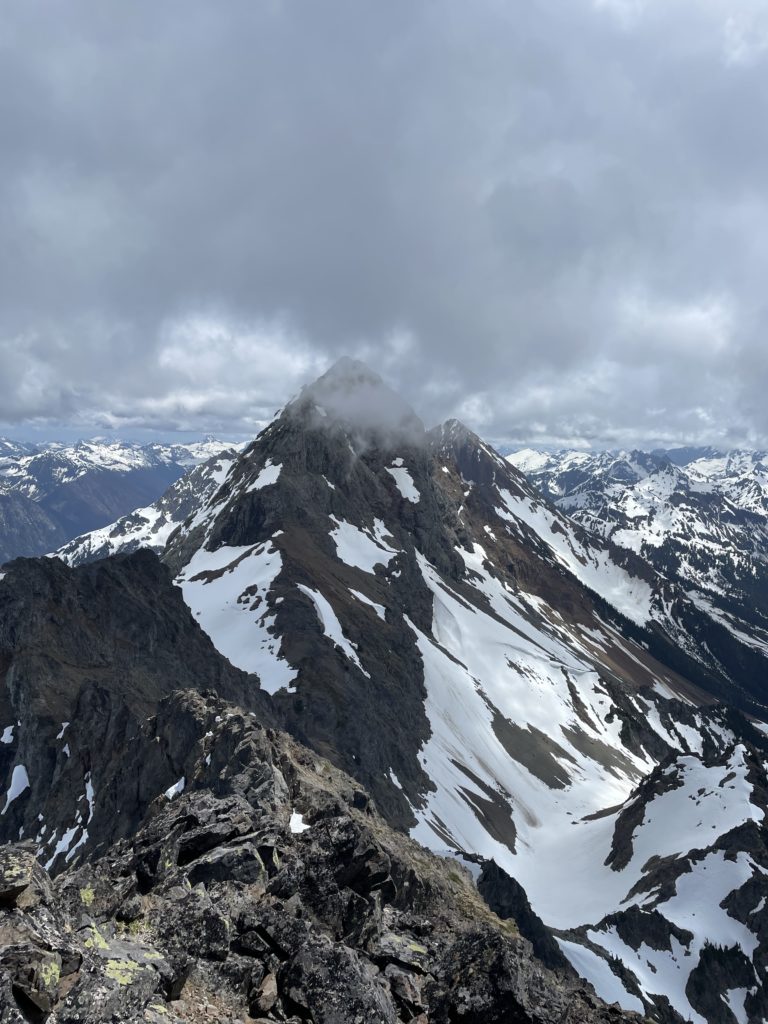 Now for the descent. I had made note of five different rappel anchors on the way up, two of which were near the summit block and one above the technical pitch. The second one near the summit block was a single rusty piton with torn webbing, so I knew we'd be skipping that. Closest to the summit was a slung block and after inspection it looked like the best way down. We set up rappel and Elise went first. Thankfully our 60m rope reached the base of the gully and only a short bit of down climbing was required.
The next rappel was above the crux and it was a bit of an awkward traverse to reach but otherwise we all descended without any issue. We then scrambled down below the shoulder and reached the second anchor I had made note of on the ascent. There was new webbing, but it was set up such that the old torn webbing was load bearing and a tear would result in shock loading the new webbing/anchor. I redressed the anchor and then descended. Unlike the other rappels, this one exited in the middle of a scree covered slab area and was in the firing zone of rock fall. I had to traverse climber's left a ways to find a safe spot before calling off-rappel. One by one everyone came down and made their way over to the same spot as new rocks crashed down continuously on each person's rappel.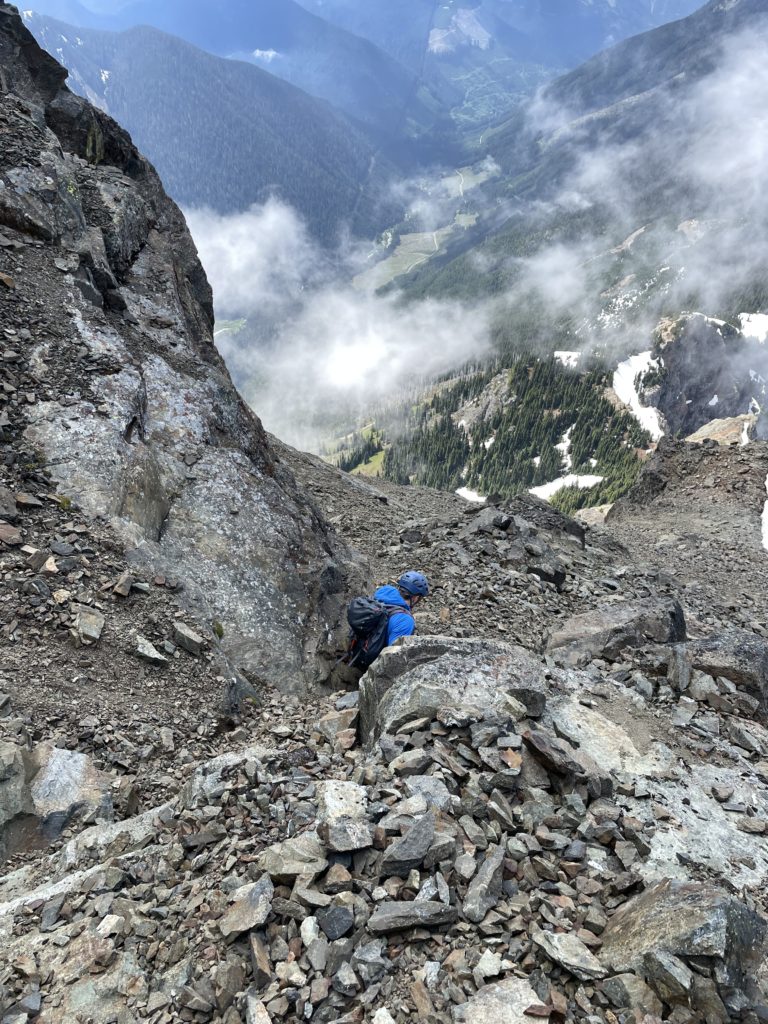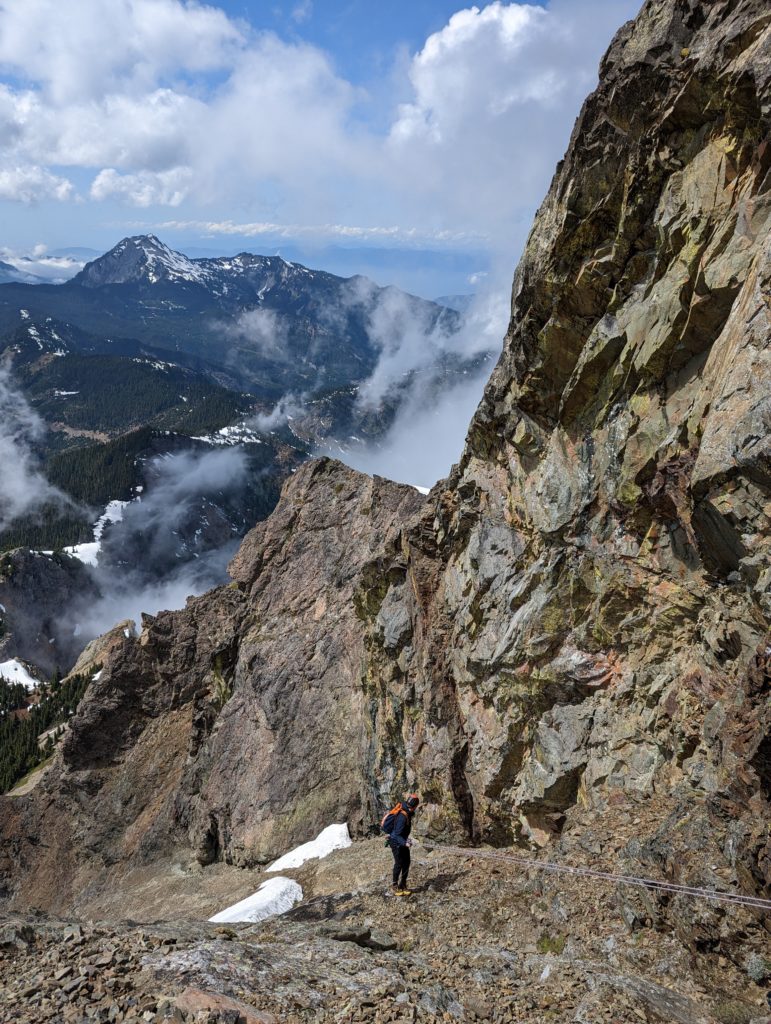 With that out of way we had to carefully descend more steep and exposed loose slabs until we came across the final anchor. The terrain was getting less steep, but also a lot looser so we considered using the anchor for a final rappel rather than down climb. Unfortunately, it appeared to be just a single rusty piton with old webbing so we ruled it out. Fortunately, we noticed a block just a few meters higher that looked slingable. I climbed back and managed to create a new rappel anchor for us. I descended first again and the rope didn't quite reach easy terrain, but I was more easily able to scramble out of the way.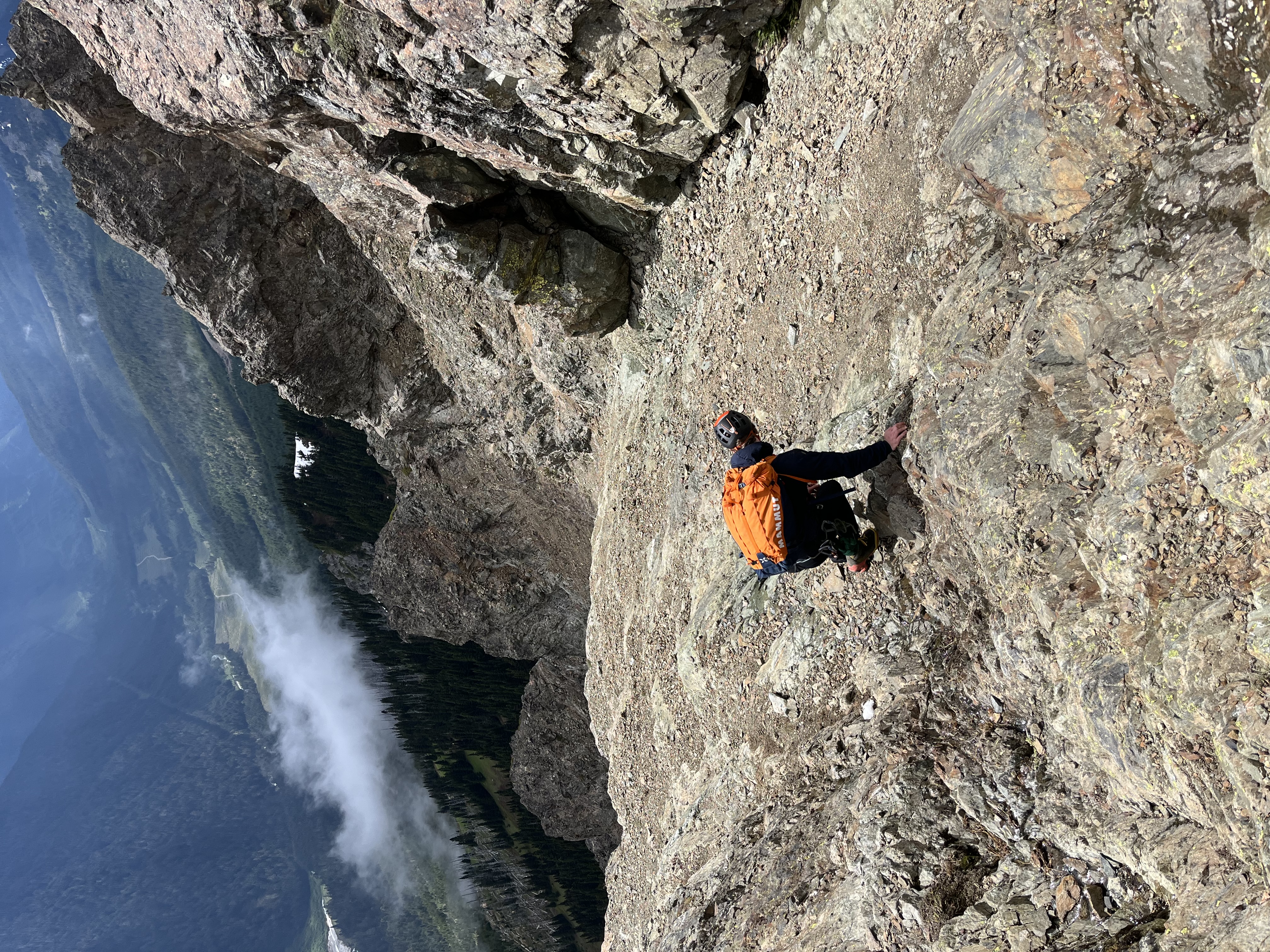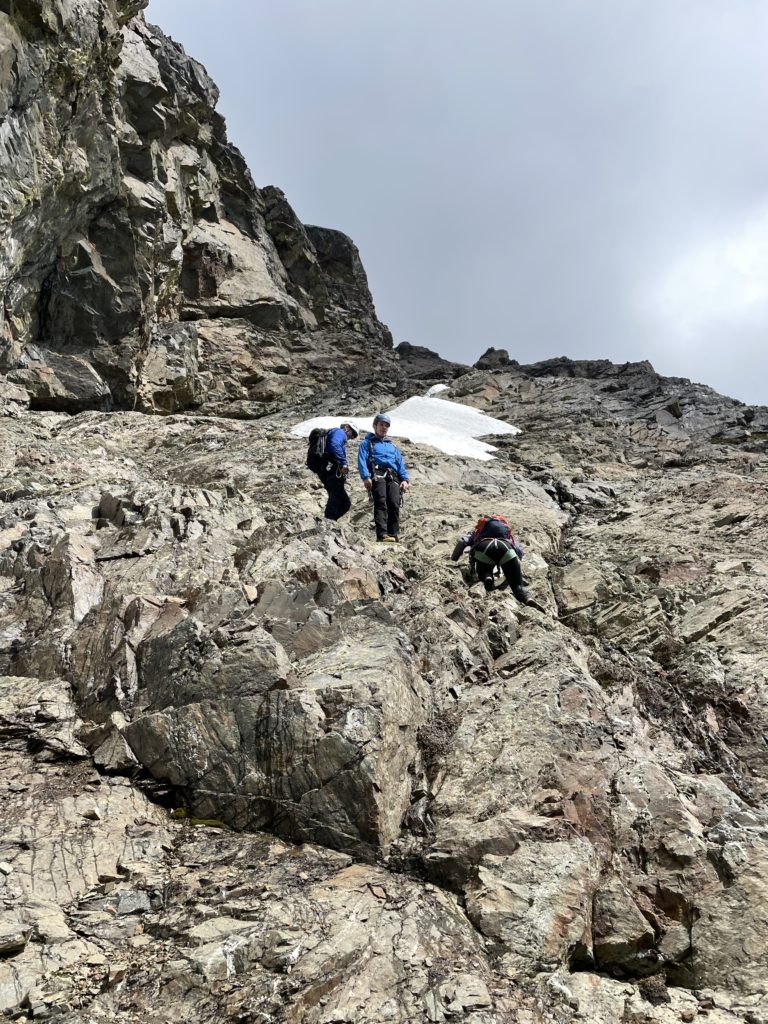 The last rappel left us with only 60m vertical of terrain to descend so we took our time and slowly made it back to the gendarme and the mark of our traverse. Rather than down climbing that initial 4th class step, Alex lead us on a less steep traverse across an upper bench and then we retraced our route to the easy scree slopes. I got us a bit off route after, but the terrain stayed manageable and soon we were boot skiing down the last stretch to the ridge. It was a nice reprieve to be back on solid ground and all that's left is an easy walk back to the truck. Once we made it to the FSR we jogged the lower half and made it back to the truck with plenty of daylight left.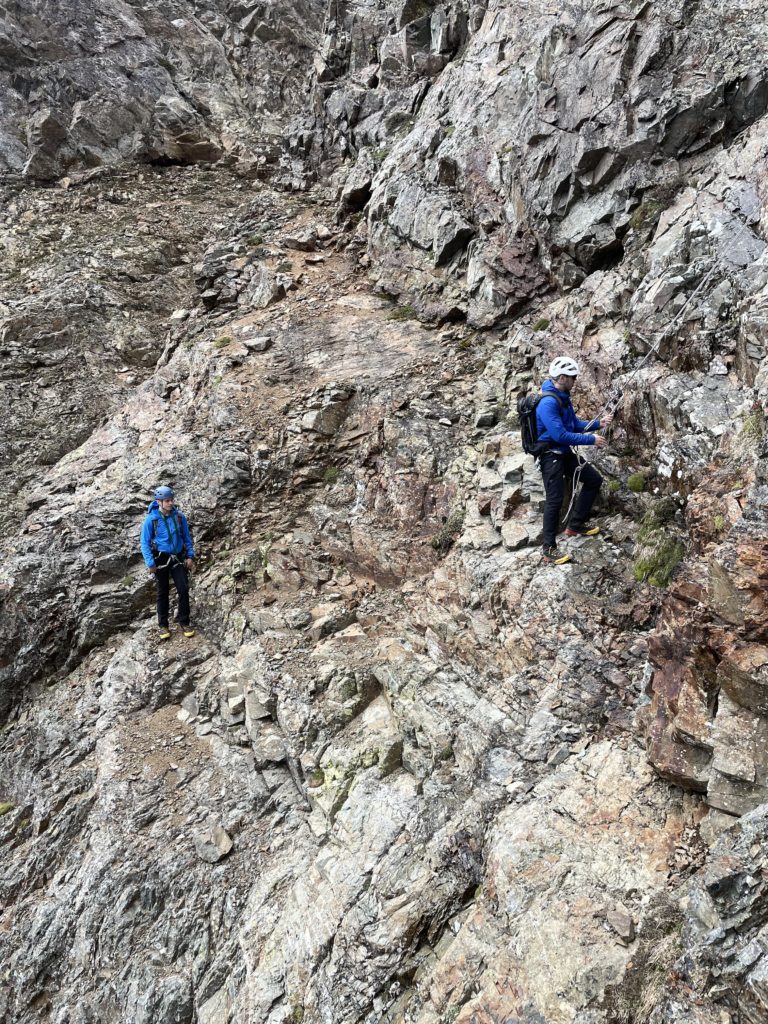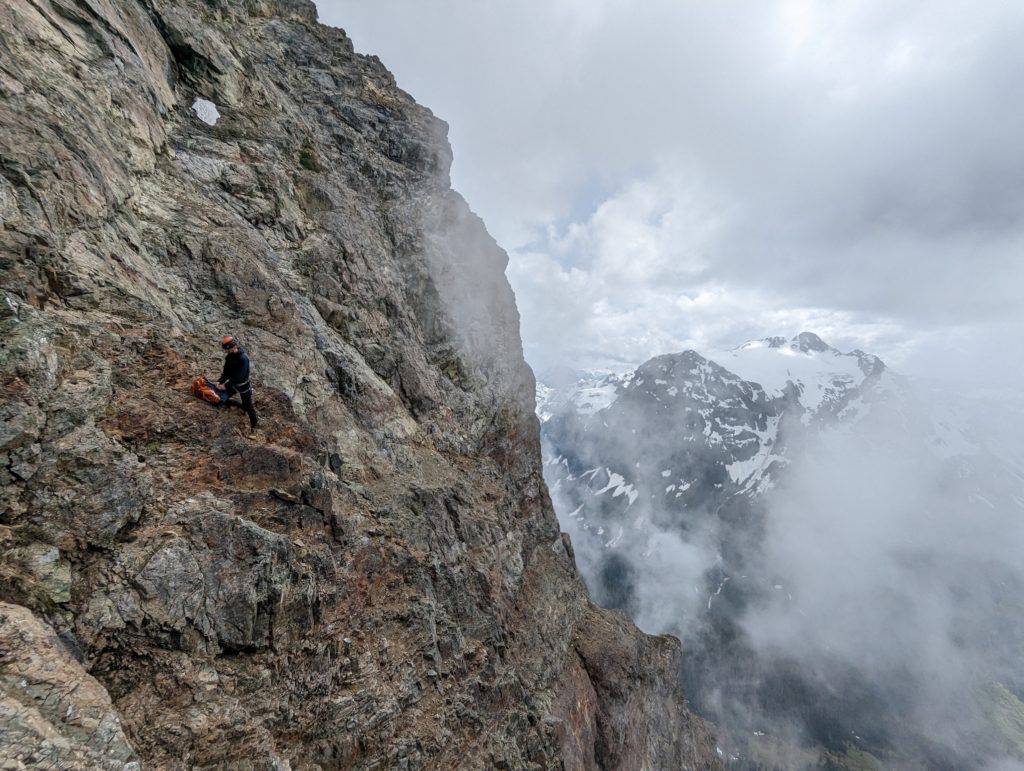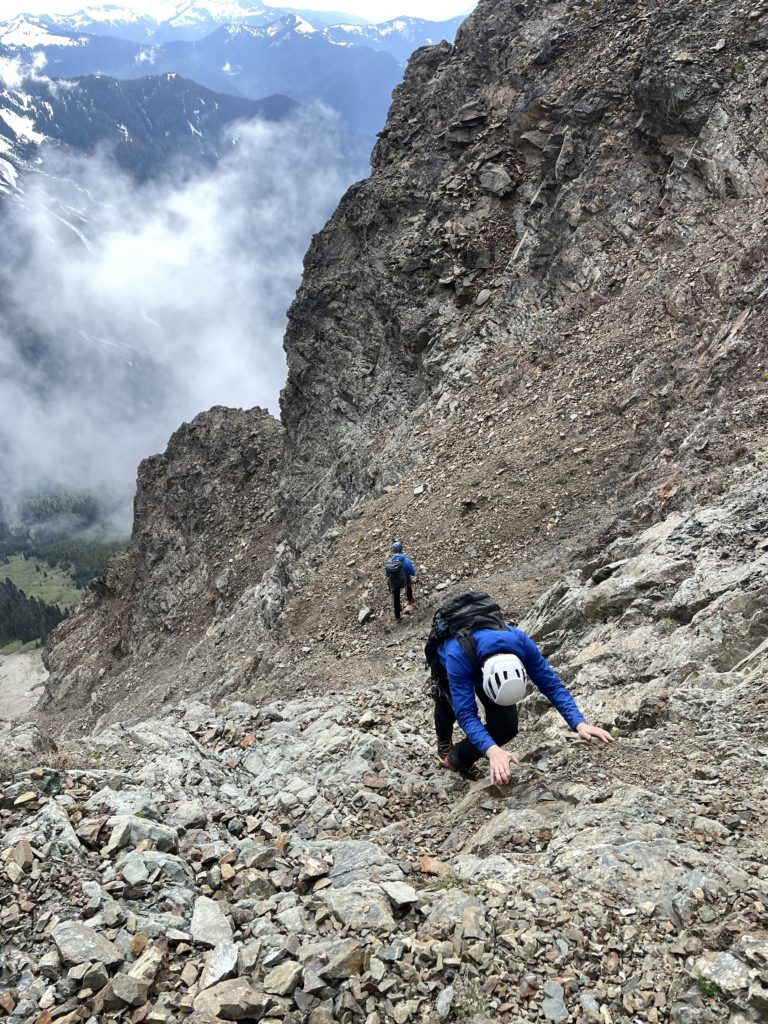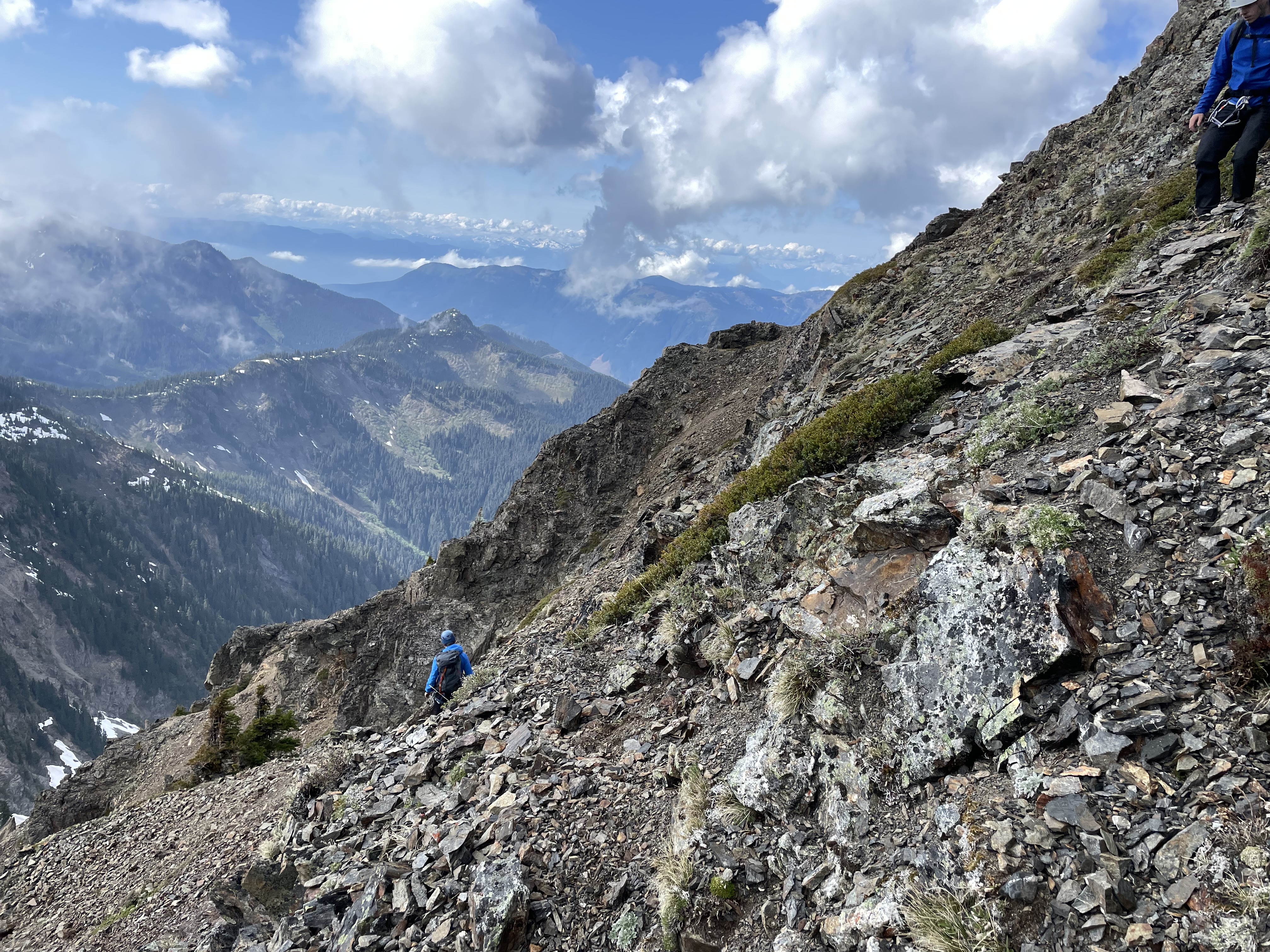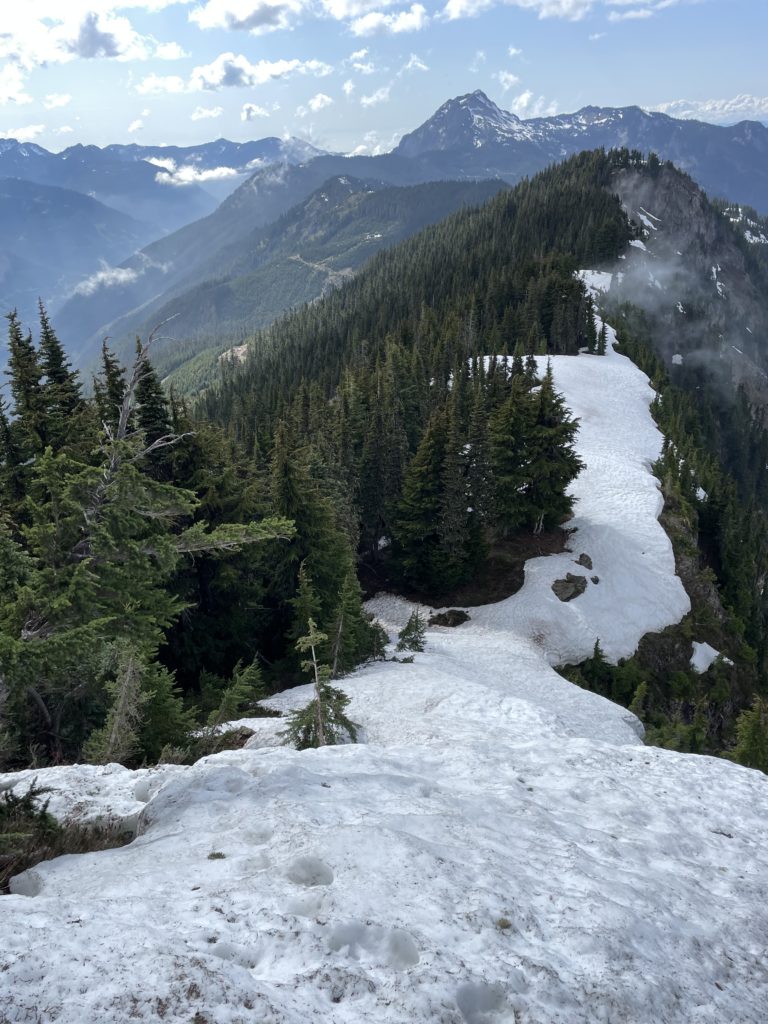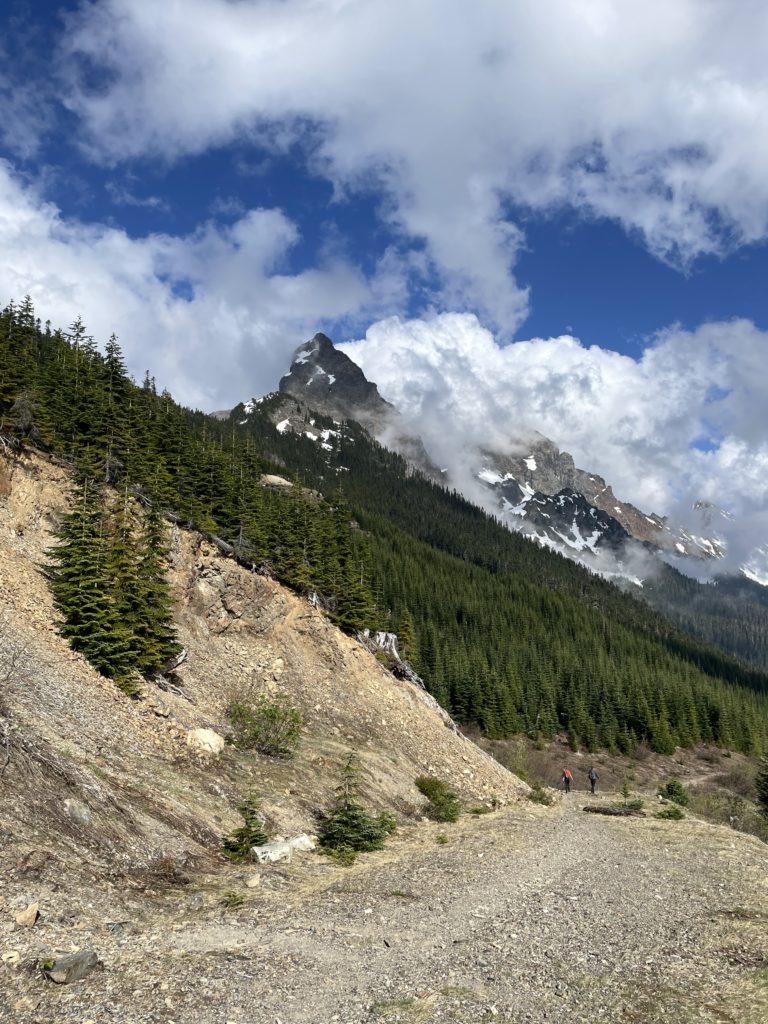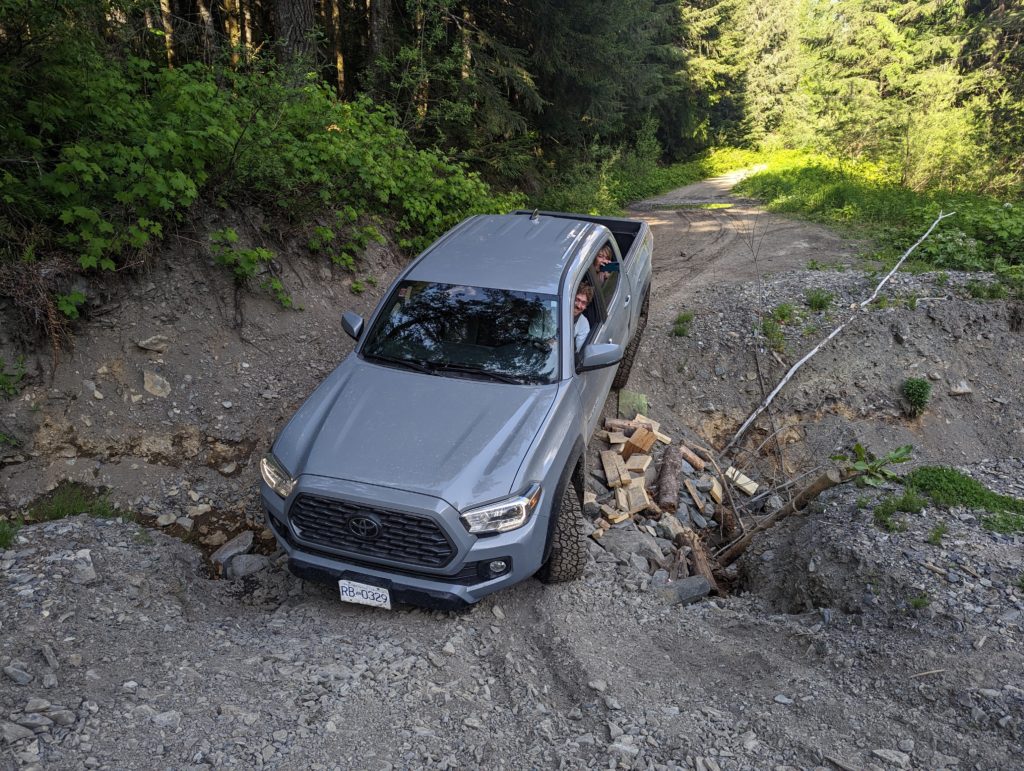 While Canadian Border Peak is a very striking summit to look it, I don't think I would recommend it to anyone. The route is loose and exposed and there's no shortage of rock fall hazard. I'm certainly glad I don't have to go back for this one.
Note that two climbers have lost their lives on this summit to date. One in 1994 after a slip on the upper snowfield: https://publications.americanalpineclub.org/articles/13199501400 and a second climber on July 21st, 2023 after a fall somewhere near the summit.