Elevation Gain: 1,161m
Distance: 14.75km
Total Time: 7 hours 29 minutes
Date: February 12th, 2023
Silver Peak is one of many interesting summits that dot the busy Snoqualmie Pass area in Washington. It stands at ~1708m, boasting over 600m of prominence and offering an excellent vantage over the Alpental Area. Elise had suggested we do it as a sunrise ascent after her trip in Mexico and I was very much on board. Joining us would be Mel and Andrea. The plan was to more or less follow Steven's suggested Winter route; booting straight up the West face to gain the summit ridge. One needs excellent snow pack conditions to do this as the slide paths along the route are no joke.
We decided to leave Vancouver around midnight so that we'd be hitting the trail around 3:40am and that should be enough time to catch sunrise. Andrea and I drove down to Elise's just before 12 and then we all headed down to the border. I slept most of the ride and woke up as we were pulling off the exit.
As we geared up in the parking lot, I noticed the air temperature was a lot warmer than forecasted. It felt balmy by winter conditions, but that would mean a relaxed approach. We made our way down the well-trodden Annette Lake trail for about an hour and a half, before reaching our turn off. Mel lead the way next, booting straight up the forest. The snow was quite warm already and that made for some mushier trail breaking and also some concerns about snow stability.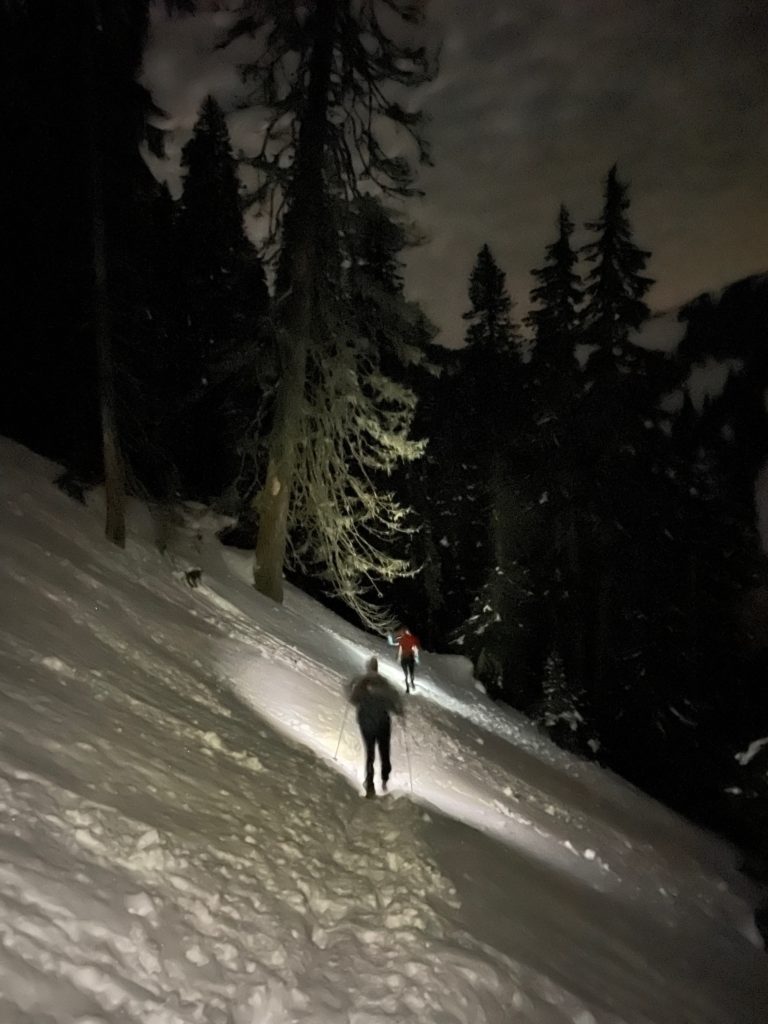 When we broke out of the trees we found ourselves at the base of one of the huge western slide paths. None of us were keen on heading straight up in the deteriorated snow conditions, so we decided to alter our route. A long sliver of dense trees ran in between the two slide paths and this offered us a more confidence inspiring route. Again Mel and Elise lead the way and eventually broke off to catch the sunset.
I stuck back with Andrea who was feeling the leg burn on the snow shoes and we picked our way through the trees bit by bit. Somewhere around 1550m we reached the end of the tree line and headed out on to a brief section of open snow. Higher up the snow was considerably more firm and so we felt comfortable aiming straight for the ridge. Right around this time the sun started to rise, revealing a beautiful swathe of alpenglow colours across the landscape.
We were now on the ridge with only a short 200m or so to the summit, so we continued on. The ridge was a little trickier than it first presented itself, with a couple of exposed steps. However, there was a plethora of boot prints and Mel + Elise's tracks to follow, so it ended up being fairly trivial. By 7:30am we reached the summit with Mel and Elise awaiting us in a comfortably numb state. We took a few photos together and then Mel and Elise had to head down to avoid getting too cold.
Andrea and I spent a little longer on the summit and then followed suit. Mel and Elise picked a different line for our descent to avoid the worsening snow on our ascent path. The slopes directly below the summit were generally much less steep and seemingly more firm as well. To reach them we had to downclimb a short icy section, that proved a bit challenging in snow shoes. Once we dispatched with the icy part, it was smooth sailing back down to the trees.
In the trees, route finding difficulties cropped up as we tried to find a tame line down to towards the Annette Lake trail. Andrea and I ended up getting funnelled in towards a steep chute area and had to transition to crampons in order to safely descend. Below this steep section the forest mellowed out again and then we did a long diagonal traverse back to the trail. We weren't sure if Elise and Mel had stuck around or not, but a pair going up the lake confirmed that they had met two women descending down.
With that, we headed down too. Near the switch backs at the mid way point we decided to take a short cut with a well travelled foot path. However, this ended up being a bit of an 'adventure route' as it took us through steep trees up and over dead fall and no shortage of post-holes. Once we joined up with the trail again it was an easy walk back to the car.
While I didn't quite catch sunrise, the views on the way up were phenomenal. I can see why this area gets so much attention and being in such close proximity to Seattle would certainly boost its status. Luckily we went on a week day and had the summit to ourselves.