Elevation Gain: 2023m
Distance: 16.9km
Total Time: 11 hours 48 minutes
Date: August 28th, 2021
My friend Kyle had been talking to me for a few weeks now about doing a scramble, as he wanted get out and try some tougher objectives. Up until this coming weekend I had most of my days filled up, but finally I had a free Saturday and so we agreed on joining up for a trip on that day. Kyle was keen on doing Needle Peak, but I had already done that one a few years back, so I tossed a few ideas around including: Saxifrage & Cassiope, Jim Kelly and Coquihalla Mountain and finally Stewart Peak. I found out not long after that most exits around the Coquihalla area were closed due to the ongoing fires so that one was out the door. Kyle figured Stewart Peak sounded like the best option of the remaining choices. While I had just been there a few weeks back to do Baby Munday, I still needed to get the remaining peaks accessible via the Airplane Creek FSR. I only suggested Stewart Peak initially, but devised a plan where we could grab Knight Peak and The Still in one traverse as well. This would save me from having to come out a 4th time to grab the remaining two peaks. I figured we could decide on sight if we had energy to grab all three peaks. The Still itself is the third highest peak in the Cheam Range and sits directly north of Welch Peak. One can easily combine Stewart Peak and The Still in a single day and since Knight Peak is only a short distance from Stewart Peak, combining all three made the most sense.
We both lived downtown Vancouver, so I drove the short 300m to Kyle's place around 6am on the Saturday and we started our drive out to the trail head. This was my 3rd time doing this approach this summer, so by now I had the Airplane Creek FSR figured out pretty well. By 9:00am we were pulling into the trail head parking area where two other vehicles were already parked and a third was further down. The previous two times it had just been myself and whoever I drove up with, so I was a bit surprised to see so many vehicles, but it does appear to be a fairly popular area after all. Kyle and I were packed up on on the trail by 9:15am. Despite some rain in the previous days, the bush was not soaked like last time and made more pleasant travel. As this is now the third time doing the same approach, I'll refer to my first trip report if you're curious about the approach conditions.
Once we completed the push up to the alpine, we forked right at the camp site to continue along the trail to Stewart Peak. From the fork, we traversed a ways across an alpine meadow and some talus gullys before turning left up the slope just east of Baby Munday. The trail was well worn and easy to follow and there was flagging to guide the less obvious sections. We ascended for a ways before coming to a head wall. My GPS showed that we should be further west, but I found an opening in some trees and cut through there where we eventually topped out the tarn directly east of Baby Munday. At the tarn we paused for some food and that's when I sprung the idea of tagging The Still first before moving onto Stewart Peak. I figured if we got the first two peaks, Knight Peak would be hard to resist as it's merely a hike up. Kyle still had lots of energy and was keen on the new plan, so after our lunch we started our way over.
From the tarn, we ascended up over some slopes until we reached a long cliff band that spanned from Stewart Peak until the base of The Still. Here, we traversed south along the cliff band until I spotted a weakness near a small waterfall. It was a straightforward scramble up and now we were next to a small tarn at the base of The Still. Here I got a good sense of what our ascent would look like. The sections climber's left on western aspect looked like friendly terrain with a bit of scrambling that would lead us to a large ramp that terminated at the foot of small pocket glacier. I had no beta or GPS for The Still, so we planned to play it by ear once we reached the scramble section.
Shortly after emerging from the small tarn area, we spotted a group of three making there way up, but passed them shortly after. They were taking a more direct line through some bluffier terrain lower down, but we opted to traverse further climber's right and ascend up the grassy slopes until hitting scree. Then we picked a mellow line through nothing more than 2nd class terrain until we reached the elevation of the bench. Here I started the traverse across the slope to gain the bench with a bit of climbing up to bypass some steep wet grass.
Once we were on the bench, I realized what I thought was the summit was in fact some sub-summit and the true summit was obscured behind the pocket glacier and we'd later found that was a false summit as well. The bench was easily traversed and then we cut climber's left of the pocket glacier before cutting across the southern edge to gain a steep scree slope. Now we spotted a second group of two coming down. We exchanged some greetings and then continued on our way. The scree treadmill was relentless here and it took some effort to finally get to some mellower terrain. Once past the scree treadmill, I spotted a number of ways up but all looked to involve 3rd or 4th class terrain. I figured I could gain the false summit ridge first and spot a line from there.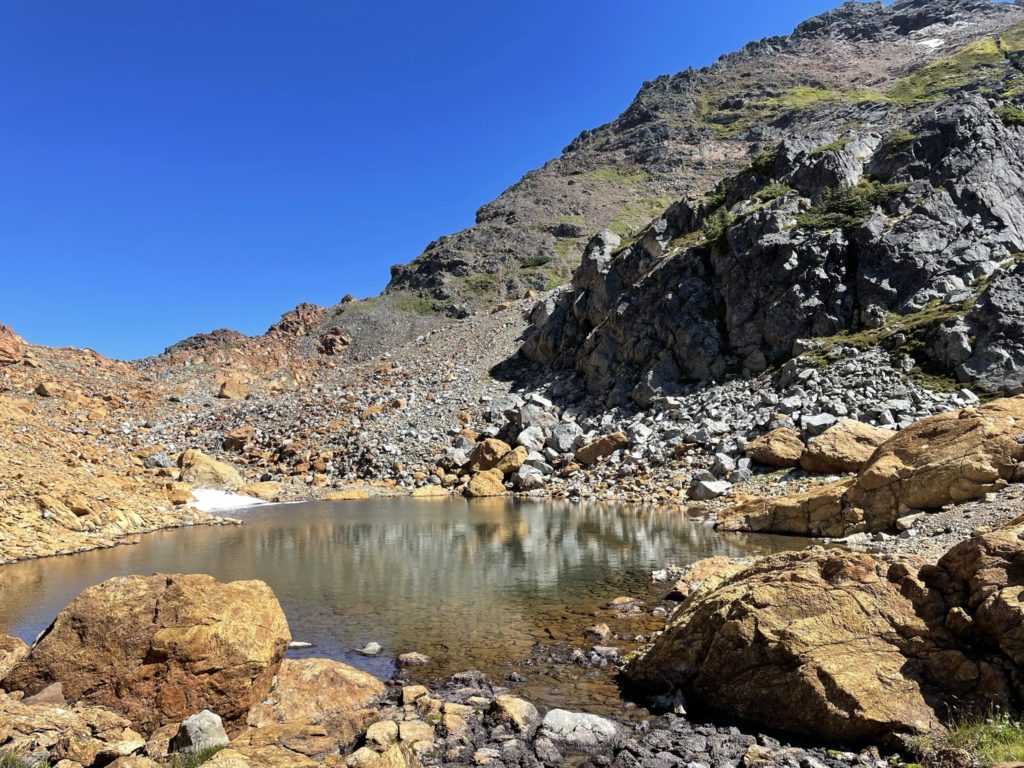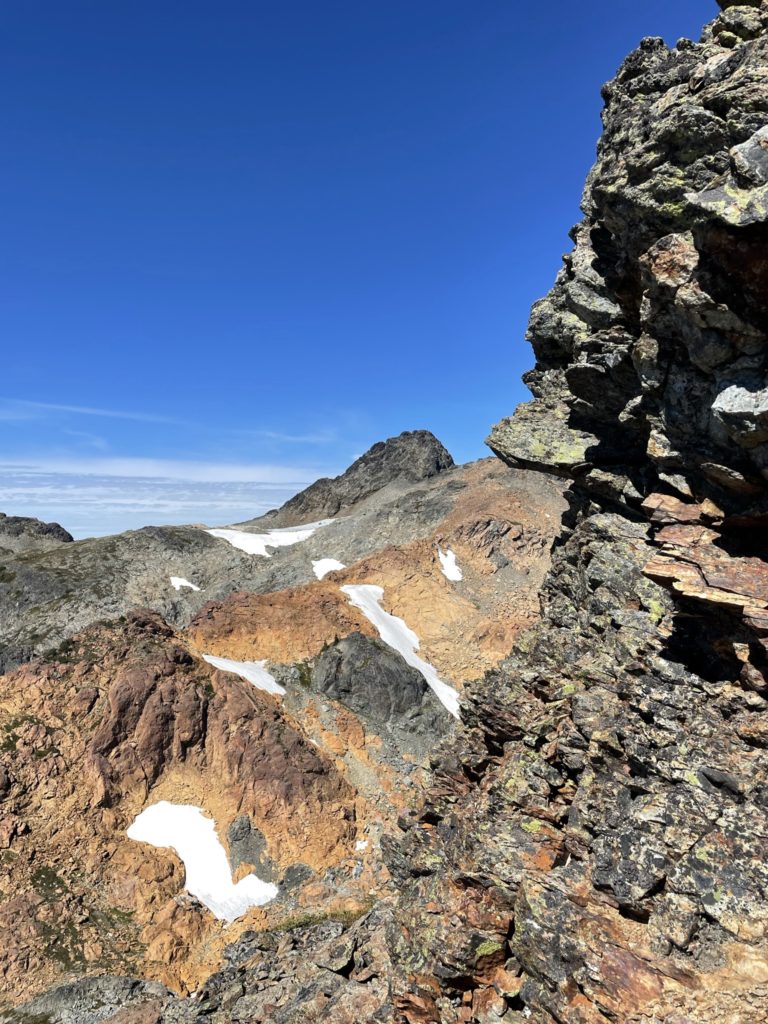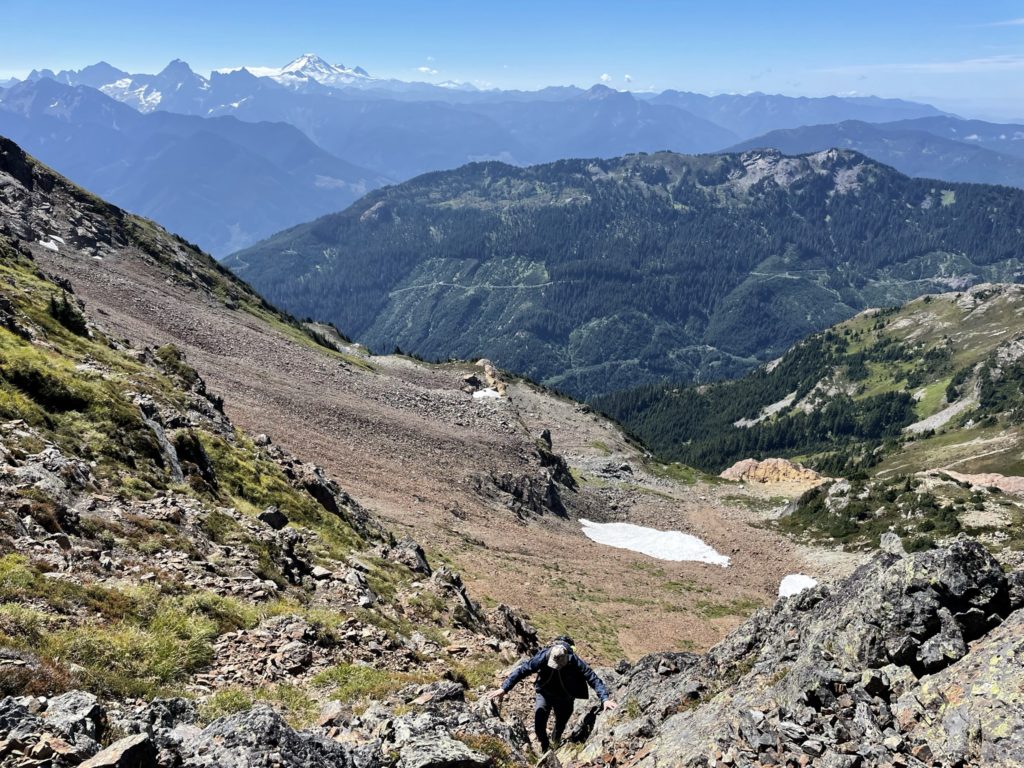 Just below the ridge I took a small ramp that lead diagonally towards the eastern part of the ridge and then once on top I found the ridge was blocked by a small gendarme. To get around it, I down-climbed climber's left a bit then traversed on the north side of the ridge and then ditched my poles since I found a nice line up to the top again. It went stiff 3rd maybe 4th class here, but with solid holds. Once I was back on the ridge past the gendarme I could see a route around the south side of the summit ridge so I called for Kyle to make a more direct line to me. He followed up shortly, traversing past the gendarme and up the ridge. Now, we traversed across the south side of the summit and came up a fairly exposed and loose 3rd class slope to gain the first high point.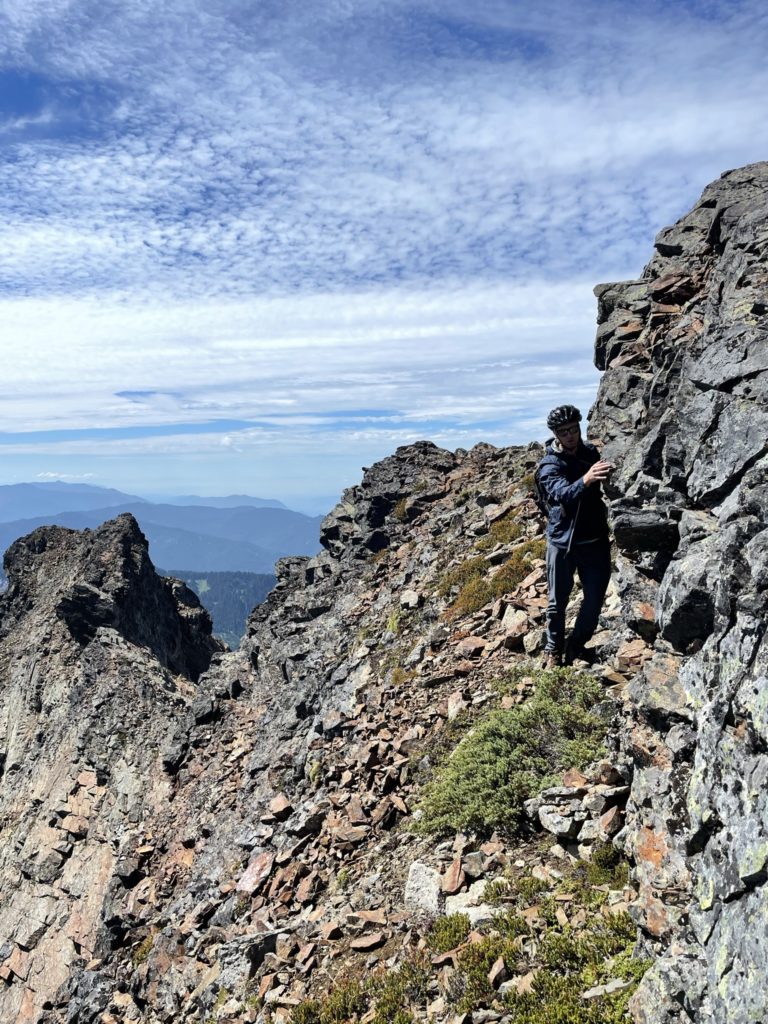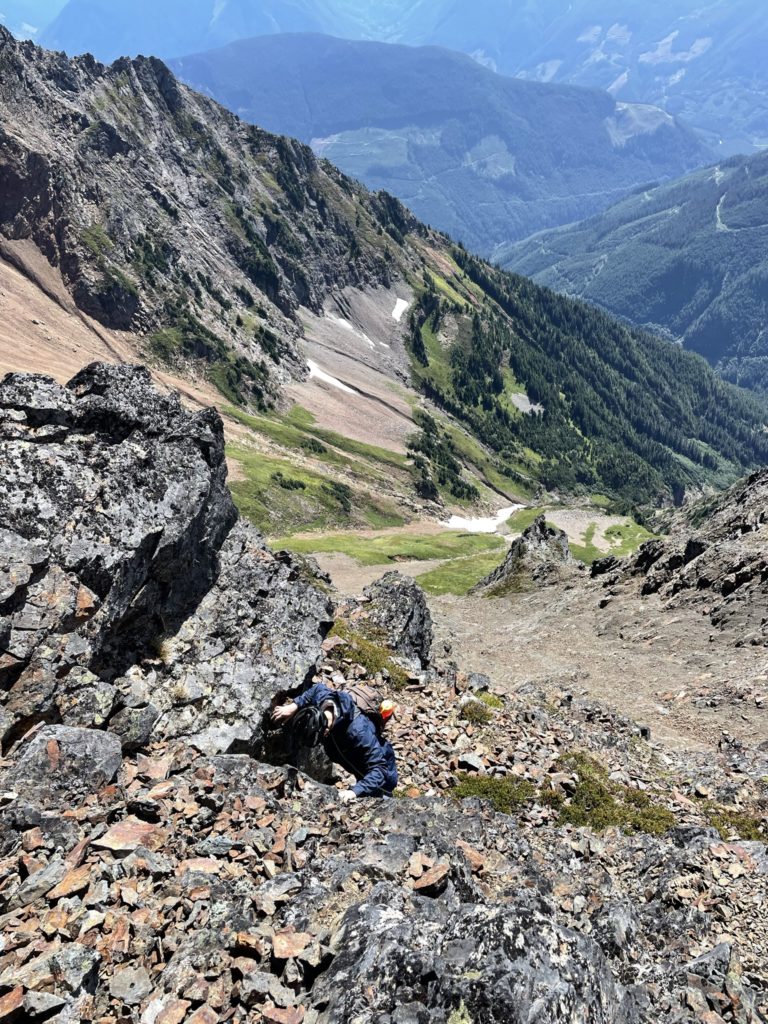 At the top, we spotted the a secondary summit with a cairn on top and realized there was more work cut out for us. Looking at the GPS confirmed that this secondary summit was in fact the true summit. From where we stood it was a daunting down climb to a notch and then a steep narrow ramp up some exposed looking 3rd class pitch to gain the summit. It looked do-able, however, so I started the way down and actually the down climbing wasn't so bad and we reached the notch without much issue. Then I started the traversing up the ramp, which was wider than it first looked before starting the 3rd class pitch to the top. This final section was mostly loose dirt and down- sloping talus which I knew was going to make things interesting on the way down. Once out of this last pitch it's a mellow short walk to the summit. Kyle followed up after I confirmed the route went and then we were both standing on the summit.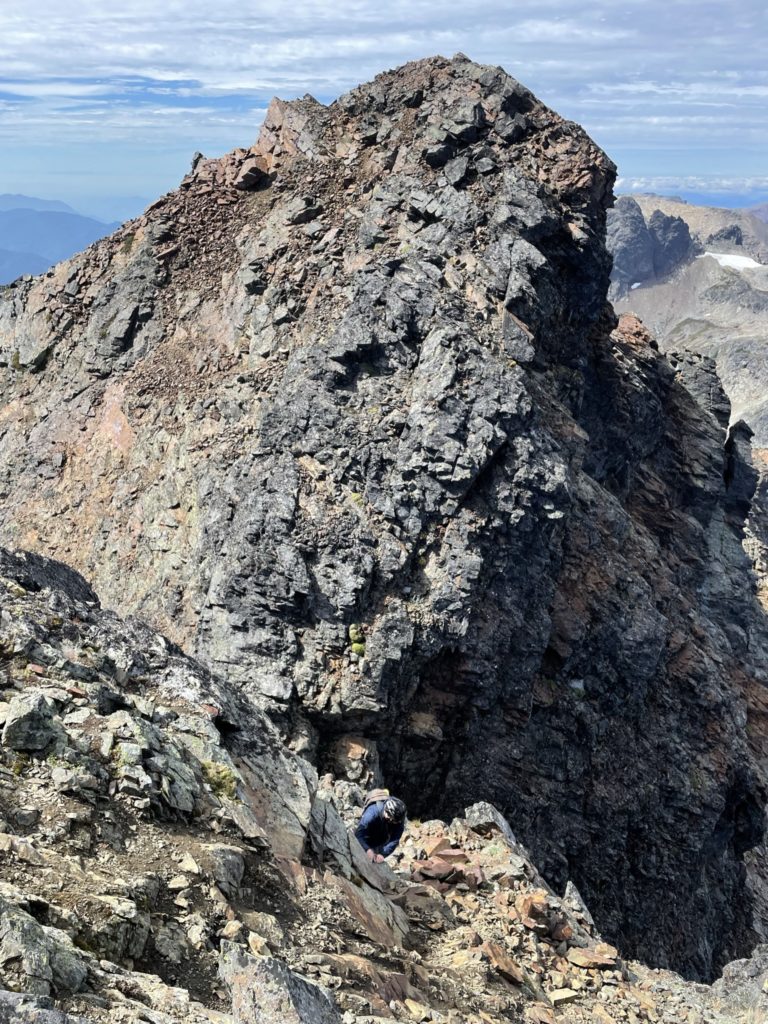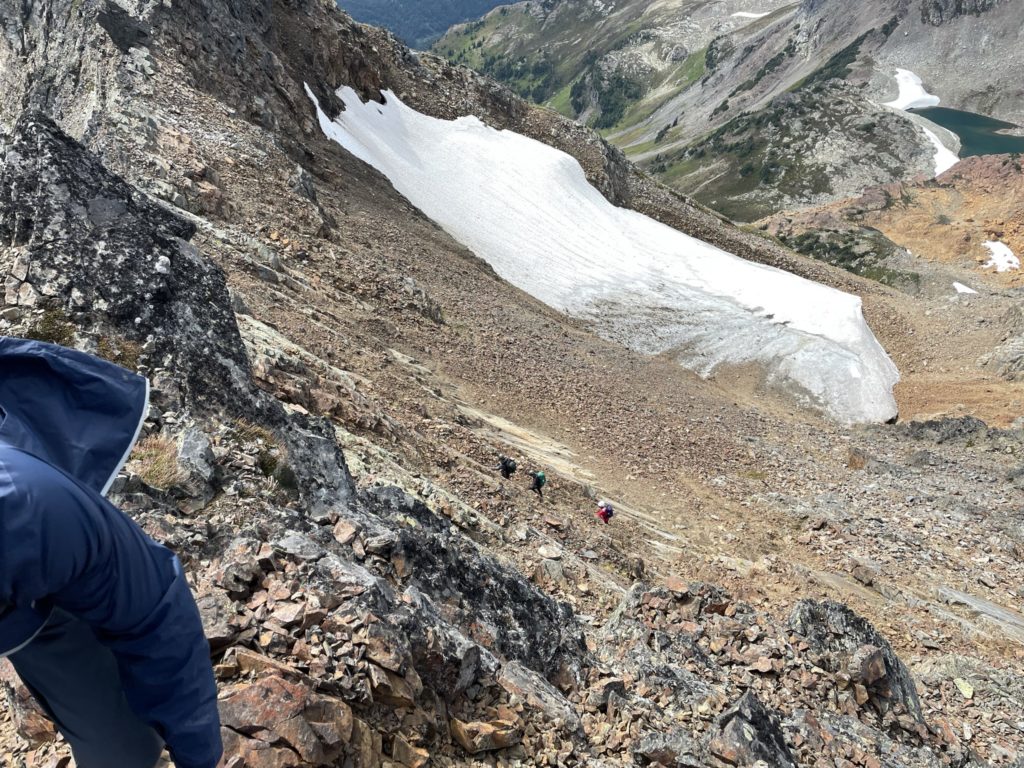 We didn't spend long up there as there were still 2 peaks to go and so I started the down climb through that down-sloping loose dirt section. I took my time, but found some good hand placements and I was back on the ramp again. Kyle asked me to wait for him so that I could guide his feet if needed, but he ended up finding a good line down with minimal guidance and then we headed back down the ramp. At the bottom of the notch it was straightforward to gain the first summit and then we decided to rest for a few minutes. We took a few photos and then continued on again.
The group of three we passed on the way up was now just below the false summit and they appeared to be taking a less exposed line than we took on our ascent. I figured we could descend this line more easily and so waited for them to come up and then started the down climb. I didn't go too far down as I still had to pick the poles up from under the 3rd/4th class section. I traversed another ramp climber's right until I was back on the ridge and just above the first pitch to the ridge. Here I down climbed and then traversed back to where I left the poles. Meanwhile, Kyle continued the climb on the less exposed terrain and we met up again at the top of the scree slope.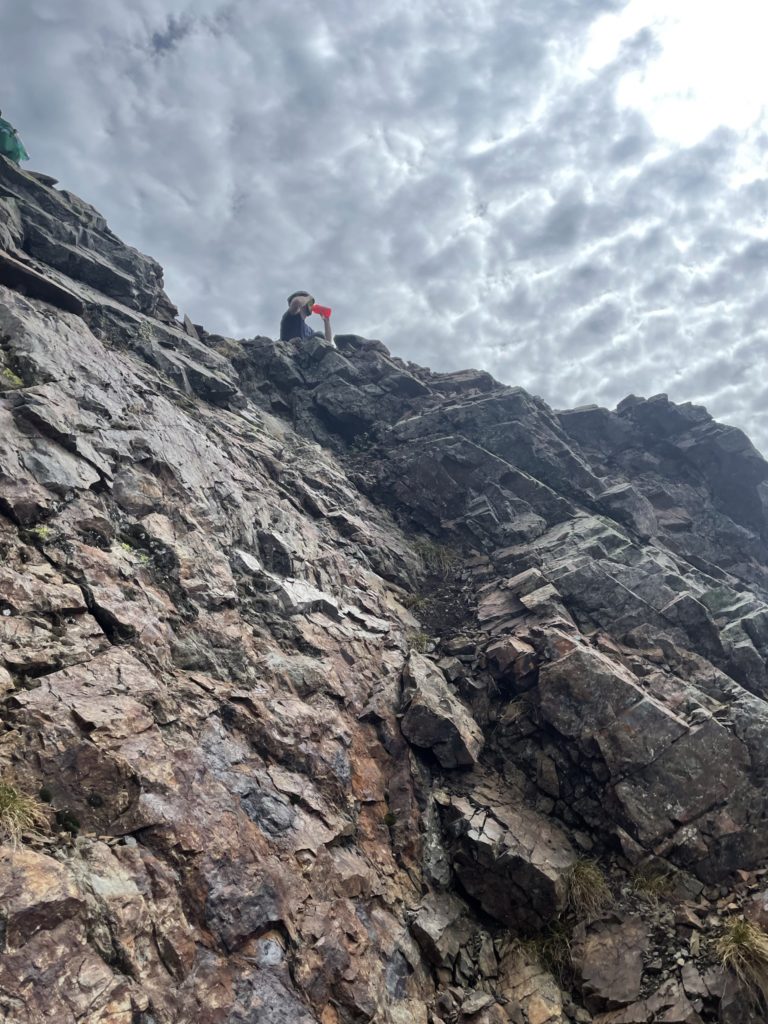 Coming down the scree slope was fast and fun and we were essentially boot skiing back to the pocket glacier. We crossed the small glacier again and then traversed back down the long bench. Once past the bench I started down climbing to early and we ended up in some shittier terrain than necessary with loose scree on slabs. It took a bit more careful scrambling down, but we were back on nicer terrain not long after. Now we cut more direct line across the slope towards Stewart Peak to start our next objective of the day.