Stats include all five peaks + overnight stay
Elevation Gain: 1,724m
Distance: 18.64km
Total Time: 10 hours 54 minutes
Date: August 14th, 2021
Faceless Mountain sits at the very western edge of the Train Glacier and requires the longest approach to reach. It's also at the midway point between Face Mountain and Locomotive Mountain so can be reached from either approach. I couldn't find much information about this peak online, except for one trip report that had minimal details on the route and also took the Face Mountain approach instead of via Locomotive Mountain.
Thankfully, from where Jacob, Mike and I stood on Caboose Peak, the route looked rather straightforward except for a bit of unknown on the steeper sections half-way below the summit. Looking at the GPS it appeared to be another 1.5km from Caboose to Faceless, but the route meandered over a flat ridge with moderate talus covered terrain and some rocky steps. Without much beta, there was only one way to find out the true status of the route, so off we went.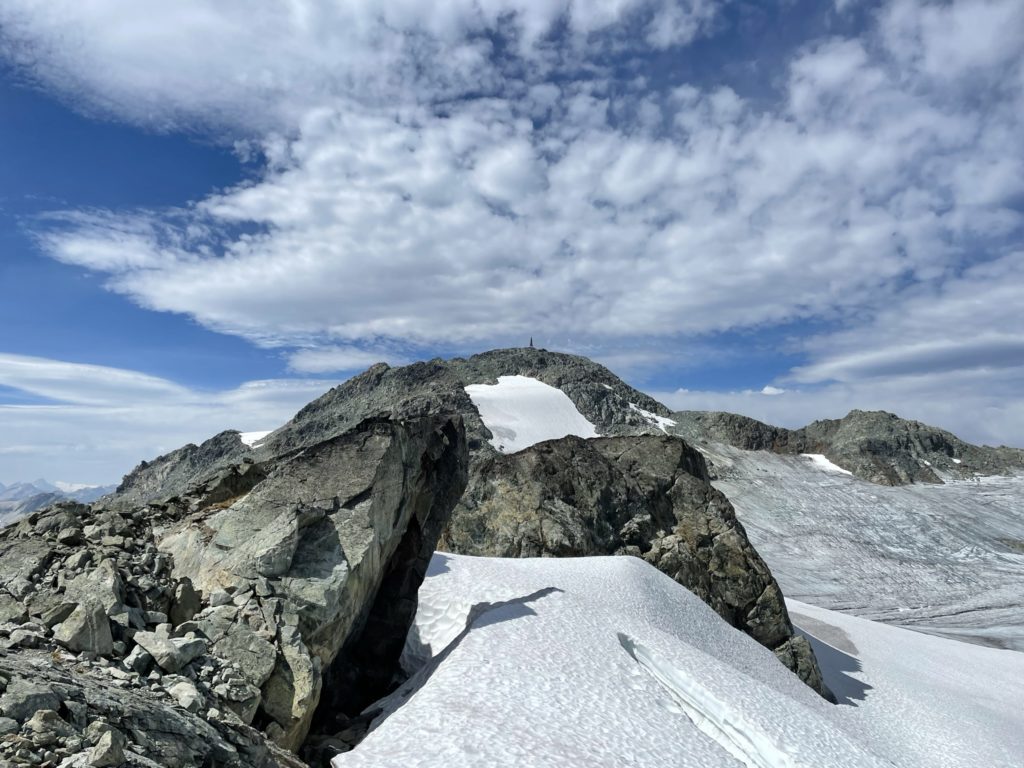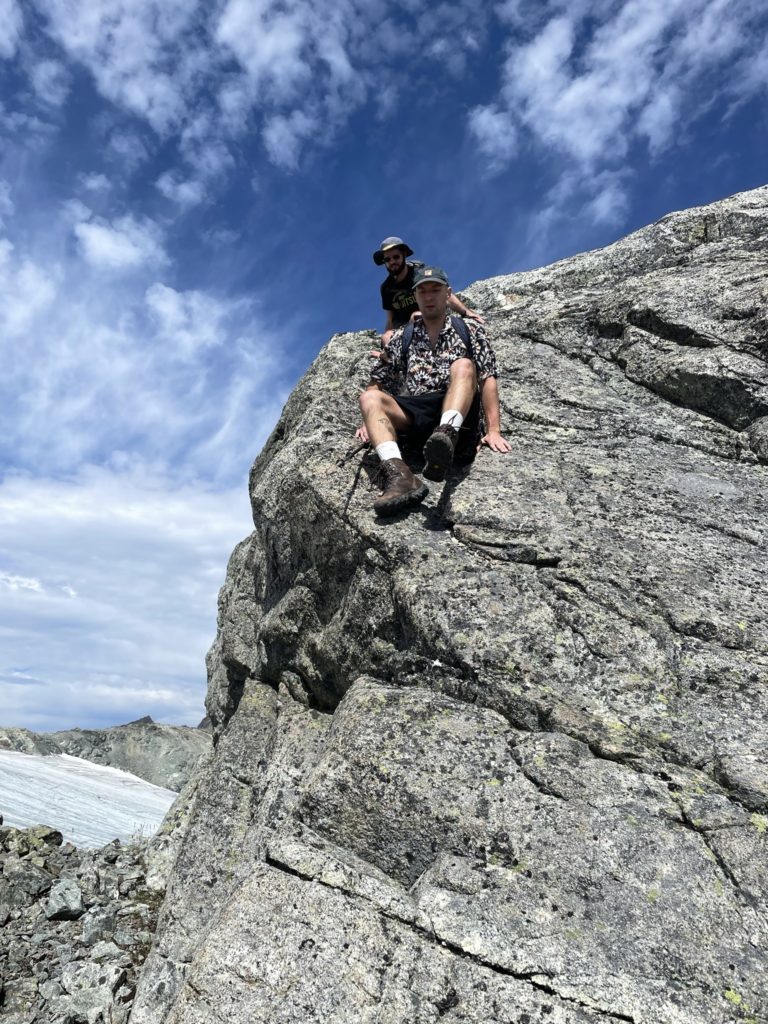 The descent from Caboose, was straightforward over more boulders and we were soon walking along the broad ridge towards the base of Faceless. The majority of the ridge was pretty uneventful, but we did reach one 3rd class step with some exposure that had to be down climbed before continuing on the ridge as normal. Half way over, I got cell signal and quickly downloaded a GPS track for the Face Mountain ascent. Unfortunately none existed for the route to the summit via the ridge, but at leas this would bolster our descent speed. Reaching the base of Faceless, we saw a nice 2nd and 3rd class line that ran diagonal at climber's left towards the south aspect. We scrambled up and over a few steps and boulders continuing to trend left until a moderate talus slope revealed itself about 5/8ths of the way up from the base. Then it's an easy walk up to the summit where a brand new heli-pad and radio repeater were present.
We reached the summit around 3:30pm and now decision time had to be made. It was roughly equal distance back to camp via Face Mountain or back along the ridge we came. The route to and up Face Mountain involved a lot of unknowns, but I did know it had been done before. From my perspective, there looked to be a few good options up Face Mountain so was I keen on giving it a try. Mike needed a bit of convincing but after some back and forth we all agreed to give it a go. With the decision made, we began our journey over to the potentially 5th and final peak of the day.