Elevation Gain: 1,949m
Distance: 22.14km
Total Time: 9 hours 18 minutes
Date: July 31st, 2021
After canvassing around the SWBC Peak Bagger group about joining up for a trip to Tricouni, I had a few people reach out who were not available for that time, but wanted to do a future objective together. One of those people who reached out to me was Kevin Ye. We went through some discussion and found that we were both available for the upcoming Saturday and decided to pair up for a summit that day. Kevin suggested either Sky Pilot or Gotha/Coburg. I had a few ideas as well, but the weather wasn't looking promising so we decided on Gotha/Coburg as the plan.
Both mountains I knew little about, other than their proximity to Mount Windsor and Deeks Peak which I had done earlier in the year. As it turns out, they aren't ascended nearly as often as other peaks on the HSCT. Coburg, specifically, is flanked by bluffy terrain on nearly all aspects and involves tricky route finding to avoid 4th and 5th class sections as suggested in this trip report from 2012. Thanks to a recent post on the Bagger Challenger Facebook group it actually appeared there was a more moderate route from Hanover to Coburg with an easier descent on the northern side. Kevin also had some beta that the route was heavily flagged from Gotha to Coburg, so it seems the tricky route finding might be eliminated and we could just play it by ear.
On the Saturday, Kevin picked me up from downtown Vancouver at 6:30am and we made our way over to the Porteau Cove parking lot. By 7:29am we were heading down the trail head. As we'd be approaching Gotha and Coburg from the north, we opted to use the existing trail junction near the Windsor-Deeks col and take the ridge line from there. This meant I'd be repeating the long approach from my Windsor/Deeks trip, so I went for a fast pace to eliminate the 6.7km approach to Deeks Lake. Once we arrived at the lake, I refilled my water and we took a short break before starting our ascent towards the Windsor-Deeks col.
At around the 1420m elevation mark, we spotted the signs for Peak 5400 (a.k.a. Gotha) and turned right to follow the flagged route. The foot path was much less worn than to Windsor or Deeks, but thanks to generous flagging, we were able to follow along quite easily. The trail lead us over a creek and then on to a flat bench that continued South for ~400m. At the end of this, we lost the trail a bit and ended up getting cliffed out on the side of a hill. We back tracked 20m and then down climbed towards another bench above a lake and this enabled us to link back up with the trail again.
From this point, we could spot a small boulder field that lead up to a fun looking set of rock outcroppings. We made our way to the base of the boulder field and then just picked our own line up without any issue. At the top were a few short class 2 sections that we were able to scramble up and then we were on a small sub summit ridge. Here a small drizzle of rain started to come down and the rocks became more and more slippery as the rain came down. I was getting a bit concerned about the route to Coburg, but focused on grabbing the summit of Gotha first since it was right before us.
Directly ahead, from the sub summit ridge, was what appeared to be the summit with a cairn and all. Kevin and I scrambled up the last section to the top and declared success. We took photos over a cool vantage point above Deeks Lake and then started to think about the approach to Coburg. That's when I looked more closely at my GPS and realized we were just on a sub-summit (albeit within a few meters of the true summit) and we needed to traverse another 300m or along a ridge to gain the true summit.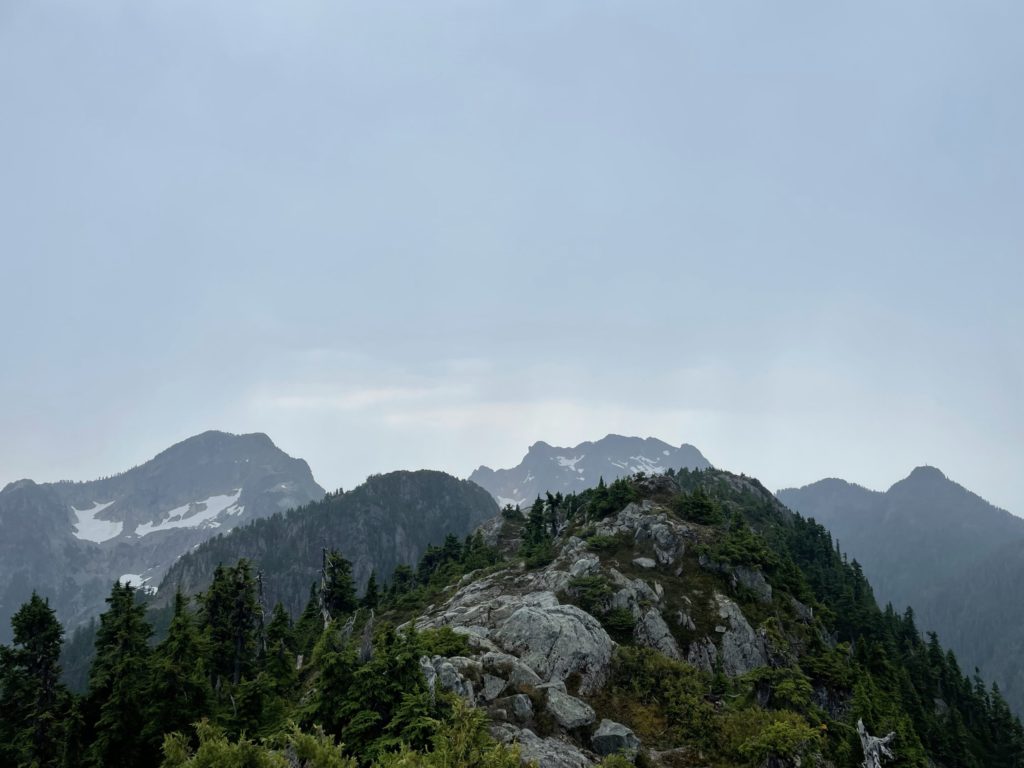 We grabbed our bags and headed along the ridge to the proper summit. The ridge itself was quite narrow in places with some exposure on the climber's right. We stuck climber's right and only had to deal with some annoying vegetation and bit of class 2 terrain, but otherwise it was straightforward. Finally, we reached the true summit and declared success a second time. The rain was still coming down at this point and the rocks were too slippery in my opinion to make an attempt at Coburg. We had limited beta other than we knew there was lots of flagging, so a wet rock ascent/descent wasn't really in the question.
Kevin and I decided to see if we could wait out the rain and by some luck, not more than 10 minutes later it stopped altogether. I went down the ridge a bit towards Coburg to scope it out and then headed back up to Gotha to report there was indeed ample flagging. Finally another 15 minutes or so later the rock felt sufficiently dry and we started our way to Coburg.