Elevation Gain: 1,544m
Distance: 16.95km
Total Time: 7 hours 20 minutes
Date: April 18th, 2021
This weeks avalanche conditions, considerable at all elevations, left me scrambling for a good weekend objective. Most of the peaks I wanted to try were either in susceptible avalanche terrain or needed less snow. The good news is this warm weather might expedite the clearing of snow, but in the short term it can be dangerous to go out with potential of wet slabs, cornice releases and wet loose avalanches a plenty. I already had my friends Laura and Mike to join me for a weekend outing, but I still needed to pick something. Thankfully, Laura came forward with a fun suggestion of South Needle. Nestled in between Grouse Mountain and Mount Seymour, South Needle (1163m) is one of many peaks along a ridge line that runs from the North Shore up through the Lynn Headwaters Regional Park. It's a straightforward hike in the summer, but in the winter it's much less traveled and involves some steep snow through the forests and summit ridge. As an added bonus, you can summit South Lynn Peak and Lynn Peak first to reach this objective.
Given the pandemic, we all agreed to drive separately to the trail head and meet for 8:00am. On the Sunday, Mike arrived first and I showed up not too long after around 7:50am or so. Laura had parked further away and walked in towards the parking lot where she met up with us. Already by 8:00am there were at least 30 cars parked. At around 8:15, we are started down the road towards the trail head. There's a few junctions at the beginning of the hike, but if you have GPS or watch for the signs it's fairly easy to reach the Lynn Peak trail.
Once you're on the Lynn Peak trail it's a basic walk through the forest as you slowly climb up towards South Lynn Peak. We hit the first patches of snow at around 760m, but snowshoes, micro spikes, etc were not necessary. At around the 950m we hit the first view point. By now the snow had become a permanent fixture, but it was firm from all the foot traffic. At the view point, you could see the expanses of Burnaby, Coquitlam and more. We had quick snack and then continued on as there was still a lot of kilometers ahead of us.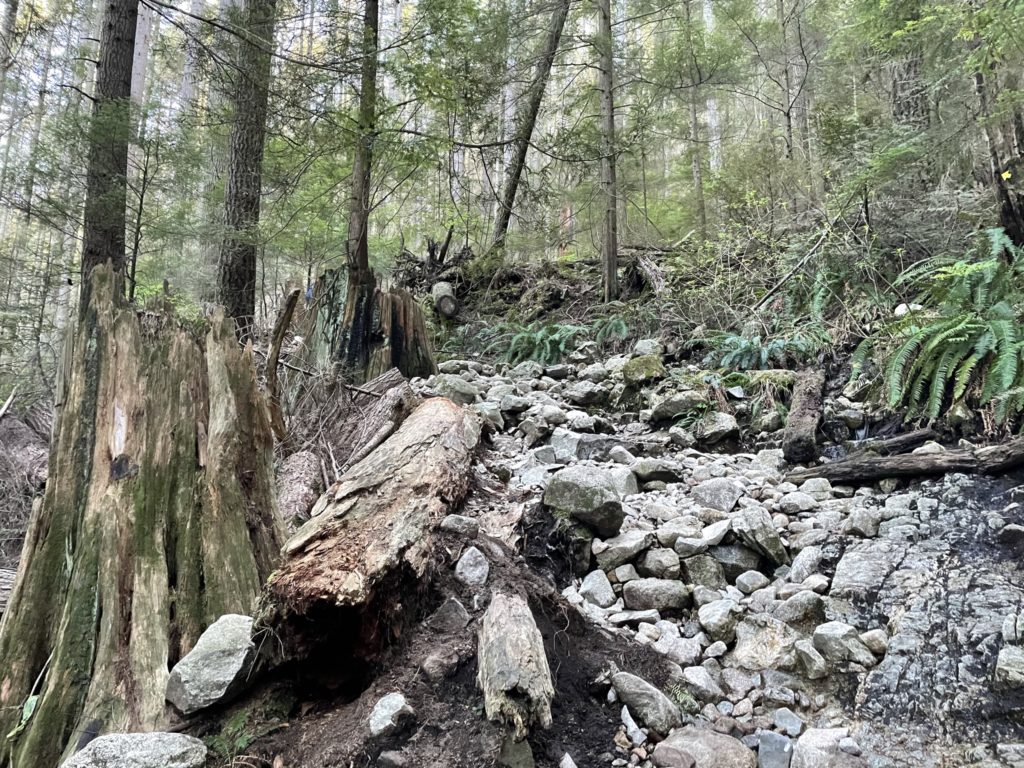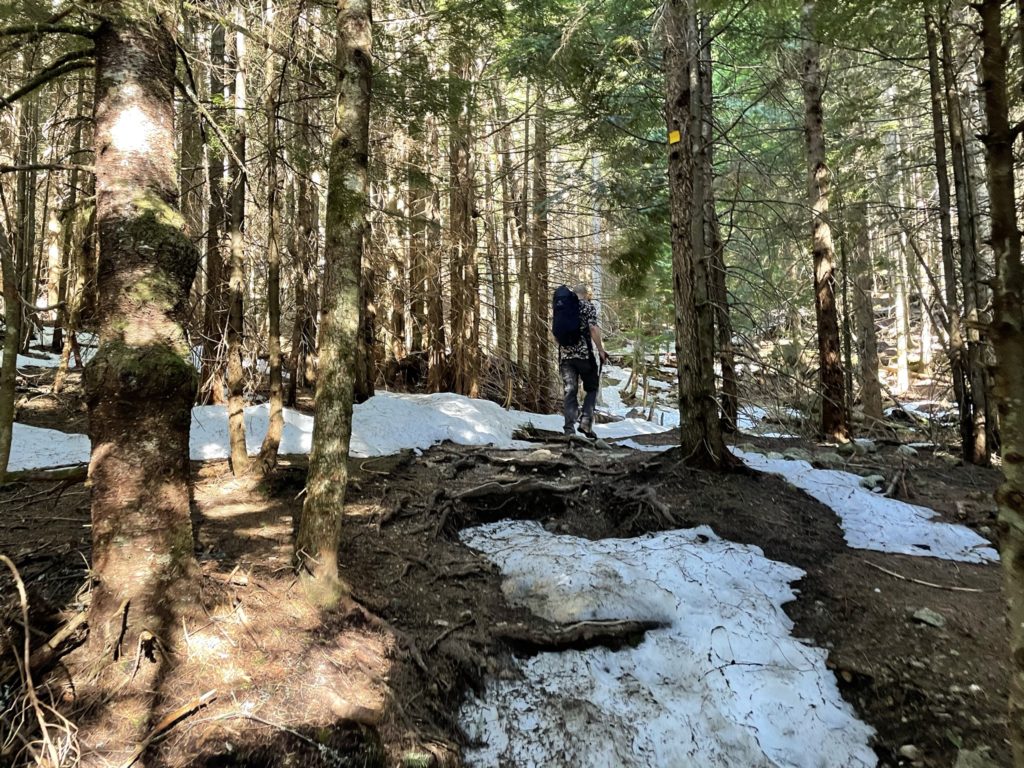 Another 15 minutes later and we reached the junction for South Lynn Peak. The trail doesn't pass directly to the summit, so we had to make a quick 5 minute detour up to the top. As expected, there's no views, just a snowy summit block hidden in the forest. With one peak in the bag, we met up with the trail again and then started towards our next objective: Lynn Peak.