Elevation: 1005m
Distance: 9.59km
Total Time: 4 hours 35 minutes
Date: February 7th, 2021
After a weekend of bad weather, sun was finally in the forecast for the upcoming Sunday. I had picked out Evans Peak + Alouette Mountain as the next objective and had a new hiking group: Laura and her friend Megan, on board to join.
On the Saturday, the entire drive up to Golden Ears was beautiful, clear and sunny. It wasn't until I reached the base of the Golden Ears area, that I saw most of the range was draped in cloud cover. A little cloud cover wasn't going to draw the trip down too much however. Shortly after, I pulled into the parking lot for 9:45am, about 15 minutes late and Laura and Megan were already waiting for me at the trail head.
I rushed to put my boots on and met the group at the end of the parking lot. By 9:55am we were off. We started through the forest along the West Canyon trail and then shortly turned left up the View Point trail that flows through dense moss covered trees and lush green ferns. The trail was really well maintained and before long I was more focused on conversation than where we were headed. As a result, we missed the turn off for Evans Peak, by a 100 meters or so and only realized it when we came across another group that were asking about the turn off.
We back tracked and were up on the Evans Peak trail shortly after. The Evan's Peak trail has a moderate to steep incline most of the way up, but certainly not as steep as the Grouse Grind. At around 650m in elevation, a light, permanent dusting of snow started to cover the trail. The conditions were a bit slippery with exposed roots and the snow, but nothing we couldn't manage. I believe at this point Laura and Megan put on some micro-traction spikes for their boots and we continued on.
At 800m or so there's a small plateau in the trail and a neat vantage point with views through the trees. Unfortunately for us, the views were still masked by clouds, so we pressed on. 800m the snow layer was deep, but firm and packed down by other hikers. Snow shoes were not necessary and the full snow coverage made for a less slippery experience than lower down.
At 1000m we reached the junction for Alouette Mountain and Evans Peak. There was only a broken trail to Evans peak, which meant a trail had to be made in new snow all the way to Alouette Mountain. I decided at that point, without snowshoes for anyone in the group, we may as well just shoot for Evans peak and cross out Alouette Mountain for this day. With that choice out of the way, we continued along the final ridge to Evans peak.
It's a flat and wide ridge that continues for 500 meters or so. At this point we ran into a few sets of hikers coming down. Two were coming down after a failed attempt to reach the top. They claimed it was steep 70 degree hip deep snow slopes and there wasn't any way to make it up/down without ice axe and proper gear. Indeed the first pitch of the final push looked steep and slippery, but I was skeptical about the severity of the trail conditions.
Laura and Megan, decided to stop where we were as the summit was still in the clouds and they didn't have the best gear for pushing up steep slopes. Thankfully, they were happy to wait while I made an attempt. I brought cramp-ons for just such an ocassion and quickly put them on and started my way up the first steep pitch.
Quite a few hikers had tried this first section and so it was indeed slippery and hard-packed snow/ice. With the cramp-ons and some step kicks I made it up easily and moved on. Another 40-50 feet later there was one more steep pitch that was more inclined than the first. In similar fashion, I was up with a few step kicks and no more. After that, it was a minor incline to the summit. Evans Peak is still well within the tree line and that coupled with the clouds meant no real view except a period glimpse through the clouds.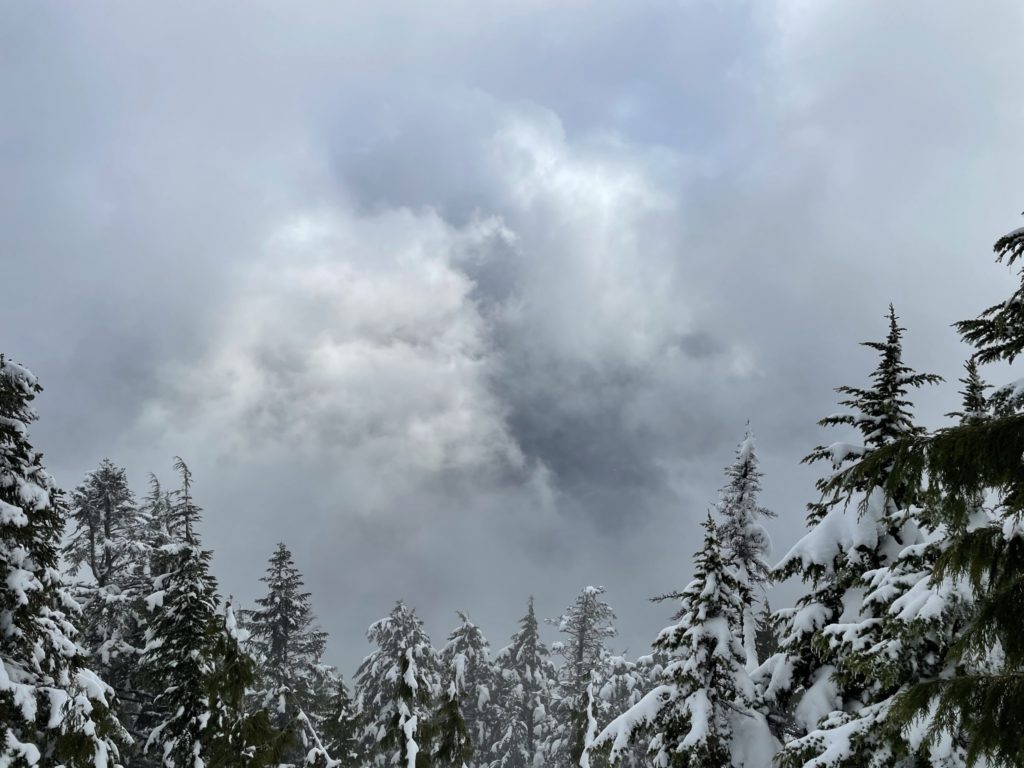 One other hiker had made it up to the summit ahead of me as well. We took turns taking one another's photo at the top and then started the descent down. Coming back down the two steep pitches just involved facing in and down climbing the slope. I opted to go climbers right of the trail where the snow was untouched and it made for much more solid footing, albeit a bit steeper. One final, less steep, pitch and I was back down where Laura and Megan were waiting.
By this point they were quite cold and we agreed they would start making their way down to warm up while I had a quick snack. After finishing off a clif bar, I made my way down and caught up with the group shortly after. From there it's a basic plod back to the car back through the beautiful forest.
Even though the views were nowhere to be found, the steep final pitch to the summit made up for it and it was nice to get to hike with a different group for a change.