Distance: 15.5 km
Elevation: ~1,125m
Total Time: 5 hours and 5 minutes
I usually only hike during the summer time, but this winter I decided it would be worthwhile to pick up a pair of snowshoes and try some winter routes as well. There are a number of peaks around the Squamish area that looked like great first objectives and so after looking through a few options, I settled on Mt. Mulligan. At around 15.6 km round tip and ~1100 meters of elevation gain, it seemed like a good first outing on snowshoes.
I left Vancouver late around 7:30am and made it to the trail head for ~9:00am. The trail starts just off of the Mamquam FSR at around 6.5 to 7km mark. There is an upper parking area further up the spur road that will save you an additional 2km or so. Unfortunately, I drove up in a small 2WD car and had to settle for the lower parking area as the road was too icy. On this particular day there were around 7-8 cars already spread out through various parking spots along the road. It seems almost everyone was there ski touring.
After parking, I geared up and started walking up the snow covered FSR. Snowshoes were not required at this point and the first 2-3 km involved basic plodding along the road.
At the 2-3 km mark the upper parking lot appeared and many people were getting their skis and split boards on. After this point, the snow deepened and I decided it would be a good time to put the snow shoes on. The trail already had a well packed down route from the ski touring groups and so breaking trail was not required.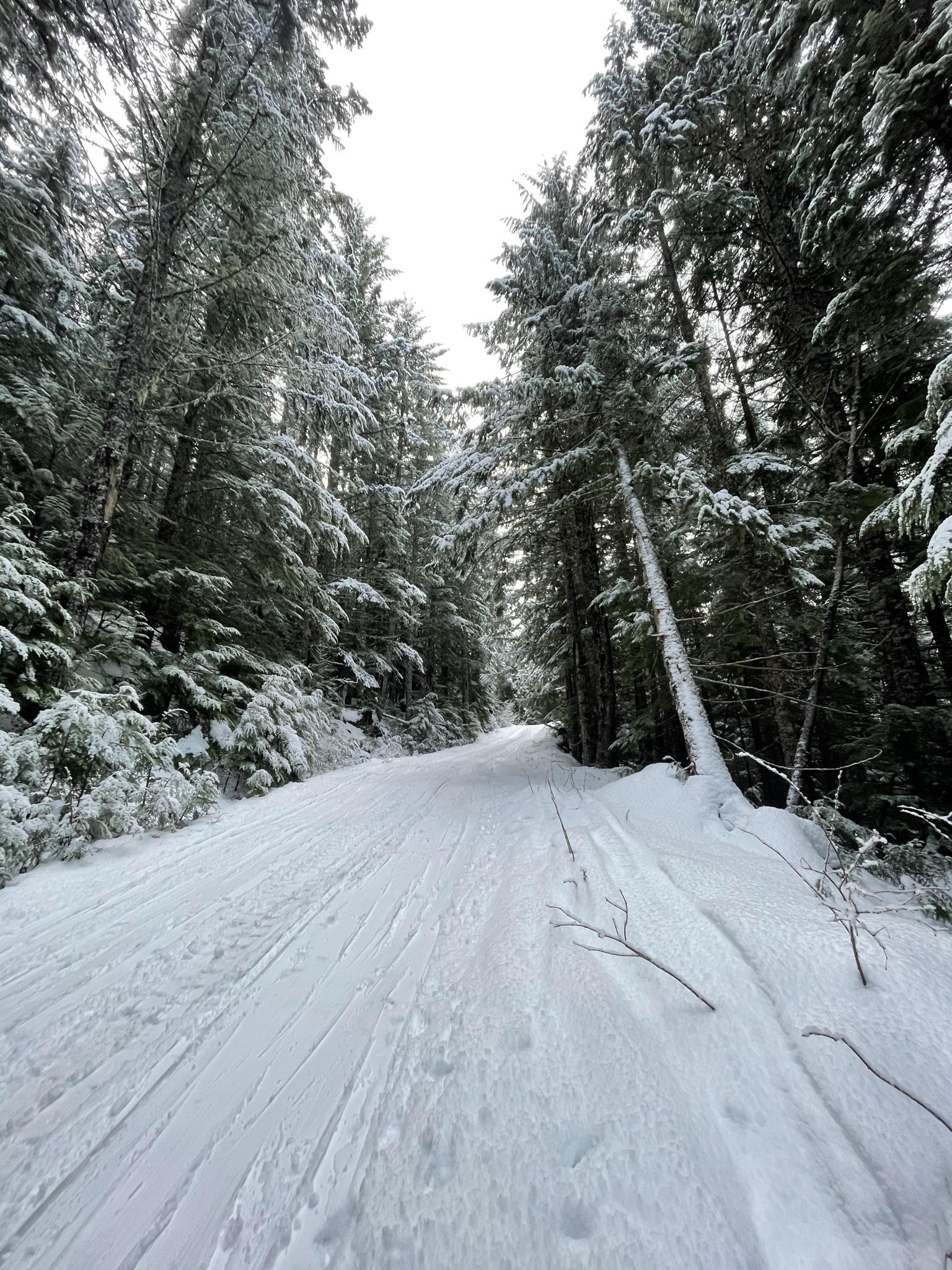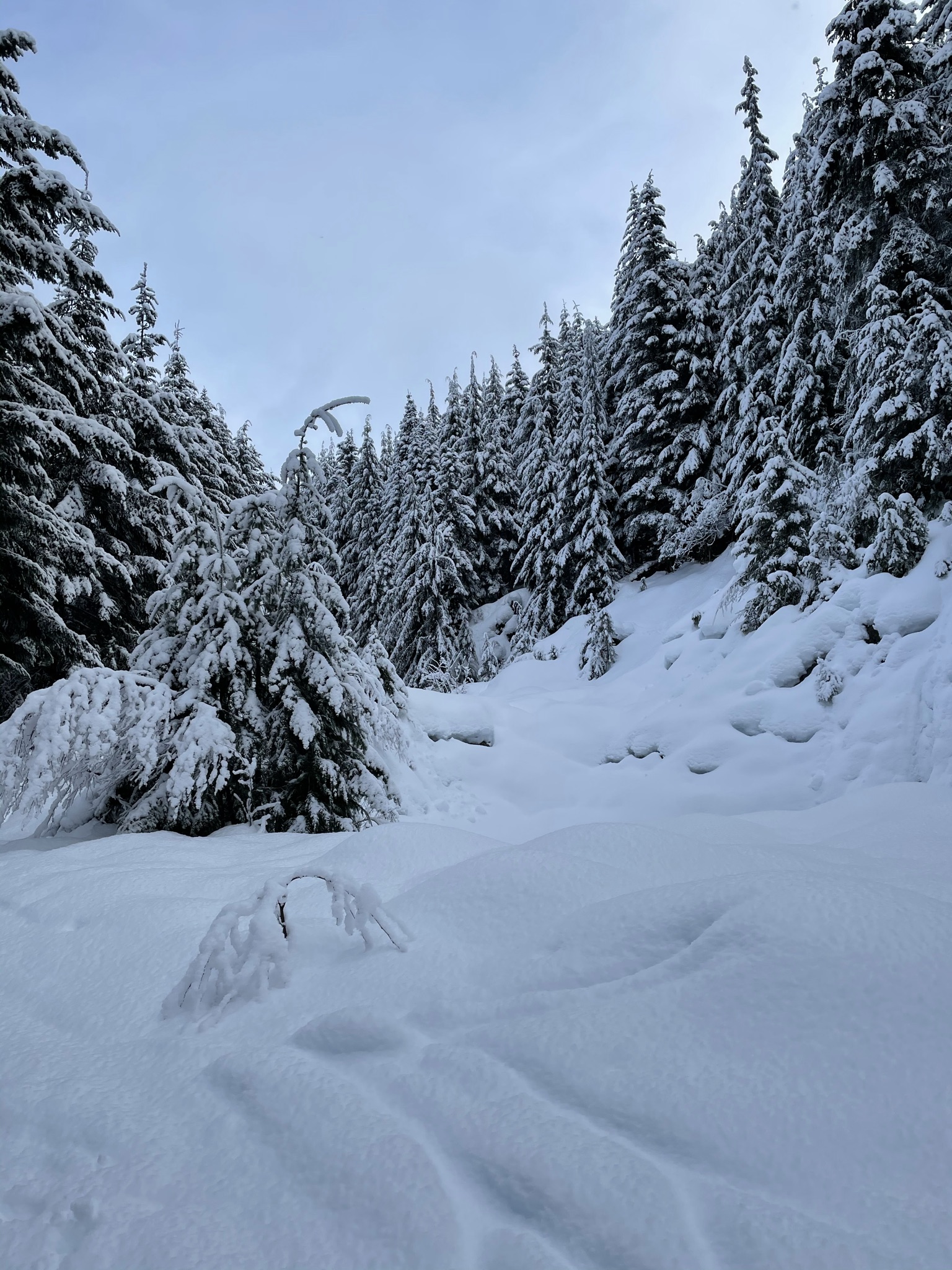 The trail continues to meander through powder covered trees over a modest incline for another 2.5 km or so. At around the 7km mark which as at ~1350m elevation, the trail breaks out into an open meadow. From here you can see Anif peak as well as the summit of Mt. Mulligan. The ski tracks took a more zig-zagged approach through the meadow, but I decided to take a more direct route and save some time. As it turns out the snow was 3-4 feet deep and even with snow shoes, breaking trail was both time and energy consuming. Once I met up with the ski tracks again, I decided to stick with ski tracks wherever possible.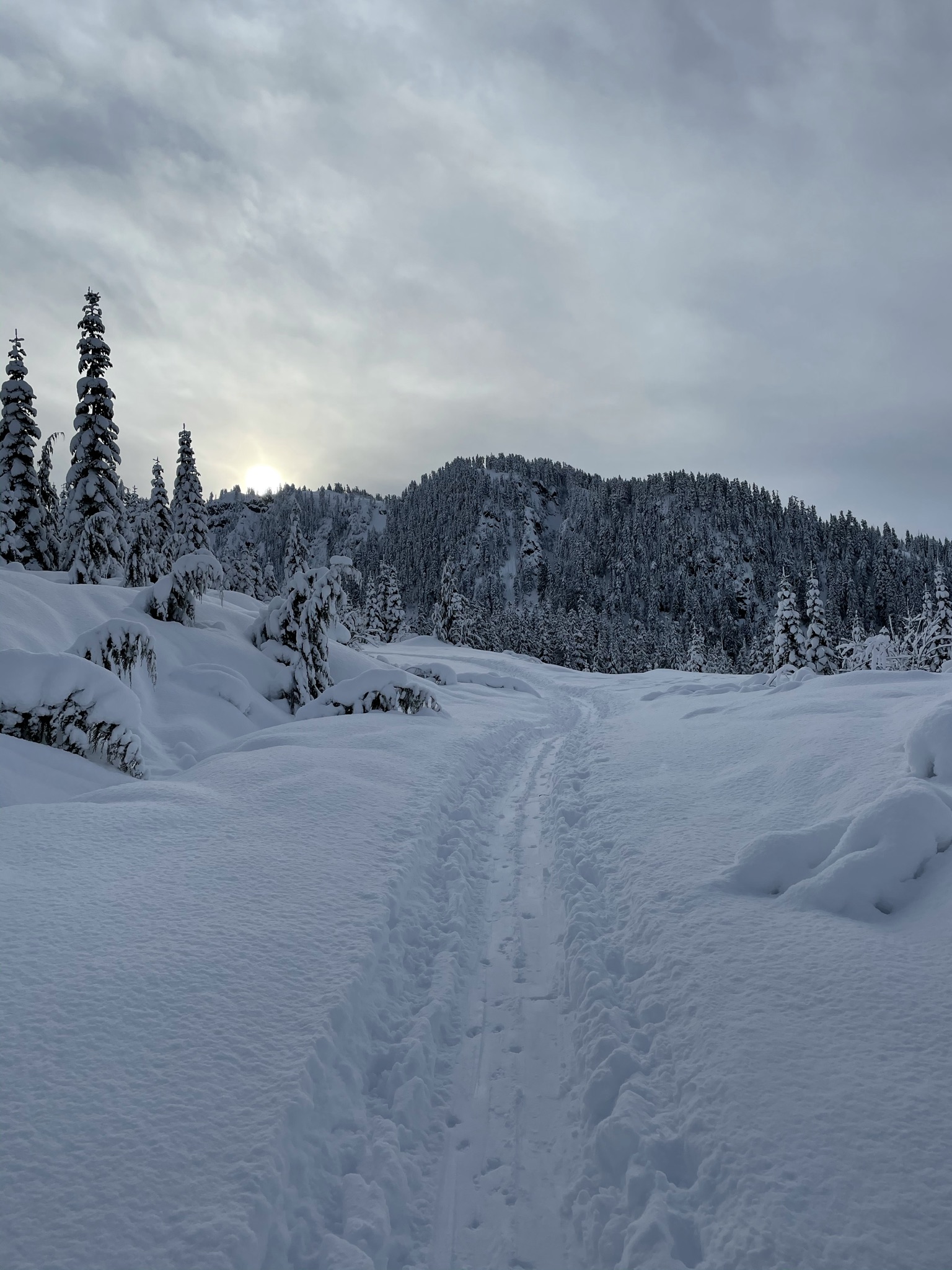 At the end of the snow meadow you turn along the northern ridge of Mt. Mulligan and it's here that you get some amazing panoramic views of Atwell/Garabaldi and Mamquam mountain. I paused several times along the way to take photos and enjoy the view. From the ridge, I continued through a forested route for another 2-300 meters. It was at this point, that ski tracks ran out.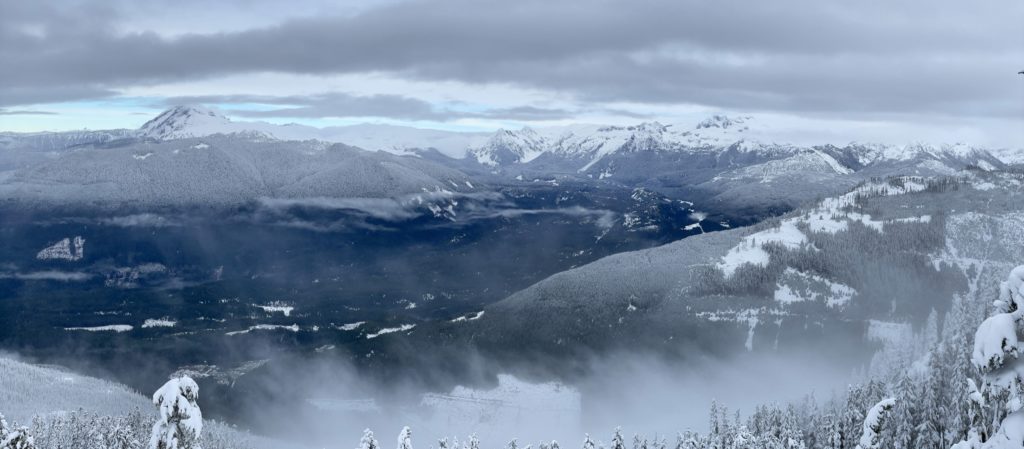 Looking up at the summit, it didn't look far and so I broke off and plodded a new line through the snow. There was a fresh layer of new snow and it was concerted effort to break trail at this point. It made me that much more thankful for having an already packed down route the majority of the way. The route steepens in several sections in the last 5-600 meters to the top and I had to pick my lines carefully to avoid wasting too much energy going back tracking or picking a route too steep.
When I reached the top, I realized it wasn't actually the summit and in fact the summit was another 400 meters away. If I had looked more closely at my GPS I could have spared myself the disappointment. In any event, the route to the proper top was straightforward enough and another 300 meters I would reach it. The view from the summit is mostly blocked by trees, but I could still see Anif peak and Garabaldi at the right angles.
I stuck around at the top for 20-30 minutes to eat some food and take photos. Afterwards, I back tracked through the trail I broke until I met up with ski tracks again. Coming down was straightforward and fast and the soft snow was very forgiving on my tired legs. I followed the original trail/ski tracks all the way back to the car, only pausing to take my snow shoes off near the bottom. By this point most of the snow had melted on the road and I imagine late-comers in a 2WD might actually have been able to make it up further on the road.
Overall, a great first summit on snow shoes. This trail was mostly through trees and I felt avalanche risk was minimal on this type of terrain. I didn't encounter any real technical sections and would suggest this trail as a great route for this looking to test out a winter hike.