Elevation Gain: 1,053m
Distance: 13.55km
Total Time: 6 hours 29 minutes
Date: September 9th, 2023
When I originally set foot into the Blowdown Pass area, my plan had been to ascend Gott Peak and then continue traversing all the way West to Moomin Peak. However, after summitting Gott Peak and seeing Moomin, still a longs way off, I knew I had to call it early. This was supposed to be a recovery hike post-covid, after all. As I descended the blooming alpine slopes down to the turqoise palette of "Gotcha Lake", I was thankful for an excuse to come back to this amazing area. I wouldn't have to wait long either. Andrea's parents were hoping to organize a family excursion sometime in mid September. There were a few must-haves: somewhat remote camping, an alpine lake and easy ridge rambles. All three can be found, but not many without long approaches, bushwhacking or far drives. Our options were narrowed down, but I knew the Blowdown Pass area was a solid bet.
So it was on September 9th, we found ourselves in a convoy heading towards the familiar Blowdown Creek turn off. We all parked just off the highway and everyone crammed into my truck for the drive up to the pass. The road was in the same condition as before, largely 2WD accessible and we soon reached the normal trail head parking area. I had walked from here last time and recalled the above being in better than expected condition, albeit very overgrown. My confidence in driving this road was bolstered by the types of vehicles I had seen drive up to the pass high point. With that, I turned just before the parking and put us on a coarse for the true BC FSR experience.
The alders took turns whacking my mirrors inwards and leaving their screeching signature on the exterior of my truck. Nonetheless, we progressed up the narrow winding road for quite a ways before reaching the first crux. A section of washout that required no less than a few runs, before a full dismount of the passengers and locking the differentials got us through. Further up, a small landslide forced us close to the road edge and put a few people on alert. I was beginning to think I'd made a bad choice committing to this. A few of the more cautious passengers opted to walk the remainder of the road and I could hardly blame them. Andrea and I carried on another 10 minutes before reaching the first opening in 2km and the stopping point for our trip. I was happy to have that ordeal over with! Now we could focus on the fun part.
The rest of Andrea's family caught up with us and we loaded up and headed down the slightly boggy trail towards Gotcha Lake. As I rounded the corner to the meadows by the lake, I came face to face with dozens of tents lining the lake shore. This place is no secret, but has it become Joffre Lakes? I was surprised to see the sheer amount of people. Just a few weeks earlier on a much busier weekend there had only been a handful of tents up here. We walked in nonetheless and after talking to a few people, we learned that this was an outdoor excursion from a nearby highschool and hence the huge amount of people. They were all accompanied by chaperones and everyone was super kind and respectful so that put my mind at ease.
We found an isolated spot on the south end of the lake to setup our tents. After a short break we headed on the trail towards Gott Peak. The plan was to take Andrea's family to the top of Gott and then time permitting, Andrea and I could press on to Moomin Peak where any other interested members could join along. The trail up the lake to Blowdown Pass was quite familiar to me now and we soon passed it on our way up to Gott Peak. A number of the highschool group were also making their way to the top but they sped past us while we took our time and enjoyed the views. Sometime later we reached the false summit of Gott Peak where Andrea's family was happy to mark as their high point. We said our goodbyes and Andrea and I set off for a long ridge ramble to the distant Moomin Peak.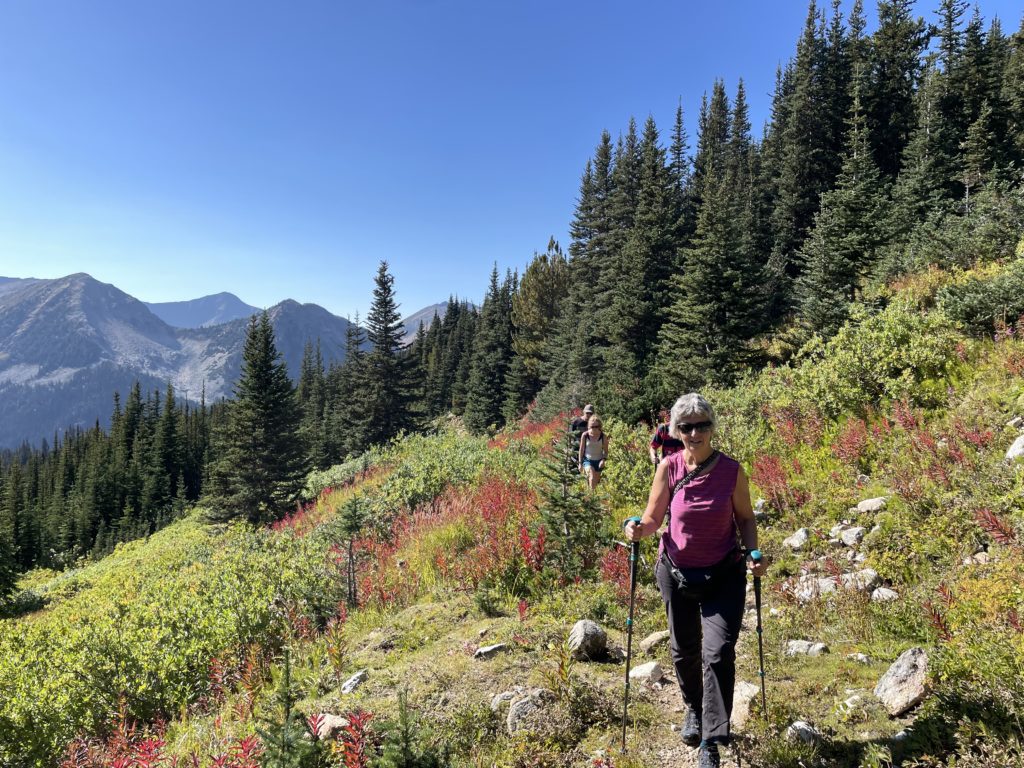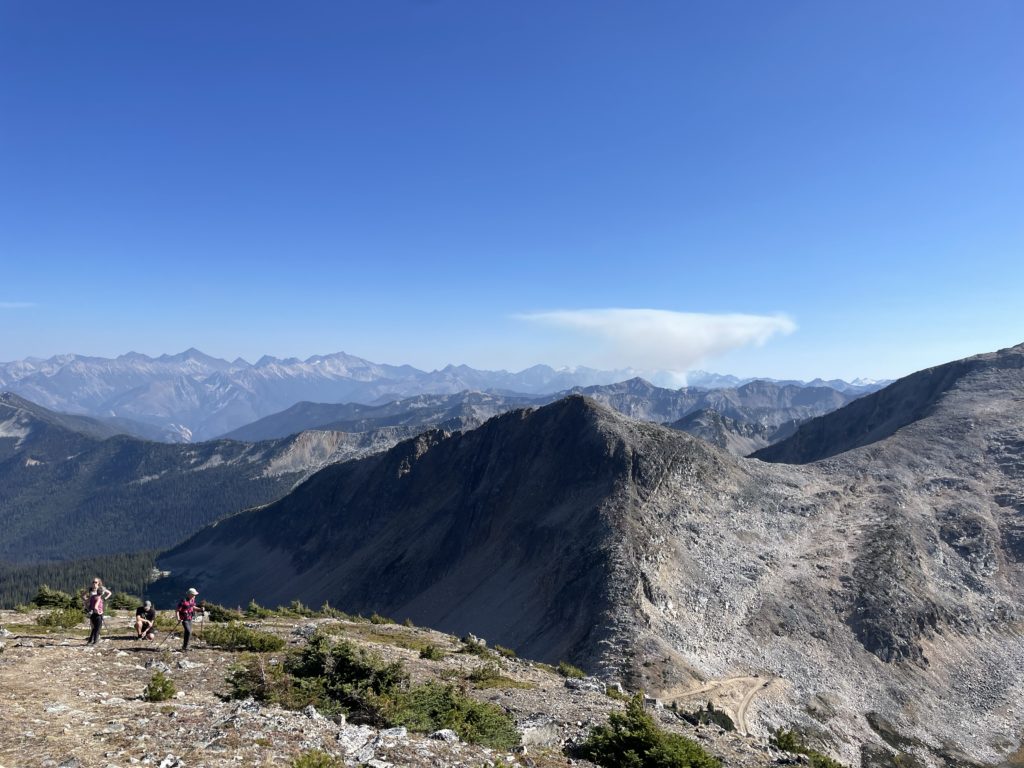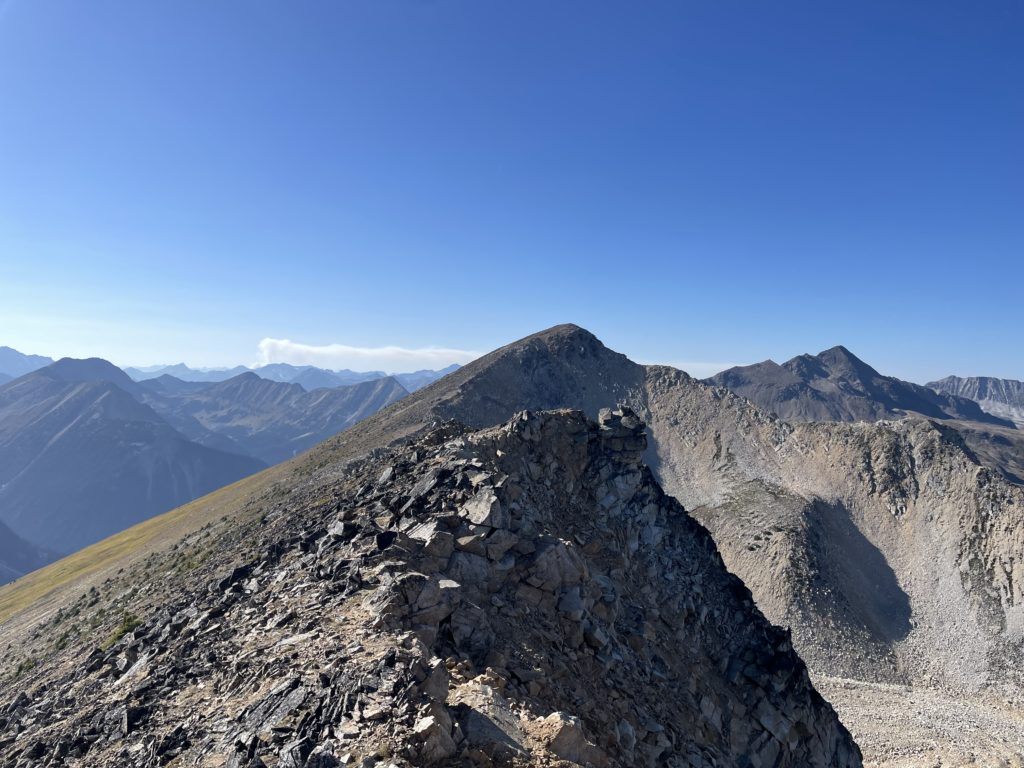 I lead the way down the false summit and then up and over Gott Peak. We then continued along the ridge climbing up and down about 3 ridge high points before our climb up Moomin Peak started in earnest. The terrain was quite straightforward, not exceeding 2nd class unless you wanted it to. Just before 6PM we reached the top to some golden hour views of the Gott Valley. The whole area beckoned to be explored and I had no doubt in my mind that'd I'd be coming back many many times over the years. Andrea and I spent a long time on the summit, observing an unusually windless and calm evening before us. As the sun closed its gap with the horizon, it was time to head on and we reversed our way along the ridge line back towards Gott Peak.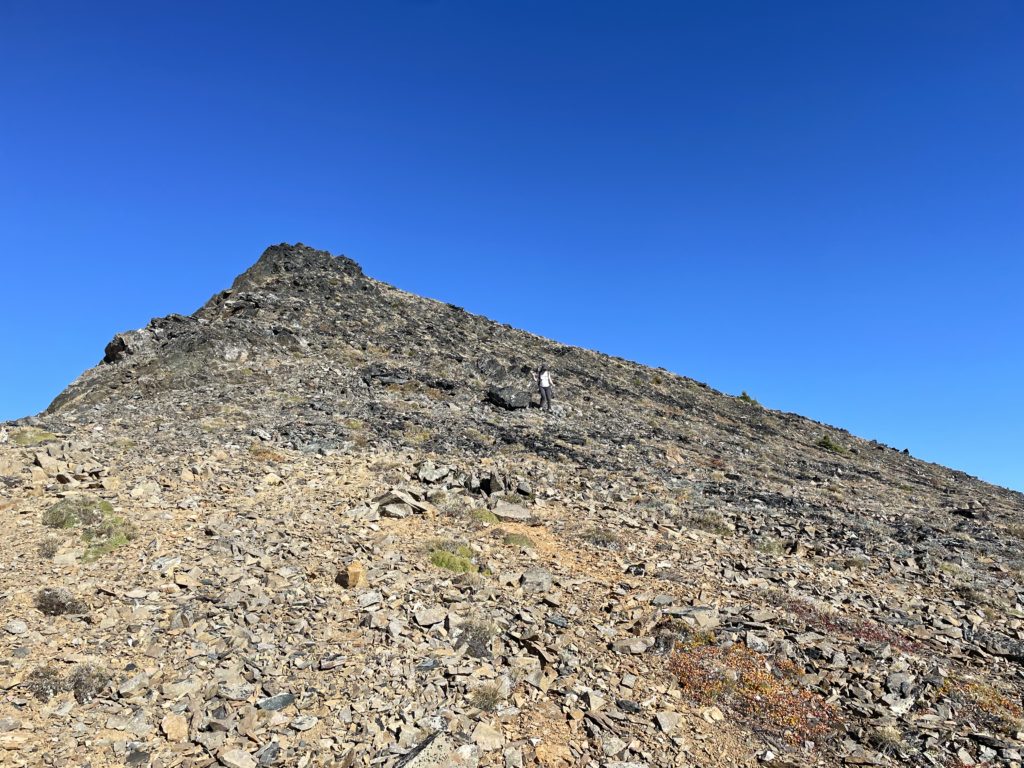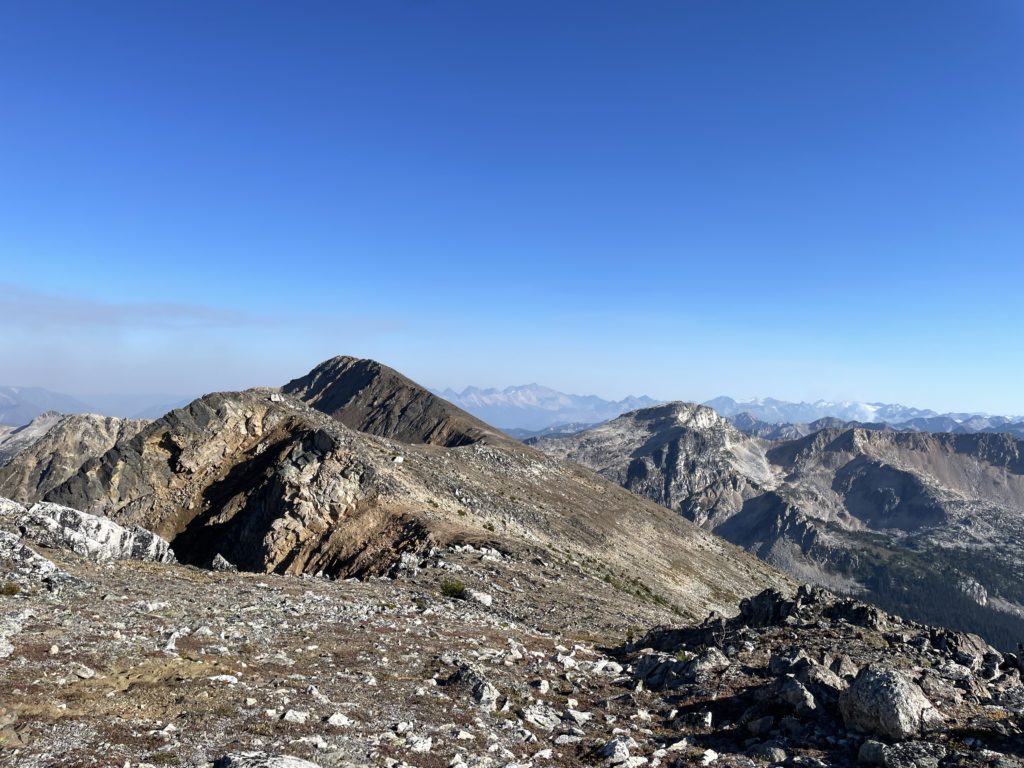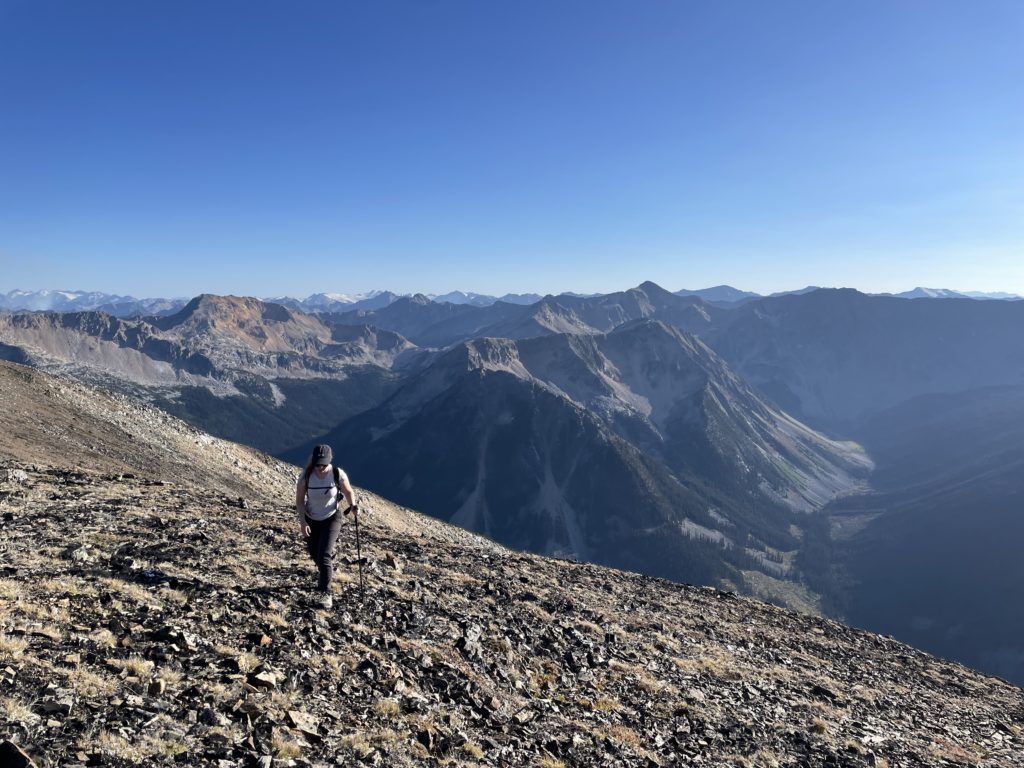 Once we neared the final ridge bump before Gott, we simply side hilled around the south side and then made a descending traverse down the face off Gott towards Gotcha Lake. The meadows weren't too steep and this ended up being a very pleasant traverse watching the fading light rays dance across the valley. Just as darkness covered the valley, we reached the service road and took a bushwhacking shortcut down to the lake. Andrea's family was just finishing up their dinner and we spent the remaining evening hanging out and watching the stars.