Elevation Gain: 118m
Distance: 0.8km
Total Time: 40 minutes
Date: October 12th, 2021
Hooiberg is the third highest point on the island country of Aruba. By any normal definitions it's merely a hill, but there are no points exceeding 188m for the entirety of the country. As a result, the few hills that do exist have all been officially named. Hooiberg is arguably the most unique of them all, due to it having no surrounding terrain except for flat land. The name itself means haystack and it's an apt description of its appearance. To attain the summit one only needs to ascend up a paved stair way for about 118m. The route is less than a km total and it's more like a scenic stair master than anything else.
Sara and I had a morning activity of horse back riding cancelled thanks to getting two flats on our rental car. After getting the tires swapped out by the rental company, we now found ourselves free for the entire morning. I proposed we grab Hooiberg since it's a short activity and we could spend the afternoon doing something else, since this wasn't a 'peak bagging' holiday in the first place. Sara was keen to go and so we drove from our place in Savaneta out to the Hooiberg trail head.
We arrived around 11am as the day was really starting to heat up. It's a short hike so we brought nothing more than a water bottle each and started up the stair way. There's not much to comment here, since it's a paved stair way for the whole journey. Before long, we were at the summit where some radio or cell tower infrastructure sprawled over the majority of the top. This is a common theme in Aruba, unfortunately, but we worked around the equipment and found some nice view points.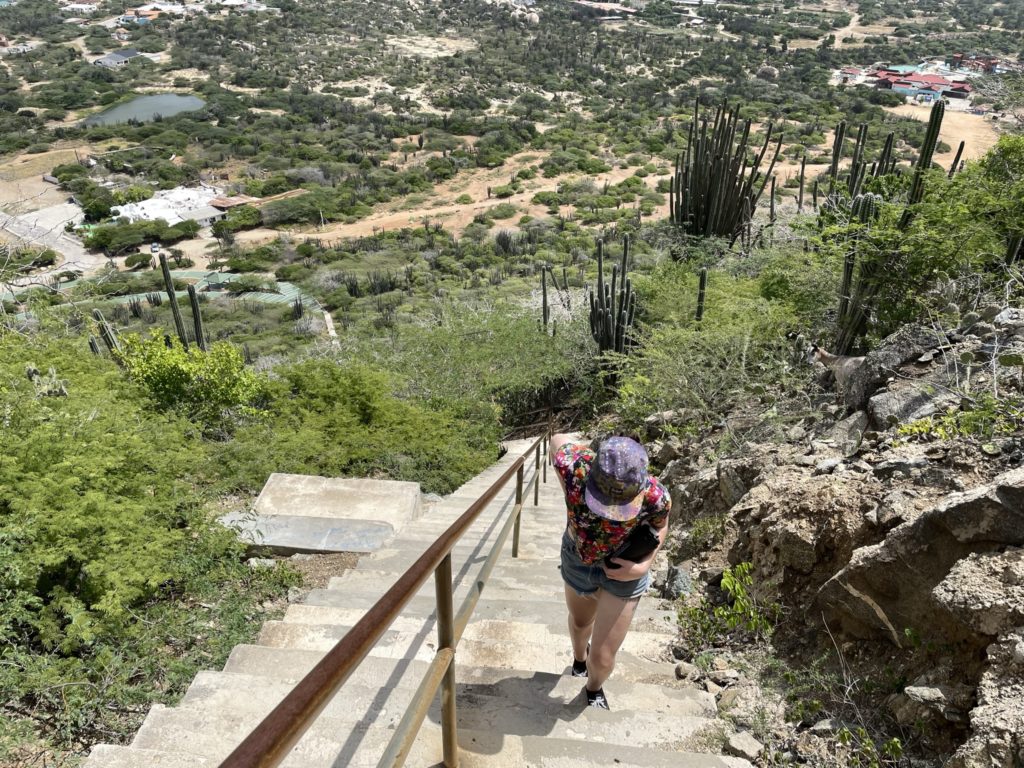 It was blazing hot, so we headed down after a brief period and were back at the car in 10-15 minutes at most. A very simple, straightforward ascent to say the least, but I was glad to get it.